For decades, economists have promoted low-wage textile industry as the best way for poor countries to build a manufacturing base. In East Africa, the promised trickle-down effects of foreign investment have not materialized.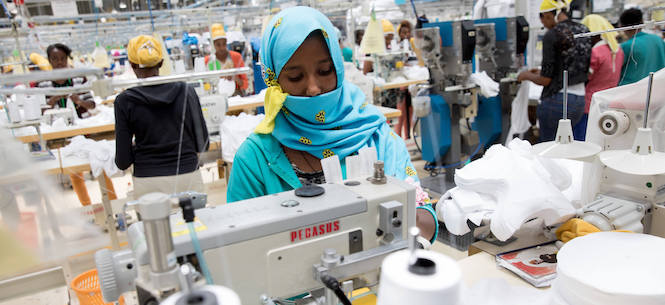 In 2017, supermodel Barbara Meier visited Addis Ababa with Gerd Müller, Germany's Federal Minister of Economic Cooperation and Development, to tour a complex of export-oriented clothing factories. One of the factories, Jay Jay Textiles, is the size of six football fields and supplies brands like H&M, Gerber Childrenswear, and the Children's Place. Meier asked workers there how they were doing. Their answer: "It's going." "They were not really that euphoric," she told reporters for a German public broadcasting channel, "but I think if you compare that with factories in Bangladesh or something like that, the rules are being followed."
For decades, economists have promoted sweatshops as the best way for very low-income countries to build a manufacturing base. Today, a number of East African countries, including Ethiopia and Kenya, are attempting to follow that path. Images of industrial progress come to us from Kigali to Naivasha to Hawassa: politicians visiting cavernous warehouses, with rows of workers hunched over textile manufacturing equipment. The development that has long eluded the continent, these photographs suggest, is not too far off.
Meier's comparison of Ethiopian manufacturers to those in Bangladesh marks how far policymakers are willing to go to trade human dignity and well-being for development. The Bangladeshi textile sector is still haunted by the April 2013 collapse of the Rana Plaza factory, which supplied clothing for brands like Benetton and Primark. A wall on the third floor of the building split the day before the collapse. The engineer who inspected it called for it to be condemned, but factory owners told workers, who feared losing up to a month's wages, to return the next day. Hours into the workday, vibrations from the generators brought the building crumbling down, killing over 1,100 people and injuring about 2,500 more.
The Ethiopian government sees itself competing with Bangladesh for a place in the global clothing supply chain. And Bangladesh isn't a floor to build on—it's a ceiling. The Ethiopian Investment Commission markets the country's wages as "1/7 of China and 1/2 of Bangladesh," the lowest garment worker pay in the world. From these paltry wages, Ethiopian industry has grown from 11 percent of the country's GDP in 2013 to 25 percent today. That growth is held up as a local success story. Applauding the country for "building Africa's manufacturing strength," the African Development Bank highlighted Ethiopia's goal of generating $30 billion in exports from the textile and apparel sector between now and 2030.
All this development is sold on creating jobs that will reduce poverty. So how are Ethiopian workers faring? Studies have shown that an Ethiopian garment worker needs about $146 a month to survive. Only 7.5 percent of garment workers make that much. E...
Online Only

For just $19.95 a year, get access to new issues and decades' worth of archives on our site.

Print + Online

For $29.95 a year, get new issues delivered to your door and access to our full online archives.
Already a subscriber? Log in: