What does fighting environmental racism really look like? Daniel talks to Dawn Phillips, a lead organizer with Causa Justa-Just Cause, which has been leading the fight against "green" gentrification in the Bay Area. And Kate reports from Standing Rock, where Native activists are looking ahead to the long term.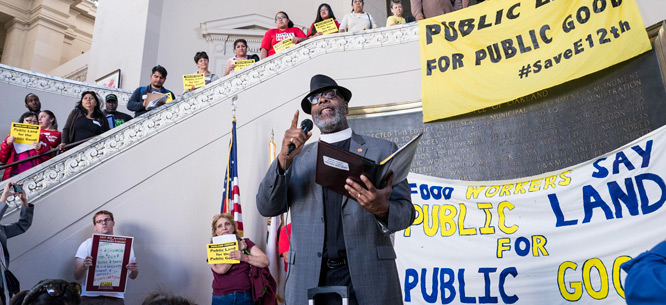 In the eighth episode of Hot & Bothered, we get two perspectives on the crucial links between racial justice and climate justice. First, Kate travels to Standing Rock to talk to Native organizers there about their recent victory and what the growing movement against Trump can learn from the water protectors.
Then, Daniel speaks with Dawn Phillips, Program Director at Causa Justa-Just Cause, a multiracial, grassroots organization building community leadership to achieve justice for low-income San Francisco and Oakland residents. Dawn, who has a background in environmental justice organizing and serves as Chair of the Steering Committee of the Right to the City Alliance, explains how gentrification and the housing crisis are intertwined with environmental racism and systematic disinvestment in communities of color, not just in the Bay Area but across the country.
As we were wrapping up this episode, we learned that Exxon CEO Rex Tillerson is first in line to be Secretary of State in the Trump administration. We'll be discussing all that and much more in our next few episodes, so stay tuned. Until then, keep sending us your questions, comments, and thoughts how we might still stave off climate dystopia at #HotBotheredClimate.
Check out the full Hot & Bothered archive here. Hot & Bothered is produced by Colin Kinniburgh. Music: Mercurias Meet Victor Rice, "Carregar (Instrumental)," courtesy of Total Running Time.
Climate and Racial Justice, From Coast to Coast
Kate: A People's Victory at Standing Rock (In These Times)
Development Without Displacement: Resisting Gentrification in the Bay Area (Causa Justa-Just Cause)
Daniel: The Urban Green Wars (Jacobin)