Four guests join us for back-to-back interviews on how the climate movement is gearing up to resist Trump's agenda and build toward a radically different future.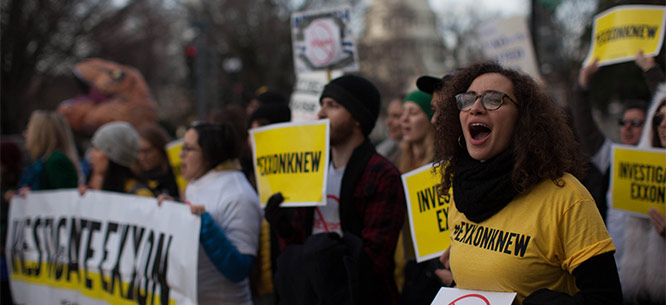 With Donald Trump at the White House doorstep, we do something different this month. The show features four brief interviews with leaders from across the climate movement on how they're interpreting this unique moment—and what they plan to do about it.
First up, Daniel speaks to Kert Davies, founder of the Climate Investigations Center. Before that, Kert was the chief architect of the Greenpeace web project ExxonSecrets, launched in 2004, which helped expose the oil giant ExxonMobil's funding of organizations and individuals who work to discredit the validity of climate science and delay climate policy action. Next, Kate talks to Desiree Kane. Desiree is a journalist and a Miwok organizer who has lived out at Standing Rock fighting the Dakota Access pipeline for the last several months, and just arrived in D.C. She's joining up with #District13, a partially Hunger Games-inspired hub of millennial resistance there to Trump's agenda.
Daniel then turns to Cindy Wiesner. Cindy is the National Coordinator of Grassroots Global Justice Alliance (GGJ), a network of U.S.-based grassroots groups building an agenda for power for working and poor people and communities of color. She is also Co-Chair of the Climate Justice Alliance (CJA) and a leading organizer of the #ItTakesRoots coalition. And Kate closes by interviewing May Boeve, executive director of 350.org—a movement that has profoundly transformed climate organizing in the U.S. and around the world.
The clouds are gathering above, but we're hanging on to the silver linings. Tweet your flinty determination, the climate justice campaigns you're watching, and any leftover Moscow mischief jokes to #HotBotheredClimate.
Check out the full Hot & Bothered archive here. Hot & Bothered is produced by Colin Kinniburgh. Music: Mercurias Meet Victor Rice, "Carregar (Instrumental)," courtesy of Total Running Time.
Apocalinks
Energy Firms in Secretive Alliance With Attorneys General (Eric Lipton's 2014 New York Times report on Scott Pruitt and the Republican Attorney Generals Association)
Kate: Either Rex Tillerson Lied Under Oath, Or He Doesn't Know How Fossil Fuel Subsidies Work (In These Times)