From the Rust Belt to the Big Apple, a coalition of grassroots groups across New York state is showing what local climate policy can do in the age of Trump.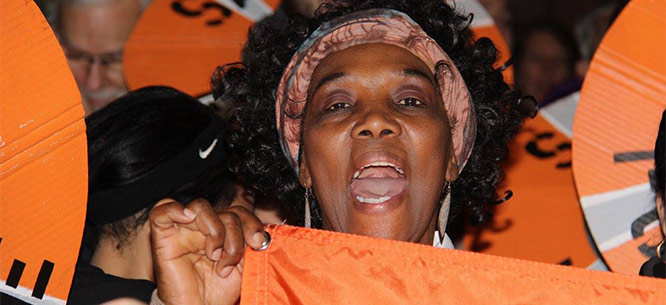 We're just under one month into the Trump regime and prospects for curbing climate change feel bleak. ExxonMobil CEO Rex Tillerson has been confirmed as Secretary of State, the Dakota Access and Keystone XL pipelines look like unkillable zombies, and the EPA is closer to the chopping block than ever.
Still, the resistance is alive and well. As thousands flood into the streets to stop a draconian Muslim travel ban and attacks on civil liberties, a coalition of grassroots groups in New York is showing what climate policy might look like in the age of Trump. New York Renews—a coalition of 104 labor, racial justice, green, and community groups from across the state—showed up in Albany this week to pressure Governor Andrew Cuomo into putting climate justice into the budget, allocating state funding for everything from green jobs to infrastructure development in low-income communities.
To hear more about this campaign, we caught up with Franchelle Hart, Executive Director of Open Buffalo, a member of the New York Renews one of the organizations leading efforts for a just transition in upstate New York. Before coming to Open Buffalo, Franchelle worked for years on both state and federal policy, and with 1199SEIU United Healthcare Workers East. She has served as a board member for the Western New York Area Labor Federation and President for the Coalition of Black Trade Unionists' Buffalo Chapter.
What with the stench of the Trump regime starting to sink in more fully, Kate and Daniel appreciate your loving and constructive feedback bigly—particularly about Daniel's dad jokes. Tweet your scathing critiques, your deepest fears and your future show ideas to #HotBotheredClimate. Note: we'll be taking a hiatus after this episode to prepare for our bigger, better second season. That's right—we're going refresh the show, find some more funding, and get ready to come out more often. In the meantime, don't delete Hot & Bothered. There might just be a mid-hiatus episode sometime soon.
Check out the full Hot & Bothered archive here. Hot & Bothered is produced by Colin Kinniburgh. Music: Mercurias Meet Victor Rice, "Carregar (Instrumental)," courtesy of Total Running Time.
Writing Climate Justice into the Budget
Karen Dewitt, Climate change activists urge Cuomo to go further (WBFO 88.7)
Rebecca Nathanson, Can This New York State Campaign Finish What the Paris Climate Talks Started? (The Nation)