After years of campaigning, London activists recently secured a commitment from the city's mayor to create a publicly-owned municipal energy company. James Angel of Switched On London explains what energy democracy means in the age of Brexit and Trump.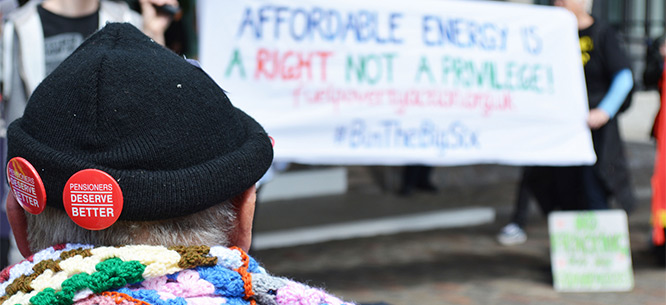 In the sixth episode of Hot & Bothered, we take a break from biting our nails over November 8 to look abroad—and ahead—at what the climate movement can do with a foothold in state power. But not before we get Kate's take on what's wrong with the Green Party, and why we should probably all still be knocking on doors to get out the vote this weekend.
So why look across the pond? Well, after a long, broad-based campaign, a coalition called Switched On London recently secured a commitment from London's newly elected Labour Party mayor, Sadiq Khan, to create a publicly-owned municipal energy company there—what the group calls an "affordable, democratic and environmentally sustainable alternative to the Big Six."
We talk to James Angel, a campaigner with Switched On London and PhD student at King's College London, about what this energy democracy win means for the anti-austerity and climate justice movements. Angel also recently took a research trip to Barcelona, where the city's Podemos-affiliated left government is rolling out a similar plan to transition entirely over to renewables. While the presidential election has dominated the news cycle here in the United States for the better part of the last two years, what's happening in Barcelona can be seen as as model for what's possible when the left contests for other levels of government.
In the second half of the show, we hear from Kevin Smith, a member of Liberate Tate. Led by artists and cultural workers, Liberate Tate successfully pressured the museum to cut ties with oil company BP this year, after six years of organizing and direct-action performances. Since Liberate Tate began in 2010, several "fossil free culture" groups have emerged around the world, including the Natural History Museum here in the states.
Stay tuned for episode seven in the coming weeks. We'll be doing a post-mortem on the big carbon tax proposal that has raised the eyebrows of leftists (including many climate activists) in Washington state. And in the meantime, keep sending us your questions, comments, suggestions, and prepping tips for the dystopian future at #HotBotheredClimate.
Check out the full Hot & Bothered archive here. Hot & Bothered is produced by Colin Kinniburgh. Music: Mercurias Meet Victor Rice, "Carregar (Instrumental)," courtesy of Total Running Time.
Trash Fire 2016
Kate: Stop right there: assuming a Hillary Clinton victory is downright dangerous (Guardian)
Kate: The Left Deserves Better Than Jill Stein (In These Times)
More of Kate's election coverage at In These Times and the Guardian
Energy Democracy in London, Barcelona, and Beyond, with James Angel
James Angel, Strategies of Energy Democracy (Rosa Luxemburg Stiftung)
Sebastiaan Faber and Bécquer Seguín, Welcome to Sunny Barcelona, Where the Government Is Embracing Coops, Citizen Activism, and Solar Energy (The Nation)
Getting Big Oil Out of the Arts, with Kevin Smith
Fellow Liberate Tate member Mel Evans, Painting with Oil (Dissent)
Back Stateside
Erik Loomis, Philly Transit Strike and the Election (Lawyers, Guns & Money)
A #NoDAPL Map (Huffington Post)