There is much to be learned from the lives and times of Ed Koch and David Dinkins, New York's last two Democratic mayors. Their New York may not be as far away as it feels at the center of a thoroughly sanitized Times Square.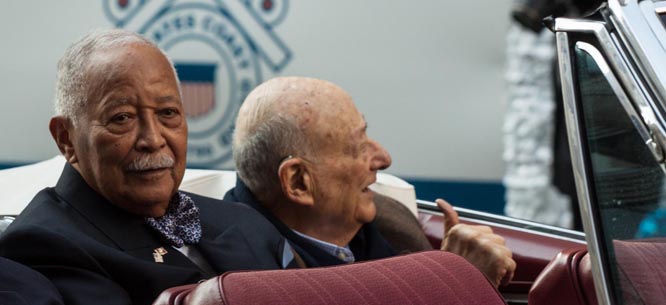 The Power of the Mayor: David Dinkins, 1990-1993
by Chris McNickle
Transaction Publishers, 2013, 406 pp.

Ed Koch and the Rebuilding of New York City
by Jonathan Soffer
Columbia University Press, 2010, 528 pp.

Twenty years ago this November, Rudy Giuliani clawed his way past David Dinkins in the general election to become mayor of New York with 51 percent of the city's vote. Observers attributed Giuliani's narrow victory to everything from the popular perception that Dinkins was soft on crime to unusually heavy turnout on Staten Island (whose residents paradoxically added crucial votes for Giuliani even as they voted to secede from the city he would lead), but it hardly seemed a resounding mandate for Republican leadership of New York. Few believed that the Democrats would spend the next two decades locked out of Gracie Mansion, but Michael Bloomberg followed Giuliani, extended term limits, and suddenly it was 2013.

This year, however, even allowing for the possibility that the current mayor may yet recruit a fellow billionaire to chase his throne, the Democrats seem poised to come in from the cold. Several popular city politicians are contending for the party's nomination in a feisty primary race. The winner will face the challenge of building a coalition and articulating a vision for the Democrats in New York City, where the party has been fractious and fragmented in opposition. They will have to win over a metropolis that is reliably blue in national elections but deeply divided along many overlapping fault lines within the five boroughs; where fierce debates about policing, inequality, gentrification, and jobs rage unabated as Bloomberg jogs his final lap. In taking on these challenges, this year's Democratic hopefuls will certainly distance themselves from Bloomberg and, to a lesser extent, Giuliani, even as they try to emulate their electoral success. They may also want to consider the lessons offered by the terms, triumphs, and trials of the city's most recent Democratic mayors, Ed Koch and David Dinkins.

One could argue that Koch and Dinkins are too far in the rearview to be of much help. Koch left office nearly a quarter-century ago, and governed under a different city charter, one in which the now-defunct Board of Estimate was far more powerful than the toothless City Council. And Dinkins's mayoralty is typically recounted as a cautionary tale from the Dark Ages, when New York was still in the grip of the crime, grime, and racist violence of the Do The Right Thing era, a world apart from today's post-Girls playground. Murders peaked at 2,245 during 1990, Dinkins's first year in office; in 2012 there were 414.

Recent events, however, suggest that there is much to be learned from the lives and times of these two mayors, so different in everything but party affiliation. Koch's passing in February occasioned a barrage of remembrances celebrating his re-invention of the mayoralty as a bully pulpit for tough-talking, business-friendly politicians (Giuliani and Bloomberg among them) who won office not by rising through the ranks of party machines and mobilizing ground operations led by unions, churches, and county leaders, but by pairing big-time fundraising with citywide television advertising. Meanwhile, clashes between police and protesters in East Flatbush following the police killing of Kimani Gray led the Village Voice's Nick Pinto to describe the scene as "a 21st century Bonfire of the Vanities." Pinto's invocation of Wolfe's lurid 1987 novel suggests the New York of Koch and Dinkins may not be as far away as it feels at the center of a thoroughly sanitized Times Square.
The rise of a citywide movement opposed to stop-and-frisk and localized but no less insistent demands for recognition and redress by those on the wrong side of gentrification suggest that the next mayor must be prepared to consider the needs of New York's sizable working-class African-American and Latino communities.
It was Koch, after all, who built a public-private partnership to redevelop Times Square—in order, he hoped, to attract business and tourism without turning New York into "Disneyland" or driving out the dissent and counterculture that flourished in the city's public spaces. The question of who controls the development and use of city spaces has hardly disappeared. And the intertwined challenges of poverty, policing, racism, and inequality that plagued Dinkins's administration have returned to center stage in recent years and demand a new set of efforts to address them. Violent crime is now primarily hemmed into the city's poorest neighborhoods. But the rise of a citywide movement opposed to racist stop-and-frisk policing and localized but no less insistent demands for recognition and redress by those on the wrong side of gentrification suggest that the next mayor must be prepared to consider the needs of New York's sizable working-class African-American and Latino communities.
---
Both mayors have been the subject of a recent biography. Jonathan Soffer's Ed Koch and the Rebuilding of New York City is a scholarly addition to a crowded field—Koch himself penned a few autobiographies—that offers a thoughtful and sympathetic look at a man who "faced challenges greater than any New York mayor of the twentieth century and met many of them," even though the recovery from fiscal crisis and disinvestment that he led "indisputably benefited the rich more than the poor." As the subtitle suggests, Soffer credits Koch with "rebuilding" New York City, but not uncritically. As he writes it, "For better or worse, Koch convinced most New Yorkers of the legitimacy of a new neoliberal order that subsidized Manhattan business development, particularly in the finance, insurance, and real estate sectors, privatized public space, and created huge income inequalities."
Soffer describes Koch as a forbear of Bill Clinton and other third-way Democrats, a man who "pioneered the Democratic Party version of neoliberalism, which allowed for government to shape and subsidize private enterprise, but…remained diffident about creating new programs for redistribution or social insurance." This lineage is slightly more convoluted; Democratic neoliberalism, born amid the wreckage of McGovern's 1972 presidential campaign, embraced the suburbanized, anti-labor, pro-business politics of the Sunbelt, embodied by Clinton of Arkansas and Gary Hart of Colorado, among others. Koch was one of many early Democratic neoliberals, but more important, he was the first high-profile urban neoliberal, a man who sought to reinvent an industrial city in a post-industrial world. As he looked around the city for ways to fuel urban growth, he found one strategy in particular that he liked so much he made it the only real policy recommendation in his first inaugural speech: gentrification.
That now-ubiquitous word, Soffer writes, was so new to the American lexicon that Koch felt he had to define it for his listeners, calling for "an influx of 'urban pioneers' to reinvigorate the city's neighborhoods." Though already underway in neighborhoods including the Upper West Side, Brooklyn Heights, and Park Slope when Koch took office (Sulieman Osman's 2011 book The Invention of Brownstone Brooklyn examines this origin story), gentrification was something of an alternative movement, driven by young, educated, post–New Left types looking for an escape from suburbia. Koch made it formal city development policy, applying tax credits, targeted city spending, and rhetorical support to loft conversions of industrial spaces, gut renovations of brownstones, the construction of new high-rise condos and offices, and the privatization of public spaces including Times Square and Central Park. The result was a "new spatial order for New York City" that "set the pattern for such development policies for a generation." Gentrification became the urban answer to suburbanization, the former reproducing many of the features of the latter: a re-segregation by class and race, privileged access to privatized recreational spaces, localized control of zoning, neighborhoods built for and reliant on commuters to downtown (as opposed to local access to industrial employment), and major tax giveaways to developers, corporations, and homeowners alike.
Koch believed in gentrification, Soffer tells us, because he believed "the old working class New York of Koch's youth—the New York of small unionized industry, of social democratic aspiration—was never coming back." As a result, he sought to take advantage of "economic forces much larger than the city government" by reinventing the city "within the context of the new neoliberal global economy." This went beyond development policy. While Koch didn't quite abandon organized labor, unions and political leaders in the African-American community became junior partners in his governing coalition as business leaders were elevated (a process that had begun during the city's fiscal crisis in 1975). Koch's commitment to this brave new world was so complete, Soffer notes, that he insisted on closing Harlem's Sydenham Hospital in 1980 despite the outraged protests of labor and community leaders. Soffer describes this as policy trumping politics (Koch later admitted the savings for the city's Health and Hospitals Corporation weren't worth the backlash), but one might also read it as a political statement about the new priorities and hierarchies of interest that Koch intended to bring about.
Soffer is sympathetic to Koch's position; as mayor, he could hardly be expected to single-handedly resist the massive paradigm shift underway across the nation. However, as scholars including David Harvey (who Soffer quotes in his introduction), Judith Stein, and Sharon Zukin have shown, Koch's policies were not merely responses to urban deindustrialization but catalysts of this process. Incentivizing and cheerleading helped produce spatial inequality and what Soffer calls the "hourglass economy," with "jobs for the highly educated at one end and service workers at the other."
Neoliberal urbanism helped Koch lead a "precarious revival" from fiscal crisis into the booming 1980s, but it also created tensions that eventually pulled his governing coalition apart and drove him from office. Koch launched an incredibly ambitious and successful plan to create 252,000 units of housing over ten years in his third term, but even as he did, homelessness continued to increase as gentrification ate up low-income housing. Working-class New Yorkers felt squeezed by a tight market fueled by policies that did little for them, and labor and African-American community leaders were tired of being locked out of government. These tensions opened the door for David Dinkins to unseat the three-term incumbent in the Democratic primary in 1989, with the support of a coalition that sought better city policies for the poor and a more responsive leader in City Hall.
---
Dinkins, as Chris McNickle tells us on the first page of  The Power of the Mayor: David Dinkins, 1990-1993 (2013), a policy-oriented look at his understudied single term, "failed as mayor," on account of his "Tammany clubhouse heritage and his liberal political philosophy." Moreover, Dinkins's "overly deliberate approach" left New Yorkers feeling "detached from their leader" during the many crises that plagued his term. Dinkins, governing amid a sharp economic downturn, not only balanced four budgets but increased the size of the police force (reducing major crime by 14 percent and murders by 12 percent in the process), furthered Koch's housing development program while making it more accessible to those in greatest need of a home, and even set some policies in place that would later improve the quality of the city's school system, a shambles when he took office. It wasn't the results Dinkins got, McNickle notes, but the way he got them that undid him: order appeared to emerge from chaos, preventing Dinkins from taking credit for his achievements and undermining confidence in his ability to lead when crisis struck.
McNickle's account, which moves through Dinkins's term thematically, is at its best when it takes on the intersection of popular perception and governance. His handling of the Crown Heights riots of 1992 is nuanced and evenhanded. He dispels many canards, including the oft-repeated assertion that Dinkins told his police commissioner, Lee Brown, to let rioters "vent their rage." Yet he takes Dinkins and Brown to task for the hesitation and miscommunication that made a bad situation worse and gave the impression that a portion of the city had become ungovernable. While Dinkins was effective when comforting families and speaking with victims of violence, McNickle notes, what made headlines was the absence of bold action and bold statements from City Hall as a deeply divided city watched unrest unfolding. If, as Soffer writes, the two keys to political success in New York during the 1980s had become "television and money," Dinkins never found a way to manage the former.
While Dinkins was effective when comforting families and speaking with victims of violence during the Crown Heights riots, what made headlines was the absence of bold action and bold statements from City Hall as a deeply divided city watched unrest unfolding.
Race is a major topic in McNickle's account of the city's first African-American mayor (his 1993 book To Be Mayor of New York: Ethnic Politics in the City dealt with similar themes, and two chapters from that work are reproduced here), but his analysis is at times confusing. He asserts in the introduction that Dinkins "never won the trust of more than a sliver of the race he displaced atop the city's totem pole of power, and that trust diminished over time," but concludes that "it strains credibility to argue that whites who cast ballots for a black man in 1989 refused to on the basis of skin color in 1993." The confusion arises from the problems of using race as an explanatory category for political analysis rather than treating racism and prejudice as subjects for investigation. Suggesting that Dinkins had "African American sensibilities toward law enforcement and other issues," for instance, does not explain anything, but rather invites an historical inquiry into the relationship between racism, segregation, and policing in New York.* This confusion undermines McNickle's more substantive argument, which is that a combination of perceptions of incompetence and liberal commitments undermined Dinkins.
McNickle convincingly argues that Dinkins was a poor manager of his public image and an ineffective decision-maker in a city that preferred (or, at least, was used to) a shoot-first approach, using many a bungled initiative or poorly chosen official to drive his point home. The suggestion that Dinkins's "classic urban liberalism" drove away (mostly white) middle- and upper-class voters is a more interesting one. McNickle argues that "New York City's near bankruptcy and all that followed caused many New Yorkers to reconsider the limits of local government in the decade and a half prior to Dinkins' election." Citing the emergence of the conservative Manhattan Institute and a chorus of voices demanding privatization and efficiency, McNickle reiterates Soffer's argument in defense of Koch, in a way, by suggesting that leaning against the new neoliberal order was nearly impossible. Koch got it, Dinkins didn't. McNickle credits Dinkins "for standing by his beliefs" but reiterates that he was "the wrong man for the times," a relic of a bygone era.
---
The story sounds inevitable when it is told this way, implying that "there is no alternative" to the post-industrial urban order. It suggests that Democratic candidates might seek to emulate Koch (without the vituperative relationship with Harlem) and avoid comparison to Dinkins, embrace a pro-business coalition, and do some social programming on the side when money allows. But Dinkins's loss was a very close one, which should suggest nothing so much as contingency. Counterfactual history is a dangerous game, but as McNickle's penultimate chapter notes, had Staten Island not sought secession, had Mario Cuomo provided a more forceful endorsement to Dinkins, had Ed Koch and Bobby Wagner not jumped ship to Giuliani, had Dinkins's newly recruited police officers hit the streets just a few months earlier, Dinkins might have emerged victorious again. With crime already in freefall and the economy about to boom, it is entirely possible to imagine that, with the benefit of flush times, Dinkins's "classic urban liberalism" could have substituted ably for Giuliani's neoliberal revanchism, and provided much for the city's poor and working people in the process. Conjecture aside, it seems difficult to make the case that the election of Giuliani represented a ringing endorsement of a neoliberal vision for the city.
So what might Democratic candidates take away from these biographies? A mayoral forum titled "What's in it for low-income New Yorkers?" in February at First Corinthian Baptist Church in Harlem was instructive. Co-sponsored by the Community Service Society, 32BJ-SEIU, the Center for Popular Democracy, UnitedNY.com, and City Limits, the forum dealt, as most debates of this nature do, with discrete policy issues affecting the poor, working from the Community Service Society's "Unheard Third" survey. One of the first on the table was paid sick leave for working New Yorkers, which enjoys the support of nearly every union in the city. Three of the campaign's big four—Comptroller John Liu, Public Advocate Bill de Blasio, and 2009 Democratic nominee Bill Thompson—were unequivocal in their support. The fourth, City Council Speaker Christine Quinn, who prevented the City Council's bill from passing for nearly three years at the behest of Bloomberg, was booed roundly as she tried to make the case that protecting workers would drive their jobs elsewhere. Koch would have shared her position, and would probably have told the assembled they were "wackos," but Quinn, watching her primary chances dip further, took heed. A month ago, in an attempt to defang her competitors, she led the bill through the council, indicating that she, too, might be willing to reconsider the relative political importance of New York's labor movement and its business leaders.
Stop-and-frisk, when it came up, drew another round of denunciations. When Comptroller Liu shouted, "Don't reform this tactic—end it!" the crowd roared. Thompson and de Blasio both resuscitated a proposal from the Dinkins era—independent civilian oversight of the NYPD—that Giuliani famously called "bullshit" as he incited a police riot outside of City Hall in 1992. Civilian review has long been political dynamite, but in an era when quota-based policing, stop-and-frisk, and police killings have led to increasing civilian distrust (Pinto's Voice article noted that most East Flatbush residents believe the NYPD planted the gun that the police claim Kimani Gray pointed at them), it may be time for a mayor to weather the blast.
Specific efforts aimed at the working people and working poor of New York City can have only a meager and limited impact if the overall plan for development writes them out.
Moderator Brian Lehrer of WNYC responded to the candidates' position by noting that, according to the "Unheard Third" survey, most low-income New Yorkers rank crime and safety in their neighborhoods as a concern above racist policing. This drew grumbles from the crowd and platitudes from the candidates, until de Blasio got it right. Safety built on policing that tramples civil liberties and does not have the trust of communities, he noted, "is unsustainable." The comment points to the interconnectedness of these issues, which often goes unnoticed in the world of actuarial policymaking, which seeks discrete interventions for individual problems. When low-income residents worry about crime in their neighborhoods, as an excellent piece in City Limits observed recently, they fear the cumulative impact crime has on their neighborhood, not just muggings and break-ins but criminalization of youth, militarization of streets and schools, and stray bullets from police and gang members alike.
As the forum was drawing to a close, one final issue came up in a spectacular
way. As Lehrer moved to wrap up, an audience member stood up and shouted "you forgot about housing!" The crowd quickly backed her, chanting "HOUS-ING, HOUS-ING!" until Lehrer moved to add an additional question, and fifteen minutes, to the program. The problem was not merely that a pet issue was overlooked but, rather, that specific efforts aimed at the working people and working poor of New York City can have only a meager and limited impact if the overall plan for development writes them out. Koch's aggressive promotion of gentrification limited the impact of his otherwise-successful housing plan, which never quite reached the New Yorkers most in need of a place to live. It also limited his commitment to civil liberties, as mayors who followed used the privatization of public space to prevent protest (Koch, who once strummed a guitar in Washington Square Park in solidarity with the lefty folksingers who had come under attack from local residents, was appalled when Bloomberg and the Central Park Conservancy—founded during Koch's mayoralty—denied protesters a permit during the 2004 Republican National Convention). Bloomberg also launched another ten-year housing plan, though in the hyper-gentrified city of the early twenty-first century, what counts as affordable housing has become remarkably high-priced, aimed not at those in the bottom half of the hourglass economy but those just above its narrow waist. Dinkins, for all his failures, realized the need to redirect housing and development policy toward the city's working people and working poor.
Faced with the question, most candidates stuck to the current formula—private development, incentivized by tax breaks—though they promised to be "tougher" on developers and demand more "truly affordable" units in return for abatements, land, and the like. These policies need adjusting, to be sure, but such tinkering hardly seems transformative. A pair of ideas did sneak in, however: Thompson, addressing the proposal to sell off the New York City Housing Authority's (NYCHA) playgrounds and parking lots for private development to help cover costs, called the idea "terrible." If NYCHA needs funding, he argued, the mayor needs to go out and get it from the state and the feds, and if development is to take place on NYCHA-owned land, let it be for those who need homes most. De Blasio, meanwhile, suggested that the city and city unions might invest their pension funds in "truly affordable" housing, entering the market as a developer and not just an incentivizer. Supporting public housing and building with pension funds are not novel ideas. Both were standard mid-century housing strategies in New York City, which disappeared with the fiscal crisis and the rise of Koch. They may yet serve the city well.
Social and spatial inequalities are mutually constitutive, and policies that seek to address the former while perpetuating the latter will always be severely limited in their impact. As the forum at First Corinthian demonstrated, debates about everything from stop-and-frisk policing to tax policy to charter school co-location policies have hinged on the question of how these initiatives fit into a larger development strategy. A city in which problems of violent crime (and violent policing), inadequate schools, homelessness, and unemployment are relegated by gentrification to neighborhoods like East Flatbush may be attractive to many better-off New Yorkers, but it is inherently unequal and unstable.
The next Democratic mayor of New York will not be able to dictate the shape of the global economy or the health of that economy when he or she takes office. The mayor will have to manage his or her image to satisfy at least some budget hawks and law-and-order types in order to keep them in the Democratic fold, in a way that Dinkins was never able to do. But with large numbers of New Yorkers living within spitting distance of poverty—close to 46 percent were within 150 percent of the poverty line in 2011, according to a recent city report—despite the most recent round of spectacular development, they will also have to imagine a city in which those in the bottom half of the hourglass are not relegated to the margins, either spatially or socially. Thirty-six years after Koch's inaugural embrace of gentrification, it is time for the Democrats to embrace a new urbanism. May they do it with hizzoner's verve.
---
Nick Juravich is a graduate student in the history department at Columbia University. He blogs about the Crown Heights neighborhood in Brooklyn at www.ilovefranklinave.blogspot.com.
* As an aside, McNickle's account of the Central Park jogger case, reprinted from 1993, is sorely in need of an update. (Five young men of color were convicted for a brutal assault in 1989; their convictions were vacated in 2002 after new evidence came to light.) Rather than investigating why so many believed that the accused were guilty, the author merely tacks on a sentence that attests to their innocence.