In this year's unpredictable campaign, Emmanuel Macron's business-friendly liberalism could be enough to spare France from the National Front. But in the long run, it's no safe bet against the populist far right.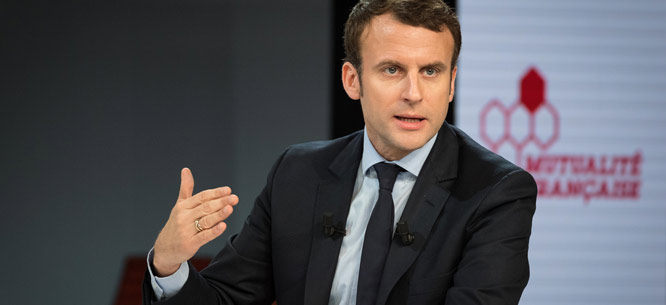 Last May, French economic minister Emmanuel Macron got into a heated argument with protesters. Opposed to his government's unpopular labor reforms, they'd just disrupted what was meant to be a stress-free photo op at a tech school in the sleepy Southern town of Lunel. As the minister smiled and shook hands inside, the sound of the megaphone blaring from across the street was impossible to ignore: "Mr. Valls, Mr. Macron, and Mr. Hollande are doing what Mr. Sarkozy dreamed of doing!"
A year prior, in 2015, the so-called Macron Law had made it easier for employers to open on Sundays and keep late night-hours. But at the time of the minister's visit to Lunel, the Socialist government was pursuing even deeper labor reforms: a historic rollback in collective bargaining rights that would allow company-wide agreements to contain weaker terms than sector-wide ones. Mass protests were sweeping the country.
After the school visit, Macron calmly walked over to engage the rabble-rousers, a member of his entourage declaring the minister was ready to "listen." Things escalated quickly: the man with the megaphone, a sixty-year-old local middle school teacher, accused government reforms of aggravating France's job crisis. (Unemployment stands at around 10 percent and short-term contracts make up the large majority of new jobs.) Macron told him he should start his own business. He had some more pointed advice for a younger protester, an unemployed twenty-one-year-old who quipped that he didn't have the cash to pay for a nice suit like the one Macron was sporting.
"You're not gonna scare me with your T-shirt," the minister retorted. "The best way to pay for a suit is to work for one."
Since officially launching his presidential campaign last November, Macron has avoided slip-ups of this nature. But the Lunel episode remains, as of yet, a near-perfect distillation of his political vision: detached from the struggles of ordinary people, spiteful of unions and left-wing social movements, and enamored with the liberating power of free enterprise. While current polls show him handily defeating the odious Marine Le Pen of the far-right National Front (FN) in the second round of France's presidential election—and there's no question he's a far preferable option in this case—the former investment banker-turned-minister is a dangerous politician in his own right.
Macron wants to roll back state intervention in the economy, cut public-sector jobs, and reduce taxes on business and the ultra-rich. He wants to deepen employer-friendly labor reforms. And he backs the current direction of the European Union, viciously hostile to public investment across the continent. All in all, it's a program nearly guaranteed to aggravate the problems at the heart of France's political crisis: unemployment, inequality, and poverty. These are the same forces driving growing numbers of French people to withdraw from politics altogether—or worse yet, cast ballots for the National Front.
On a basic level, the success of the thirty-nine-year-old founder and leader of the independent En Marche! movement is puzzling. How can a candidate associated with such unpopular ideas—a backer of finance, François Hollande, and a neoliberal EU—be doing so well?
For one, thanks to some top-notch branding and messaging. From the very beginning, Macron has posed as a renegade candidate, promising to take on "the system" and shake it up. "From the inside, I saw the emptiness of the system," he thundered in his opening campaign speech last November. "This system, I refuse it."
Speaking before a crowd of London-based expats in February, Macron declared that he was proud of his "immaturity and inexperience." And striking a similar chord in a recent interview with Brittany's regional newspaper, he claimed to be "the only outsider" in the race.
The posturing belies his actual career. However you choose to define "the system"—ultra-tight political cliques in charge of parties and governments, cultural elites with friends in high places, or brute economic powers fueling inequality—Macron embodies it.
A native of Amiens in northern France, Macron attended the prestigious Henri IV prep school in Paris. From there, he moved on to Sciences Po, a highly selective university that specializes in politics and international relations, before graduating from the ultra-elite École Nationale d'Administration, an institution that literally produces France's ruling class. Designed to groom high functionaries and ministers, the school counts as alumni three of the Fifth Republic's seven presidents, including the current resident of the Élysée Palace.
After ENA, Macron joined the ranks of the Inspection générale des finances, an interdepartmental financial auditing corps. He quickly impressed his bosses, and in 2007, was named adjunct general reporter of the newly launched Commission for the Liberation of French Growth, better known as the Attali Commission. Created by President Nicolas Sarkozy and chaired by Jacques Attali, once a top adviser to François Mitterrand's Socialist government, the body was a French analog to the Simpsons-Bowles Commission: under the guise of nonpartisan economic reform, its recommendations boiled down to an assault on the social safety net. Its conclusions have inspired many a "reformist" since, from mainstream conservatives to Macron himself.
In 2008, the budding functionary bolted for the private sector, taking a job at an affiliate of the Rothschild & Co financial empire. During this stint in investment banking—which paid nearly 3 million euros—Macron was formally introduced by his old boss Attali to François Hollande, who had then just finished a term as the party's general secretary. In 2012, France's newly elected president appointed the banker to a key advisory post. The wunderkind continued to impress. Two years later, at the ripe age of thirty-six, Macron was named Hollande's new economic minister. This, too, though was a surprisingly short-lived gig. In April 2016, amid comically low approval ratings for his boss and a self-professed desire to "build something new" and "advance" against the "blockages of society," Macron launched his En Marche movement. It all but confirmed his personal political ambitions. In August Hollande's former protégé resigned his post to focus on preparing his own presidential campaign. Ultimately, Macron's record in government was unimpressive: the Socialists failed to tackle unemployment, even as they implemented reforms that doomed the party's electoral chances.
The fact that a graduate of one of the country's grandes écoles who made millions in the Rothschild banking empire and set economic policy for the sitting government would even attempt to portray himself as "anti-system" says a lot about our current political moment, and not just in France. That Macron could get away with it, as polls seem to indicate, even more so. It's not dramatically different, one might say, from a real-estate mogul successfully posing as an anti-establishment champion of the working class.
Thanks to Hollande's dismal presidency, working-class and other traditionally left-wing voters are turning their backs on the PS. The party's presidential nominee Benoît Hamon has struggled to reverse the trend. Some of these electors now opt for independent left-wing candidate Jean-Luc Mélenchon. But as recent European and regional races showed, many low-income voters prefer abstention and the National Front.
On the other hand, the standard-bearer of the mainstream right Les Républicains, François Fillon, is a cartoonishly bad candidate. Aside from an especially cruel and unpopular platform, the former prime minister has been battered by a series of scandals over the alleged diversion of public funds. Party leaders and the conservative base alike grow increasingly critical.
Against this backdrop, electoral participation is projected to tumble to historically low levels. A recent poll showed that 38 percent of voters are prepared to abstain from the election, a record high since France adopted its current presidential system. Another poll found the abstention rate could rise to a whopping 52 percent for young voters, aged eighteen to twenty-five.
Those who do plan to cast ballots are turning away from the parties that have dominated French political life for a generation. Neither of the leading candidates belong to the two major parties. Le Pen has for years swelled the ranks of her far-right base with disillusioned working-class people. Macron, for his part, has managed to attract a more socioeconomically diverse swath of voters fed up with politics as usual, albeit in a much shorter period of time.
Scooping up voters across ideological and class divides like this all but requires vague messaging—presenting the campaign in a way that avoids exposing its inherent contradictions. Macron tiptoes accordingly around classic political labels, often deploying different messages for different audiences. He once identified as a Socialist and said he supported the "values of the left"; he now distances himself from the Socialists and regularly proclaims he is "neither left nor right."
His book Révolution, released in conjunction with his formal entry into the race, sheds some light on his no-labels identity. In the work, Macron describes himself as "progressive." The word isn't too familiar to French ears: Left-leaning voters think of something closer to its meaning in the American context. To conservatives, it sounds vaguely pro-business and pro-innovation.
"Our political life is organized today around an old cleavage that no longer allows us to respond to the challenges of the world and our country," Macron writes in Révolution. "Today the great questions of our time are our relationship to work, profoundly shaken up by environmental and technological questions, new inequalities, our relationship to the world and to Europe, the protection of individual liberties and of an open society in a world filled with risks. On each of these subjects, the left and right are profoundly divided and as such, are prevented from acting. They haven't updated their ways of thinking to the reality that now surrounds us."
Of course, to translate this sort of blueprint into actual policy prescription is to risk collapsing the entire project. No matter how one describes one's guiding philosophy, campaign proposals interact in a real world that remains preoccupied with the question of how resources are distributed and who benefits from what; in short, a world still defined by left and right. Undoubtedly aware of this problem, Macron didn't actually release his platform until early March—that is, less than eight weeks before the first round of the election.
With the curtain finally lifted, the regressive nature of his candidacy can no longer be denied. One of the most worrying elements is a plan to further overhaul collective bargaining in favor of big business. Just 8 percent of French workers belong to unions, but by law, the contracts they negotiate cover nearly the entire labor force, from national and industry-wide agreements to deals with individual companies. Last year's reforms undercut large-scale labor agreements by allowing company-level negotiations to take priority under certain circumstances. But Macron wants to go further, authorizing companies to bargain over issues currently codified by law, such as hours and the general organization of work.
Beyond that, Macron wants to cut 120,000 functionary jobs in the next five years; at the same time, he calls for hiring 10,000 more police officers and national guardsmen. He wants to reduce public spending by some 60 billion euros over the course of his presidency, but he also wants to boost military spending, to 2 percent of GDP. He backs the seemingly never-ending state of emergency, too. Since the terrorist attacks of November 2015, the law authorizes police to seize data from phones and computers and conduct searches without the approval of judges.
In this year's strange and unpredictable campaign, Macron's mealy-mouthed liberalism could be enough to spare France from the National Front. But in the long run, it's not exactly a safe bet against the mounting threat of the populist far right.
European politics increasingly take the shape of a bleak contest, if not always in terms of policy, then at least in rhetoric: on the one hand, a strain of xenophobic populism anchored to the national welfare state; on the other, a sort of cosmopolitan liberalism in defense of free trade and enterprise. This is what the Brexit debate looked like. German and Dutch politicians increasingly talk along these lines. And it's essentially what defines the conflict between Macron and Le Pen. Squeezed out of the discussion is the left: a force capable of defending public services while distinguishing between the free flow of people and capital.
So long as this cheapened clash persists, regular people will continue to suffer. Macron's plans to cut state spending and reshape collective bargaining will likely hurt wage-earners and fuel inequality. Needless to say, Le Pen's "France First" program would be far worse, unleashing an unprecedented wave of racism and xenophobia.
The first scenario is still much easier to imagine, but it ominously beckons the latter. Pro-EU liberals cannot continue to ignore the plight of working people and kowtow to business while assuming politics will go on as usual. If Brexit wasn't enough of a lesson, events on the other side of the Atlantic should have been. And yet Macron's bargain remains essentially unchanged, however "progressive" he considers it, however new and fresh he claims to be.
---
Cole Stangler is a journalist living in Paris, France. He writes about labor and politics. A former staffer at In These Times and International Business Times, his work has also appeared in the Village Voice, the Nation, VICE, and Jacobin.