In a special audio dispatch, Daniel Aldana Cohen and Kate Aronoff discuss what the COP21 deal will mean for the climate movement in 2016. They hear from activists who were in the streets in Paris, as well as from UNFCCC veteran J. Timmons Roberts, about why we need a wartime-level mobilization today.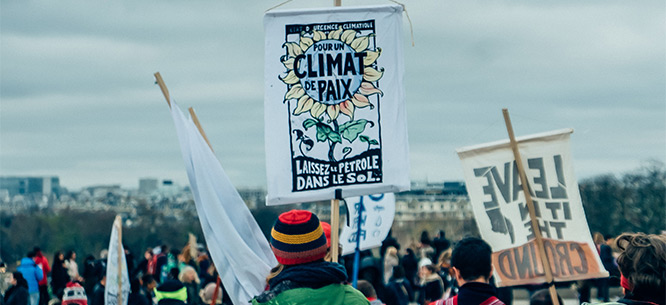 Podcast: Download
For six years, governments and environmentalists the world over steeled themselves for the 21st Conference of Parties in Paris, the landmark UN climate talks tasked with setting humanity on the path toward a low-carbon future. Better known as COP21, those two weeks are now behind us; governments, organizers, and policy analysts have regrouped and are charting their next steps. There remain serious gaps between the Paris Agreement and averting temperature rises "incompatible with organized global community," as climate scientist Kevin Anderson has described our prospective 2-plus-degrees-hotter future. The question now is how to fill those gaps.
In a special Dissent audio dispatch, Daniel Aldana Cohen and Kate Aronoff break down the deal itself, providing a crash-course for the UNFCCC-uninitiated and a look at the politics behind it. We also hear a few experts' thoughts on the deal and their plans for the coming months and years. First, we go to Paris to talk to organizers from a range of different movements about what happened at COP21, inside and outside of Le Bourget. We also speak with J. Timmons Roberts of Brown University's Climate and Development Lab about the talks, historic responsibility for the climate crisis, shady corporate climate financing, and the need for wartime-level mobilization today.
Thoughts? Questions? We'd love to hear from you! Tweet any and all feedback to #DissentingClimate, @katearanoff, @aldatweets, and/or @DissentMag.
Music by Mihran Abrahamian (@__mihran). Produced by Colin Kinniburgh.
COP21: The Takes
'Paris Deal is a Death Warrant for Africa' (teleSUR)
The world just agreed to a major climate deal in Paris. Now comes the hard part. (Vox)
Falling Short on Climate in Paris (New York Times)
Paris Climate Summit Was Like Agreeing To Cut Down From Five Burgers A Day To Just Four (Huffington Post)
Grand promises of Paris climate deal undermined by squalid retrenchments (The Guardian)
Climate agreement falls short of a fair deal—but Paris is only the beginning (ActionAid)
Paris deal: Epic fail on a planetary scale (New Internationalist)
Why Most Of What You Think You Know About The Paris Climate Deal Is Wrong: An Annotated News Story (The Leap)
Two Cheers for the Paris Agreement on Climate Change (Council on Foreign Relations)
Seven Wrinkles in the Paris Climate Deal (Foreign Policy in Focus)
Kate: Opposition Isn't Enough (Jacobin)
Outside COP21: The Beauty Is in the Street
Storms, Roots and Seeds: Beyond COP21! (It Takes Roots Delegation)
Paris climate activists put under house arrest using emergency laws (The Guardian)
Kate: The Beauty of COP21 Is in the Street (Waging Nonviolence)
Kate: Bringing Solutions to COP21: A Conversation with Brandon King (Waging Nonviolence)
UN promoting potentially genocidal policy at World Climate Summit (Indigenous Environmental Network)
Kate: Donald Trump, Marine Le Pen and the Dangers of Eco-Nationalism (In These Times)
Kate: Climate Games Challenge Protest Ban with Peer-to-Peer Disobedience: A Conversation with Selj Balamir (Waging Nonviolence)
Conversation: J. Timmons Roberts
Climate Finance in 2013-14 and the $100 billion goal (Organization for Economic Co-operation and Development)
Climate Change Finance, Analysis of a Recent OECD Report: Some Credible Facts Needed (Ministry of Finance, Government of India)
Measuring a fair and ambitious climate agreement using cumulative emissions (IOP Science)
An Environmental War Economy: The Lessons of Ecological Debt and Global Warming (New Economics Foundation)
Daniel: Seize the Hamptons (Jacobin)
The unfinished agenda of the Paris climate talks: Finance to the global south (Brookings)
Toward Mutual Adaptivity: The 2015 Adaptation Finance Transparency Gap Report (Adaptation Watch)
Further Reading
Daniel: The Urban Green Wars (Jacobin)
Kate: The Risks of Being Heard at COP21 (YES! Magazine)