In Montceau-les-Mines, a French town once dependent on coal mining, there was no just transition from fossil fuels. Once a left-leaning industrial hub, Montceau today is an open field for the far right.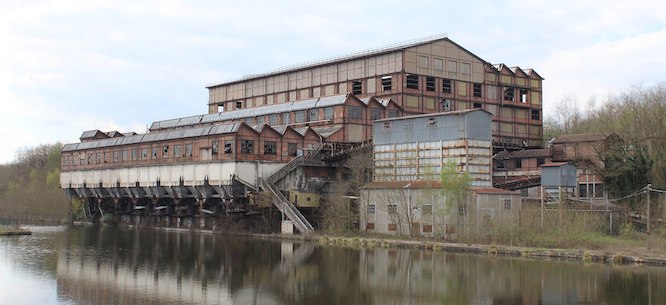 This article is co-published in collaboration with the Rosa-Luxemburg-Stiftung Brussels Office, as part of its ongoing series A Season in Hell: Burning Issues in French Politics.



If there's one part of the world that's synonymous with wine, it's the region of Burgundy, in east-central France. Yet when my mother's family moved there in the early 1960s, the charm of the vineyards seemed far off. The town of roughly 6,000 they now called home, Sanvignes-les-Mines, practically advertised the fact, the first part of its name reading, "without vines."

No, this wasn't wine country. It was coal country, stated plaintively in the second half of the town's name. Next door was the larger Montceau-les-Mines, a coal-mining hub whose population then numbered roughly 28,000. At their peak, the local mines had employed some 12,000 miners, mostly Polish immigrants, making Montceau a mining powerhouse in an otherwise bucolic region. Much of the coal was used just nearby in Le Creusot, feeding the furnaces in what for a time was France's largest steel mill.

Today, the local coal plant's giant smokestacks still loom over Montceau, but the jobs that clustered around the mines are long gone. From 1975 to 2015, the area lost more than half of its industrial jobs. The local unemployment rate shot up to 22 percent, compared to 14 percent nationally. And that was despite more than 10,000 people—a third of the population—leaving Montceau over the same period. Those who have stuck around are disproportionately older: more than one in three over the age of sixty, compared to one in four in France as a whole.

The politics have gradually shifted too. For much of its postwar history, southwestern Burgundy served as a near barometer for national politics, if skewing just slightly to the left. Yet in the early 2000s, that started to change. The far-right National Front (FN), then helmed by Jean-Marie Le Pen, began making gains. In Montceau proper, Le Pen won 18 percent in the first round of presidential voting in 2002—1 point higher than in France as a whole. When his daughter Marine took the reins, the FN's popularity kept ticking up. In 2017, the younger Le Pen finished first in Montceau, with 27 percent of the vote in the first round—nearly 6 points higher than nationally.

Even more striking are Montceau's second round results. In his 2002 run-off with Jacques Chirac, Jean-Marie Le Pen's score stayed unchanged from the first round, at 18 percent, while in 2017, Marine Le Pen's second-round score shot up to 40 percent.

If national polls are any indication, Le Pen is all but certain to best those scores in next year's presidential election. Nearly every poll this year has put her at the top of a messy field, ahead of Macron and a tangle of leftists, most of whom have yet to confirm that they're running. In towns like Montceau, she could well dominate both rounds.


Montceau-les-Mines' gradual shift from a left-leaning industrial hub to an open field for the far right is tied up with the history of fossil fuels.

When the mines closed, "It was like the economy got hit with a sledgehammer," René Serge Joby, a retired factory worker, told me in 2018.

Hélène Ville, a Burgundy-based researcher with the national statistics institute Insee, likewise blames the area's historic dependence on raw materials and heavy industry for its current decline. In a 2019 study, she and a co-author compared Montceau-Le Creusot to five other urban areas with similar demographic profiles, spanning the northern half of France from east to west. They found that areas with more diversified industries rebounded from job losses in the 1980s and '90s, while towns like Montceau and Le Creusot—whose economies were highly concentrated—kept hollowing out.

For former industrial workers like Joby, it's hard not to feel nostalgic. I met him a few kilometers outside Montceau, on an expressway overpass where a dedicated band of gilets jaunes (Yellow Vests) had pitched their camp. He and other gilets jaunes looked back fondly at the worker militancy that marked the industrial era.

About 20 kilometers down the road from Montceau, in Le Creusot, the remnants of a historic home of French steel can still be found. At its height in the late nineteenth and early twentieth centuries, Le Creusot had been a company town run by the Schneider dynasty. The family's mills produced France's first locomotive in 1838 and, by 1870, were said to be the largest in Europe, with more than 10,000 workers. Generations of Schneider steel barons took turns serving as mayor.

Yet the Schneiders' distinctly paternalistic form of management couldn't keep the lid on workers' demands. A steelworkers' strike in 1870 was large enough that the government sent in 4,000 troops to end it. Coal miners soon went on strike in turn, setting the tone for the Communes of 1871. These, too, had a short-lived echo in Le Creusot, repressed again by the military.

Montceau saw similar waves of action and reaction. From 1899 to 1901, miners went on strike repeatedly, winning concessions from the mining company after craft and trades workers from across the city struck in solidarity. This tradition of militancy continued into the twentieth century. During the Second World War, as another gilet jaune told me, the mostly Polish miners struck against the Vichy government and joined the Communist-led Resistance brigades. In 1947 and '48, with the Communist-affiliated CGT union at its height, they joined national strike waves after the government threatened to cut wages in the now-nationalized mines. In October 1948, the strikes reached a fever pitch in Montceau, where miners not only clashed with police but briefly took more than a hundred officers hostage and confiscated their weapons.

May '68 also had its flickers in the area, including a strike and occupation of the Schneider steel mills, still more than 8,000 workers strong. But these didn't last, and soon the national backlash against the May rebellion hit home: Montceau and Le Creusot both elected right-wing members of parliament amid the wider Gaullist tide of the June 1968 elections.

By the time my grandparents built their house in the area a few years later, coal and steel—the twin pillars of France's industrial revolution—were becoming history. The mid-1970s saw one of the main local mine sites transformed into a museum. The last of the mines closed in 1992. The steel industry, meanwhile, was hit hard by the oil shocks of the 1970s; despite efforts to cut costs, the Creusot mills went bankrupt in 1984.

Joby worked much of his career in one of the few new factories that opened during this uneasy period: Potain Poclain, a merger of two heavy machinery manufacturers. He says the factory employed some 800 workers at its peak. But it was gradually sold off to transnational corporations and dismantled. When the factory closed in 2009–10, Joby retired.


The expressway we looked over as Joby told me his story explains one part of what happened to the region as the manufacturing jobs left. Known as the Route Centre Europe Atlantique (RCEA), the expressway was conceived and promoted starting in the 1950s by business interests and elected officials, who sought to create a direct link from Portugal and Spain through southwestern France across to Switzerland, Germany, and central Europe.

In the stretch between Montceau and Le Creusot, the RCEA runs alongside the canal that used to link the mines to the steel mills. Local officials have tried to rebrand the canal—built in the late eighteenth century—as a tourist site, but mostly it provides the backdrop for a constant stream of traffic.

Toll-free and relatively flat, the RCEA is today a favored corridor for truck traffic, despite being only two lanes across in many sections. A local TV station reported in 2011 that one in three vehicles on the road were trucks—more than double the share on most French highways. This fact combined with its narrowness have made the RCEA one of the most dangerous stretches in France, earning it the moniker "the road of death."

Economically, the RCEA and larger highway system it supports have relegated the area to a sort of in-between zone. The "Coal and Steel Community," a precursor to the European Union, transformed into a broader European project underpinned by free trade and neoliberal economics. Areas shaped by those hulking industries, like southwestern Burgundy, became little more than pit stops for one that today is growing faster than almost any other, across the continent and beyond: logistics.

The RCEA is dotted with warehouses of all kinds. Just off the expressway, outside Le Creusot, sits one of the area's largest, belonging to the German supermarket chain LIDL. When the warehouse opened in 2018, it was LIDL's largest in France, employing more than 250 people. Still larger is the Amazon warehouse another half hour down the road, where the RCEA meets the larger, north-south A6 highway. LYS1, as the Amazon site is called, currently employs close to 600 people, according to CGT union representative Antoine Delorme.

Yet despite the imposing facilities, the rise of logistics hasn't created any significant number of jobs in the former coal and steel towns, says Insee's Hélène Ville. The sector is growing, to be sure—with about ninety entry-level job offers in Montceau and Le Creusot last year, according to the national recruiting agency Pôle Emploi, up from just a handful in 2016—but not enough to change the larger economic picture.


Manufacturing hasn't disappeared completely from the area. The tire company Michelin still employs 1,200 workers at its factory just outside Montceau, and there are a handful of garment workshops as well. But if you're looking for work in the area today, you're more likely to find a job taking care of retired industrial workers and others of their generation. In this sense, the trajectory of the former coal and steel basin mirrors that of cities like Pittsburgh, as chronicled by historian Gabriel Winant in his recent book The Next Shift.

Of some 2,800 jobs listed on Pôle Emploi for the Montceau-Le Creusot area last year, more than 20 percent were in the care sector. By far the most—13 percent—were in home care. Nursing assistants made up another 5 percent.

Yet despite relatively high unemployment in the area, employers had a hard time recruiting for these jobs. That's at least in part because the wages are low, the hours long and unpredictable, the work difficult, the long-term prospects uncertain. Anywhere from early morning until evening, including on weekends, you drive from house to house, helping elderly and vulnerable people with their toiletry, meals, cleaning, and groceries. You shower them, feed them, and scrub their toilets. You keep them company and add a moment of intimacy to otherwise lonely days.

It's essential work. I know because my grandfather, living alone in Sanvignes, depended on it for two years as Alzheimer's gradually robbed him of his ability to take care of himself. (He now lives in a nursing home in Montceau.) It is hard to imagine how he and the rest of my family could have coped without the patient, dedicated women who came to take care of him up to three times a day.

In 2019, I had the chance to leaf through a book of testimonies by some of those women and their colleagues. They highlighted many of the job's difficulties—the uncompromising hours, the miles on the road, the inadequate pay, as well as harassment by some clients—but also its rewards. The word "gratifying" appears repeatedly. It's a refrain voiced by overburdened care workers in many countries: they know the value of their work, and how much it means to those they care for. Yet their employers don't treat them accordingly.

Has the COVID-19 pandemic brought us any closer to revaluing their work, so that the new, feminized working class has a chance at the kind of stability promised by the postwar compact? At the job security and the hard-fought benefits that made the long, brutal hours in the mines and factories worthwhile?

In France, much like in the United States, many people came out nightly during the first wave of the pandemic last year to clap for doctors and nurses. But funding for public hospitals has barely budged. And now, after a year of being pushed to their limit, many hospital workers are facing a third wave even more dire than the first.

Home-care workers, whose work is far less visible, haven't even gotten a token medal. And their pay is as miserable as ever. Scanning current job listings on Pôle Emploi, most of the home-care ads in Montceau don't mention pay at all. The one that does is offering a six-month contract — at minimum wage.


In some ways, the story of my grandfather's town is that of a transition from fossil fuels gone wrong. After churning for more than a century, the extractive economy sputtered out, leaving only holes in its place. Public policy failed to fill them, and those who didn't leave felt left behind.

Of course, industrial decline alone can't be blamed for the far right's rise. But in Montceau, it has provided fertile ground for Le Pen's hateful narrative to take hold. If Montceau continues to serve as a barometer for French politics more broadly—as it did for the second half of the twentieth century—then the country could be headed in a very perilous direction indeed.

It's not hard to imagine ways to revitalize areas like Montceau. Transforming the burgeoning care sector into one that pays and treats its workers fairly would be a natural place to start. Training workers to retrofit homes and combat the climate crisis would be another.

In the absence of such ambitious public policies, local officials have sought other ways to fill the gaps. In Sanvignes, they've done so quite literally, filling the former open-pit mines around the edges of town with water and dubbing them lakes. They sparkle a brilliant blue, but are off limits for swimming, the deep pit beneath deemed too dangerous. Nearby residents are left to gaze at the water on hot summer days, or else to swim at their own risk.
---
Colin Kinniburgh is a Brooklyn-based freelance journalist covering climate change, cities, and inequality. He also staffs the U.S. news desk at France 24 and serves on the editorial board of Dissent.