At Friday's climate strike and the protests that followed, the "convergence of struggles" long championed by the French left began to take shape. A dispatch from Paris.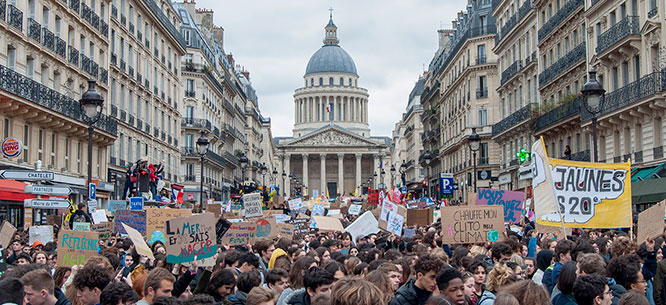 "Tous ensemble, tous ensemble, hou! hou!" 
All together now: over the last several months of mass protests in France, from the yellow-vest uprising to monthly youth-led climate marches, this has become a familiar refrain. So far, it has remained mostly aspirational. This past weekend, in the streets of Paris, there were signs that a larger "convergence of struggles," long championed by the French left, was beginning to take shape. The French chapter of what will likely be remembered as a landmark weekend for the international climate movement stood out not only for its scale—of the 1.5 million student strikers counted by organizers worldwide on Friday, some 195,000 were in France—but for the vision of climate justice it put on display. Friday's youth strike was followed on Saturday by an even larger day of action across France. In Paris, climate, yellow-vest, and antiracist marches converged in a massive, concerted show of solidarity.
In a closing rally at Paris's Place de la République on Saturday evening, gilet jaune figurehead Priscillia Ludosky summed up the spirit of the joint marches. "I refuse to face repression for demanding social, economic, and climate justice," she told the crowd. Ludosky, whose viral petition against a planned fuel-tax hike helped kickstart the yellow-vest movement last November, had opened the weekend by delivering a similar message to a crowd of hundreds of leftists and gilets jaunes gathered on Thursday night at a historic union hall a few blocks away. "We've been programmed since childhood to think that all [these issues] are separate, but everything is linked," she said.
Behind the scenes, a dedicated group of organizers had spent weeks preparing to make those links visible in successive marches and actions over the course of the weekend. On Friday morning, a group of more than 100 young people set the tone with a sit-in at the headquarters of Société Génerale bank in the outskirts of Paris. Claire Renauld, a twenty-two-year-old Sorbonne student and spokesperson for Youth for Climate Paris, said the group was targeting Société Générale for its major international investments in new fossil-fuel drilling and infrastructure, notably in liquefied natural gas (LNG), tar sands, and shale projects in North America. (According to a report released last year by Friends of the Earth France, the bank is the largest international investor in new infrastructure for LNG, whose exports the U.S. fracking industry is counting on to finally turn a profit. Société Générale is also one of four major French banks invested in the Dakota Access Pipeline, for a sum of nearly $900 million.)
"We're targeting the banks because we've also realized that it's not just the sum of individual actions that's at play here, but rather the capitalist growth model," Renauld told me. "We've realized it's banks like Société Générale that are actively financing climate chaos, that are blocking our future, so we're blocking them."
The protesters did not fully succeed in blocking access to the bank—employees were still able to get in through a side door—which may in part explain why the police made no real effort to dislodge them. Instead, the group emerged chanting, around noon, to join tens of thousands of other young people amassing in the center of Paris for the climate strike.
Students on Strike
Internationally, Swedish sixteen-year-old Greta Thunberg has become the face of the global climate strike movement, to the point of being nominated for the Nobel Peace Prize. In other countries where the climate strike has gained the most traction, local leaders have likewise emerged, almost all of them teenage girls. But in most of the 120 countries where students walked out on Friday, the youth movement has no such charismatic leaders. That didn't stop mass walkouts in cities ranging from Kampala to Cape Town, Bogotá to Sydney, Hong Kong to Hyderabad, and beyond. The United States, where a dedicated cadre of youth activists has ignited a national campaign for a Green New Deal, also saw students go on strike in dozens of cities.
Still, the movement remains strongest in Europe, and the Paris march was an impressive example. I was met on Friday by a completely decentralized outpouring of young people, largely high-school-age and younger, from all backgrounds. There were no grand speeches and very few signs of established parties, unions, or environmental associations—just the rambunctious energy of tens of thousands of teenagers cutting class to make their voices heard, with some brilliant signs to boot.
Estimates for the total turnout ranged from 29,000 (police) to 50,000 (organizers), which made the Paris march one of the single largest in the world on Friday, despite the government's announcement that every French high school would host a debate on climate issues Friday afternoon. "The government organized the debate to prevent young people from going out into the streets," Katia, seventeen, told me. Other high schoolers, like Yasmine, Favio, and Amelia, ages fifteen and sixteen, told me their teachers had encouraged them to participate in the strike. Others had heard about it on Instagram. For many, it was their first time protesting. Maïlis, a nineteen-year-old student at the Sorbonne, told me she had been to several of the recent climate marches, and this was the first time she'd seen so many young people, including middle-schoolers. Still, several high-schoolers I talked to said they were virtually alone at their schools in taking part in the strike. The question facing the movement now is whether March 15 will mark a peak—or the start of something much larger.
"Climate Refugees Are Already Here"
In France, the young faces of Friday's climate strike weren't the only ones to take the streets for climate justice this weekend. Gilets jaunes, antiracist organizers, and environmentalists alike were pinning their hopes on Saturday as a turning point in their ongoing contestation of President Emmanuel Macron's policies. The day got off to a bracing start on the Champs Elysées, where gilets jaunes from across the country rallied in what they hoped would be a renewed show of force against the Macron government. By noon, the Champs were littered with flaming barricades, as black bloc groups flitted in and out of the procession of gilets jaunes (numbering about 8,000, according to police) to smash the windows of luxury boutiques, banks, and restaurants. Despite the usual rounds of tear gas and water cannons, the police response seemed surprisingly hands-off relative to a level of damage unseen since December.
This fresh attack on the French capital's symbols of wealth and power succeeded in capturing media attention, even as, barely a mile away, a much larger march was forming in good cheer under the midday sun. There, gilets jaunes, antifascists, and immigrant rights' groups proclaimed their unity against all forms of state violence, whether the police killings of young people of color like twenty-four-year-old Adama Traoré; the flash-balls and "defensive grenades" that have left dozens of yellow-vest protesters permanently disabled; or the detention and deportation of migrants. I spoke to Alioune Traoré (no relation to Adama), member of the International Coalition of Undocumented Migrants, about why organizations like his were making common cause with the climate march.
"Climate refugees are already here," he said, "and it's environmental injustice that's bringing them." He pointed to the examples of refugees from coastal areas and farmers losing work due to drought. Traoré, originally from Senegal, himself spent months picking tomatoes in Italy before making his way to France. Asked whether his group would be joining the climate march later on, Traoré said it was the other way around: "It's the climate march that will be joining us."
Right on cue, the organizers of the official climate branch of Saturday's marches—dubbed the "March of the Century"—filed in behind the antiracist groups for the last leg of the day's mobilizations. Hours later, they were still streaming into Place de la République, Paris's iconic protest hub, for the closing rally. Organizers counted over 100,000 protesters in Paris over the course of the day, out of some 350,000 nationwide. (A research agency dedicated to counting crowds estimated 45,000 in Paris.)
The weekend marked an unmistakable show of strength for the international climate justice movement. In France, the impressive turnout was in keeping with the results of a recent poll commissioned by the march's organizers, which showed two-thirds of respondents agreeing that "fighting climate change should be a priority for the government, but it will only work if wealth is equitably distributed." "System change not climate change," a slogan first heard in Copenhagen ten years ago, and carried since by eco-socialist groups, has become the watchword of the wider French climate movement, chanted by tens of thousands of people across the country this weekend.
Still, majority support does not spell political action, and as several organizers pointed out at the end of Saturday's march, the movement is still a long way from reaching the mass scale needed to truly shift the balance of power in France or elsewhere. We are a ways yet from the social tipping point needed to avert catastrophic climate change.
One Step Forward, Three Steps Back
Macron, for his part, seems nothing if not determined to tamp down the movement's hopes. On Friday, members of his party pushed a law through the National Assembly postponing a ban on French exports of agrochemicals—in direct contradiction of climate groups' demands for a shift away from pesticide-intensive industrial agriculture. It would be hard to ask for a neater illustration of a chant heard throughout Friday and Saturday's marches: "Un pas en avant, trois pas en arrière / C'est la politique du gouvernement" ("One step forward, three steps back / that's the government's policy").
On Friday morning, in the lobby of Société Générale, Vincent—a fifty-year-old volunteer with the groups organizing the sit-in who works at France's environment ministry and asked that his last name not be used—told me that, despite all the mobilizations under way over the weekend, "It really feels like David and Goliath." Even the unprecedented numbers of young people taking to the streets have yet to put a significant dent in the power of the fossil-fuel industry and all the interests that revolve around it. It doesn't mean they can't or won't. But they have their work cut out for them.
---
Colin Kinniburgh is a Paris-based journalist and an editor-at-large at Dissent.
Click here to read his in-depth article on climate politics and the yellow vests from our Spring 2019 issue.