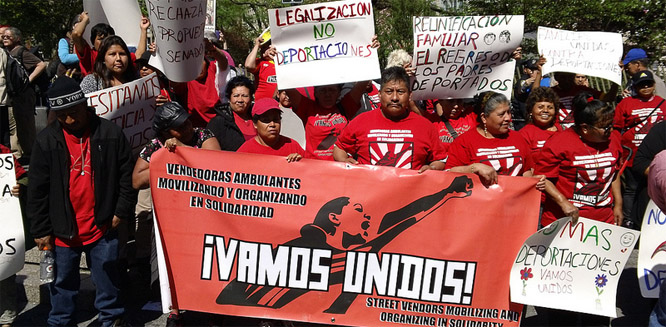 Before taking to the streets this May Day, Dissent celebrated by surveying a year's worth of highlights for organized labor. Picking up where we left off, let's take a look at how May Day shaped up around the world this year.
Though somewhat subdued in Europe and the United States—at least compared to last year, when anti-austerity fury and the Occupy-led call for a general strike, respectively, fostered major mobilizations in the global North—May Day 2013 was marked with renewed militancy in many parts of the globe.
In Dhaka, Bangladesh, where the death toll from last week's building collapse has now surpassed five hundred, tens of thousands of workers took to the streets to demand better working conditions and higher wages.
Other parts of Asia saw similarly large and militant demonstrations, notably in Indonesia, the Philippines, Cambobia, Taiwan, and Hong Kong. As AP reports:
In Indonesia, the world's fourth-most populous country, tens of thousands of workers rallied for higher pay and other demands. Some also carried banners reading: "Sentence corruptors to death and seize their properties" to protest a proposal for the government to slash fuel subsidies that have kept the country's pump prices among the cheapest in the region.

In the Philippines, an estimated 8,000 workers marched in Manila to also demand better pay and regular jobs instead of contractual work. Some rallied outside the U.S. Embassy, torching a wooden painting stamped with the words "low wages" and "union busting" that depicted Philippine President Benigno Aquino III as a lackey of President Barack Obama.

And in Cambodia, more than 5,000 garment workers marched in Phnom Penh, demanding better working conditions and a salary increase from $80 to $150 a month. About a half million people work in the country's $4.6 billion garment industry, which makes brand name clothes for many U.S. and European retailers.
The Cambodian garment workers' May Day rally comes on the tails of an important victory against Wal-Mart and H&M in March, when workers claimed $200,000 of unpaid back wages from their employers after camping out in front of their suddenly-closed factory for almost two months.
In Turkey, May Day protesters were banned from the historic Taksim square, leading to fierce clashes with police.
Equally fierce were demonstrations in Santiago, Chile, where up to 150,000 marched, sustaining the momentum of April's massive rallies for free education. Between Chile, Venezuela, and Cuba, where the state-sponsored annual rally drew hundreds of thousands, Latin America witnessed some of this year's largest May Day demonstrations.
In Europe, where many countries still honor International Workers' Day as an official holiday, the largest protests took place in Spain, Denmark, Britain, France, and Greece, where strikes shut down ferry and train services, with Communist-led rallies in Athens amplifying the grievances of the strikers.
New York organizers did not renew last year's calls for a general strike but nevertheless drew large crowds, in a display of unity between immigrants' rights and labor groups that has become the hallmark of U.S. May Day rallies since the 2006 Day Without Immigrants. Rallies for just immigration reform drew thousands in Los Angeles. In Seattle, protesters were met with flash bombs and pepper spray.
For more May Day coverage in photos, see the Huffington Post, Business Insider, and the Peoples' Record.
Elsewhere online:
At least sixty miners have died after a gold mine collapsed in Darfur. In Guatemala, protests against a proposed Canadian-owned silver mine have led the government to declare a state of emergency in four towns, suspending citizens' constitutional rights to assembly.
Despite a growing labor movement, China did not witness any May Day demonstrations of note this year. Jeffrey Wasserstrom notes that users of Baidu, a Chinese web service comparable to Google, were preemptively blocked from launching forum discussions about "socialism," "workers," and "labor unions."
Bolivia celebrated May Day by expelling the U.S. Agency for International Development (USAID), partly in response to John Kerry's description of the western hemisphere as "our backyard" last month.
Al Jazeera marked International Workers' Day with an excellent interactive feature on migrant labor in the Gulf.
A new biography questioning Marx's relevance today has been widely reviewed in center-left publications. Meanwhile, Tumblr users have found their own ways to adapt nineteenth-century Marx for our times.
Vivek Chibber's polemic against subaltern studies and its influence on postcolonial theory, recently published in book form by Verso and taken up by Jacobin in an interview, has been the object of considerable controversy. A vicious debate between Chibber and Partha Chatterjee at last weekend's Historical Materialism conference in New York—video of which should appear on the conference website soon—is echoing in the blogosphere, where Chris Taylor has issued a thoroughgoing critique, earning him a response where Paul Heidemann says Taylor's post "exemplifies the kind of evasiveness and non-engagement which typifies the culture of the academic left." Are grand narratives back in style? Vivek Chibber may not have made the best case for them, but, in his attempt to do so, he has revived some of the Left's most bitter internal disputes. [UPDATE: A video of the Subaltern Studies debate at the Historical Materialism conference has been posted at WeAreMany.org.]
Upon learning that Bangladesh's garment workers are among the lowest-paid industrial workers in the world, Pope Francis decried the "slave labor" conditions they face. The country's finance minister was less perturbed. "The present difficulties, well, I don't think it is really serious. It's an accident," he told the Associated Press. "And the steps that we have taken in order to make sure that it doesn't happen, they are quite elaborate and I believe that it will be appreciated by all."
Vijay Prashad examines Sohel Rana, the now-arrested owner of Savar's collapsed factory complex, as a street thug sunk to new lows by neoliberalism.
As the NYPD faces continued scrutiny for its discriminatory "stop and frisk" practices, Police Commissioner Ray Kelly has not only stood up for the department's methods, but now claims that "African Americans are being understopped in relation to people being described as perpetrators of violent crime." In Los Angeles, forty ex–police officers are seeking reviews of their dismissal cases in the wake of Christopher Dorner's rampage against the LAPD. "I personally received two calls from terminated officers who abhor what Dorner did but both independently stated that Dorner's description of the discipline system resonated with them," wrote a lawyer for the police union.
For the Harvard Business Review, DNA-testing ordinary bus riders is an example of the kind of "soft surveillance" that other businesses might seek to replicate—without getting too Orwellian, that is.
Ammonium nitrate—the chemical that caused the massive West, Texas explosion—is not a crucial fertilizer. But it is useful for cooking meth.