Sarah and Michelle talk about this year's biggest labor stories.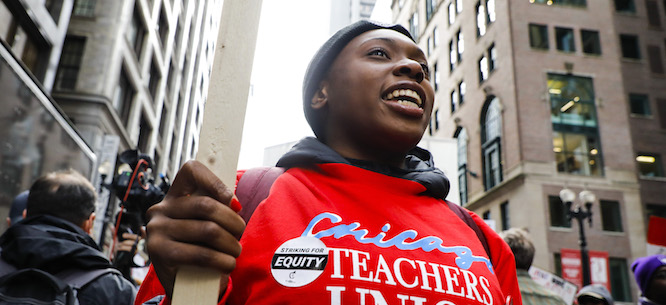 Subscribe to the Belabored RSS feed here. Subscribe and rate on iTunes here or on Stitcher here. Check out the full Belabored archive here. Tweet at @dissentmag with #belabored to share your thoughts, or join the conversation on Facebook. Belabored is produced by Natasha Lewis.
We round up 2019 with the good, the bad, and the ugly of the year in labor. From the Green New Deal to the gig economy, from Lordstown autoworkers to Los Angeles teachers, from new media unions to the National Labor Relations Board, from the Google uprising to the government shutdown.
In other news, we look at transit worker strikes in the UK; the demand for union democracy at UAW; noncompete agreements, with Heidi Schierholz and Stephanie Russell-Kraft; and Harvard graduate workers on strike, with Ege Yamusak. With recommended reading on the imaginary British working class, and existential climate crisis for Australian workers. 
This week's show was supported by our monthly sustaining members. If you think our work is worth supporting, please consider becoming a member today. If you're interested in advertising on the show, please email ads@dissentmagazine.org. And as always, if you have any questions, comments, or tips, email us at belabored@dissentmagazine.org. Thank you to CUNY School of Labor and Urban Studies for loaning us recording space.

News:
RMT to protest at Parliament tomorrow over threat to ban transport workers from taking strike action (RMT)
Boris Johnson has issued declaration of war on railway workers, unions warn (Morning Star)
Sarah: Even in Defeat, Labour Mobilized the Working Class (Progressive)
Experts Say Harvard Internal Email About Grad Union Strike May Violate Labor Law (The Crimson)
#hgsustrike (Twitter)
Six UAW Locals Back Direct Elections of Top Officers (Labor Notes)
Noncompete agreements: Ubiquitous, harmful to wages and to competition, and part of a growing trend of employers requiring workers to sign away their rights (EPI)
Michelle: Hell No, You Can't Go (Work Somewhere Else) (Progressive)
Conversation:
Sarah and Michelle talk about this year's biggest labor stories
Belabored Podcast #168: Victory in L.A., with Arlene Inouye (Dissent)
Sarah: 'This Is Much Bigger Than Us, Than Our Union, Even Than Our City' (The Nation)
Belabored Podcast #169: Shutting it Down, with Sara Nelson (Dissent)
Belabored Podcast #172: Putting Climate Justice to Work, with Rusty Hicks (Dissent)
Michelle: "Hardhats vs. Hippies": How the Media Misrepresents the Debate Over the Green New Deal (In These Times)
Belabored Podcast #175: Shut off the Apps, with International Striking Uber and Lyft Drivers (Dissent)
Michelle: Hey, Uber and Lyft: Gig Work Is Work. California Just Said So. (In These Times)
Belabored Podcast #187: After the GM Strike, Now What? (Dissent)
Sarah: The Last Stand in Lordstown (New Republic)
Belabored Podcast #188: What the Chicago Teachers Won (Dissent)
Michelle: Can Google's Soul Be Saved? (Progressive)
Why Newsrooms Are Unionizing Now (Nieman Reports)
Unprecedented: The Trump NLRB's attack on workers' rights (EPI)
Argh, I wish I'd Written That: 
Michelle: Zacharias Szumer, Instead of Choking on Smoke, Sydney Workers Are Walking off the Job (Jacobin)
Sarah: Dawn Foster, The great myth of the British working class (Huck)