Drivers and organizers in New York, Los Angeles, and the UK talk about Wednesday's strike.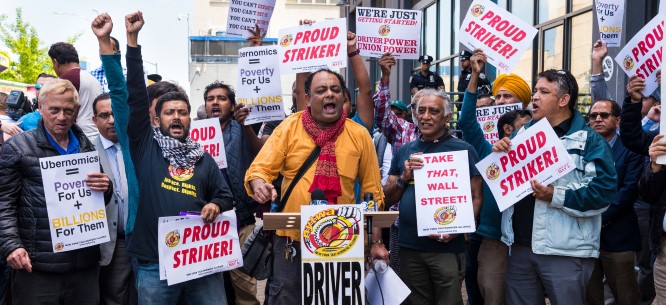 Subscribe to the Belabored RSS feed here. Subscribe and rate on iTunes here or on Stitcher here. Check out the full Belabored archive here. Tweet at @dissentmag with #belabored to share your thoughts, or join the conversation on Facebook. Belabored is produced by Natasha Lewis.
Ride-share drivers around the world turned off the app and turned up the noise at Uber's international headquarters as the company went public, and helped to change the narrative from that of massive profits to one of disappointment. The drivers around the world are asking for their share of the value created—which is, as we'd note, most of it! We spoke to drivers and organizers in New York, Los Angeles, and the UK. 
We also checked in on potential labor law reform on the national scale and farmworker labor reforms in New York. We followed the continuing teacher strike wave to South Carolina, North Carolina, and Oregon. And we took some time to remember friend of the show Dan Clawson, labor scholar and unionist, who we lost this week.
For "Argh," we think about whether "the dignity of work" is a concept worth saving, and offer a reminder that the Green New Deal must go beyond the roots of the original New Deal and be antiracist and anticolonial from the start.
News:
NY Farmworkers to rally in Albany for labor protections (AP)
With PRO Act, Democrats Commit to Dramatic Labor Reforms (New York Magazine)
Thousands of North and South Carolina teachers are protesting — but not just for the reasons you might think (CNN)
Thousands of Oregon teachers push for more school funding at rallies around the state (KPTV)
Sarah: In Nick of Time, Portland Teachers Make Deal to Avert Strike (In These Times)
Dan Clawson and Naomi Gerstel: Who Controls Our Time? (Labor Notes)
Conversation:
The Ride-Hail Strike Got Just Enough Attention to Terrify Uber (Slate)
New York Taxi Workers Alliance
Independent Workers Great Britain
Argh: 
Michelle: Sarah Jones, "Joe Biden Should Retire the Phrase 'Dignity of Work'" (New York Magazine)
Sarah: Dalia Gebrial, "As the left wakes up to climate injustice, we must not fall into 'green colonialism'" (The Guardian)