Autoworker Sean Crawford and Sociology Professor Ruth Milkman join us to debrief.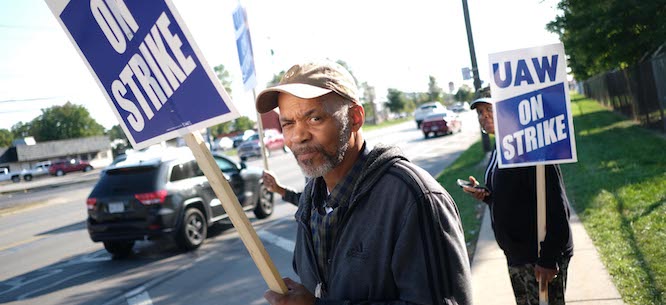 Subscribe to the Belabored RSS feed here. Subscribe and rate on iTunes here or on Stitcher here. Check out the full Belabored archive here. Tweet at @dissentmag with #belabored to share your thoughts, or join the conversation on Facebook. Belabored is produced by Natasha Lewis.
The strike at GM is over, the deal has been ratified, and what have the workers learned? What has the country learned? We pick apart the details, the history, and what remains to fight for with autoworker Sean Crawford from the Flint assembly plant, UAW local 598, and Ruth Milkman, distinguished professor of sociology at CUNY and author of, among other books, Farewell to the Factory. They discuss the past of the UAW and its future, the questions around plant closures and electric cars, what it would take to really rebuild union strength in manufacturing, and much more. 
We also get an update on the Chicago Teachers Union, who have a tentative agreement and are back in the classroom as we speak, and the journalists at WHYY who voted to unionize this week. We dig into the Trump National Labor Relations Board's record with Celine McNicholas from the Economic Policy Institute, and find out what happened to the miners from Blackjewel who occupied the railroad tracks and held up the coal train when their company suddenly went bankrupt and cut them all loose. For Argh, we consider the revolt in Chile, where neoliberalism began, and from right here at Dissent, why we need a working-class media. 
This week's show was supported by our monthly sustaining members. If you think our work is worth supporting, please consider becoming a member today. If you're interested in advertising on the show, please email ads@dissentmagazine.org. And as always, if you have any questions, comments, or tips, email us at belabored@dissentmagazine.org.

News:
Unprecedented: The Trump NLRB's attack on workers' rights (Economic Policy Institute)
Blackjewel Coal Miners to Get Millions in Back Pay After Train Blockade (New York Times)
Kentucky Miners Are Camped Out on Railroad Tracks, Blocking a Coal Train, Demanding Their Stolen Wages (Labor Notes)
Chicago Teachers Union reaches Tentative Agreement for new contract with Chicago Public Schools (CTU)
CPS strike over, classes to resume Friday as Mayor Lori Lightfoot and Chicago Teachers Union reach deal on makeup days (Chicago Tribune)
Sarah: How Chicago Teachers Built Power Between Strikes (Progressive)
Workers at WHYY, Philly's public radio station, vote to unionize (Philadelphia Inquirer)
Conversation:
Sean Crawford, UAW local 598
Ruth Milkman, Sociology Professor, CUNY
GM Workers Ratify Contract Though 'Mixed at Best' (Labor Notes)
Strike over! UAW workers ratify contract with GM. Here's what's next (Detroit Free Press)
Sarah: The Last Stand in Lordstown (New Republic)
Sarah: The Return of the Strike (Progressive)
Argh: 
Michelle: Carla Murphy, Why We Need a Working-Class Media (Dissent)
Sarah: Felipe Lagos-Rojas and Francisca Gomez-Baeza, Chileans Have Launched a General Strike Against Austerity (Jacobin)