The so-called drag golden age is really a gilded age, where the runaway success of a few is made possible at the expense of the many.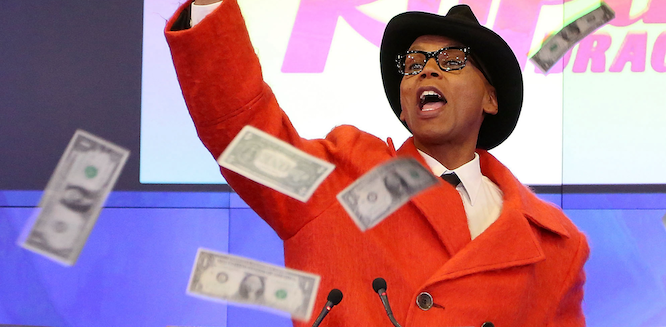 On the morning of May 10, 2022, standing in front of stock tickers for some of the world's most valuable companies, drag queen Monét X Change proclaimed: "On behalf of RuPaul, World of Wonder, and queer people far and near, it's time to ring the bell, honey!" On cue, seven winners of RuPaul's Drag Race—the hit reality competition TV series, which had just finished its fourteenth season—reached across a logo-strewn podium to announce the daily opening of the world's second-largest stock exchange. "We represent what scholars will one day call the drag revolution," Shea Couleé, the winner of one of Drag Race's many spinoff shows, added. "I want to thank NASDAQ."
I started watching Drag Race early in my first year of college. The Emmy Award–winning program puts its drag queen contestants through a gauntlet of challenges, from walking the runway and writing original songs to impersonating celebrities and making costumes from scratch. The competing artists' ingenuity and glamour drew me to the form with a ravenous hunger. I began attending local drag shows and, soon after, performing in drag myself, first for other students and then in bars in Philadelphia, Washington, D.C., and Prague.
Drag Race has led more people than ever to appreciate art that plays with gender expression, myself included. Drag's unique flexibility allows performers from across the globe to combine breathtaking looks with lip syncs, stand-up comedy, circus arts, experimental fashion, live music, and endless other art forms. But even as a fan of the show, it didn't take long for me to realize that Drag Race's influence was not entirely benevolent. While some Drag Race alumni leverage their success to pay off student loans or buy a home, others leave the competition with tens of thousands of dollars in debt. Unlike most other reality programs, Drag Race contestants must self-fund the plethora of cosmetics, costumes, wigs, and props needed to compete on the show. As one contestant, Kameron Michaels, recounted, "I spent more coming into this competition than I did as the down payment on my house." 
As Drag Race's rewards reach new heights—the winner of the most recent season of the spinoff RuPaul's Drag Race All Stars won a cool $200,000, ten times the size of the cash prize for the first season—work for most drag artists remains so precarious that they frequently take on several other jobs to stay afloat. The so-called drag golden age is really a gilded age, where the runaway success of a few is made possible at the expense of the many. And if economic insecurity wasn't enough, local performers increasingly face threats of extremist violence from the right. Even the most diehard drag fans should cast a critical eye on Drag Race and its architects, who have built an unequal drag performance economy while remaking the art of drag in the show's own image.
In the late 2000s, superstar drag queen RuPaul Charles felt it was time for a drag competition show. "The Obama movement was happening," he told New York in 2017, "and I could feel it in my bones that it was time." Viacom's LGBT television network, Logo TV, rejected Drag Race several times, out of fear that it would make the network appear too gay. It acquiesced in 2009, however, when RuPaul's production company, World of Wonder, agreed to downplay drag's role in gay nightlife.
The reality television genre that emerged in the decades leading up to Drag Race had already proved its value to American network executives: it nearly eliminated writing and acting costs and was less prone to strikes and shutdowns than scripted programs. Early reality programs like The Real World, Road Rules, and Big Brother centered on charismatic, low-paid workers who did labor that previously took several actors or crew members to carry out. Shows like Queer Eye for the Straight Guy and American Idol extended the possibilities of the format with vote-by-texting features, interactive websites, and fan forums. In a cable media world that allowed TV companies to target smaller populations while still remaining profitable, it didn't take long for producers to tap into and create gay audience niches. Drag Race appeared at the perfect moment to carve out a spot in the new TV landscape.
In the casting call for Drag Race's first season in 2009, RuPaul announced his intention to "pump some realness into reality TV." He wanted "America's fiercest drag queen," who must be "an American Idol, a top model, and a fashion designer all rolled into one." Drag Race alumni who successfully filled this mandate now have their own programs on HBO, Paramount+, and Netflix; they walk in fashion shows, launch their own makeup lines, release records, create custom beers, and even build self-branded hotels. Most alumni participate in World of Wonder's own Drag Race extensions, including a plethora of shows on the company's dedicated streaming service. Semi-annual DragCon conventions in Los Angeles, New York, and London regularly draw in 50,000 attendees each; the international "Werq the World" tour visited over seventy cities in 2022 alone. Drag Race fans increasingly connect with their favorite queens outside of the show, through in-person and digital extensions that compete for attention with events that support local artists.
Chicago drag king Cosmo Dragón Fiero is concerned with how this system pushes local drag performers into narrow lanes. "Their programming has pervaded the local spheres to the extent that many drag artists emulate judges or contestants on Drag Race," he explains. World of Wonder, he argues, presents "'quality' drag as something specific—white, American, wealthy, creative but not too offensive." Local drag performers must adapt to compete with the company's efforts to funnel attention from the show to sponsored tours, web series, and meet-and-greets. Newer drag fans who seek out local artists may remain unaware of drag artists who parody masculinity instead of femininity, incorporate horror elements like fake blood and prosthetics, or dedicate themselves to progressive politics.
Sabine, a Philadelphia drag queen and fashion designer, believes that local queens who channel Drag Race's styles bring in audience members who are fans of the show and tend to have higher incomes, while "alternative" performers attract more gender-nonconforming and transgender attendees, who may have less to spend on drinks. New York "drag clown," Shay They, believes that when audiences "see things that don't look like something that you would see on Drag Race, they don't necessarily attach the same value to it."
Local event producers face similar pressures. Brooklyn's Laurel Charleston, who started her career in drag but now makes headlines for her abstract makeup looks, says that Drag Race "subconsciously send[s] a signal to the [producer] who's booking a gig at a local bar" to book performers who are "cis, female-presenting," and doing "a very pretty, polished type of drag." This favoritism happens "because those [styles] are the ones that are getting success on this television show." Local drag show producers prioritize homogeneity even when they "have a diverse array of performers to choose from."
Bay Area "drag anarchist" and show producer VivvyAnne ForeverMORE! believes that production decisions also have a longer-term effect on who attends local drag shows. The felt need to book Drag Race alumni to bring in customers can become a self-replicating cycle. Audience members might come in to see a visiting "RuGirl" and not return, while regulars facing a packed bar on the same night may be discouraged from coming back in the future.
Former contestants' booking fees can be ten to twenty times that of local artists for the same event, a fact that is often obscured from the lower earners. New York drag king Uncle Freak "was shocked at the pay gap" when he once performed alongside a former Drag Race competitor at a local venue. Drag Race alumni justify enormous fees because the show has developed an expectation that good drag looks exorbitantly expensive. On RuPaul's Drag Race, it often is: one contestant told Vice that she spent "close to $20,000 just on supplies, fabrics, and wigs and designers and whatnot . . . and didn't win!" "The RuGirls have access to the money and opportunities," Manhattan drag queen Kiki Ball-Change points out, while "the local girls are getting paid $50, $75 booking fees and then are still expected to rise to the same aesthetic as Drag Race girls."
Even in the eras of "female impersonators" who toured with vaudeville productions and performed for troops in wartime, the wealth generated by drag flowed upward. But the money now fills the coffers of a single production company and a very select echelon of artists. It is undeniably true that more drag artists are active today than ever, but the exploitation of local artists has similarly increased. The World of Wonder system, much like other art patronage systems that preceded it, crowds out more radical art.
These barriers haven't stop committed artists from organizing for better conditions. During the early months of the COVID-19 pandemic, spurred by a lack of performance opportunities and the George Floyd rebellions, drag performers built structures to address anti-Black racism and economic discrimination in local drag scenes. The most well-known organization of this moment, the Chicago Black Drag Council, is on hiatus, but its influence can be seen across the drag world. In the summer of 2022, for example, an informal coalition of artists encouraged their social media followers to eschew the Hell's Kitchen venue the Q when it publicized a drag performance featuring only white performers, despite owners' promises to improve after a lawsuit alleged a racist and transphobic work environment.
There are alternative, feasible models for local show producers. Brooklyn's Haus of Quench is an interdisciplinary collective that produces several events monthly and intentionally includes artists of many experience levels, performance styles, genders, and racial and ethnic backgrounds. "Quenchie" Bri Joy, known for his love of cow print, tells me that the Haus is known among performers for its unusual payment structure. "Our main thing is [donations at the] door plus tips on the floor equals tips for everybody," Joy explains. "Everybody gets paid the exact same amount, if you're the producer or if you're in the cast." Some Quenchies are also in the city's POC Drag Art Collective. Other collectives like Switch n' Play and the Cake Boys create spaces for drag kings specifically. Local collectives often redirect show profits to mutual aid efforts for transgender community members of color and others in need.
Some collectives are investing in their own venues. When San Francisco's oldest gay bar, the Stud, faced closure in 2016, a collective of former patrons—including VivvyAnne ForeverMORE! and Drag Race alumna Honey Mahogany—bought the bar and converted it into the country's first cooperatively owned LGBTQ nightlife venue. Though they are currently searching for a new location, their uncommon structure allows the Stud's worker-owners to pay performers more equitably and to make business decisions based on community needs.
From New England and Canada to the Pacific Northwest, drag artists are also organizing unions to demand better pay and working conditions. Drag king Nüqueer Power led such an effort in Boston. "I am an immunocompromised and disabled performer," Power says, and "the process of making a drag union" helped to "bring forward my perspectives around workers' rights. I want drag performers to understand and feel validated in their awareness of how they are being taken advantage of, devalued, and mistreated." Unfortunately, none of these unionizing efforts have been successful yet, in part because Drag Race has so popularized the art form that the supply of drag artists outpaces demand in many locales, spurring fears about non-union competition and strike breakers. "The audience of Drag Race has become more and more people that just want to do drag," Boston performer Akira Oni says.
Anti-LGBTQ legislation and extremist attacks on queer people are on the rise, epitomized by the horrific violence at Club Q in Colorado. Economic insecurity only compounds this fearful atmosphere, and precarious workers and marginalized people are unfortunately bearing the brunt of queerphobic movements. In addition to confronting extremist politicians and organizations, consumers can push back against the enormous inequalities that Drag Race has created by supporting local drag collectives and unionization efforts and insisting that their favorite venues pay equitably. It's time to put down the Drag Race tour tickets and use that money to tip your local drag performers. 
---
Ariel Munczek Edelman is a policy researcher and occasional drag performer. They live in Brooklyn. They are one of Dissent's 2022 Emerging Writers.