Any seri­ous effort to keep global warming below catastrophic levels requires an unprecedented challenge to the fossil fuel industry from the grassroots. It also requires a vision of what the post-fossil future will look like.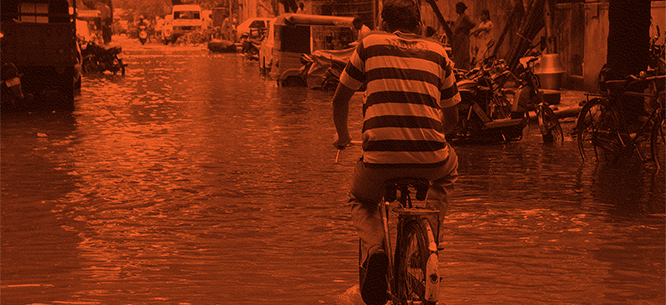 On December 9, 2015 more than 200 activists marched to a detention center in Vincennes, a suburb of Paris, to demand an end to the criminalization of migrants. At the detention center's gates, members of the group chanted, sang, and gave speeches in three languages, condemning Islamophobia and expressing their solidarity with refugees.
It was the first notable demonstration at the detention center since the death of a detainee caused a riot inside its walls in 2008. This time, the protest was responding not to an immediate tragedy but to a slower kind of violence: climate change. Many of the activists in Vincennes were there with It Takes Roots, a delegation of U.S. grassroots groups and frontline communities to COP21, the international climate summit taking place in another Paris suburb ten miles north. "We see a direct link between climate and migration," explained Diana Lopez, of the Texas-based Southwest Workers Union, whose own family was separated by the U.S.-Mexico border.
The protesters insisted that climate change is a disaster with many faces and that the damage is—and will continue to be—worst for the world's poorest. Within decades, the human-caused increase in global temperatures threatens to drown entire regions while leaving others parched by drought. It threatens to multiply the Katrinas and Haiyans; to permanently dry up sources of drinking water and irrigation; to render barren the oceans from which we fish; to exacerbate scarcity and conflict; to uproot hundreds of millions of people. Already, it is extending the reach of mosquitoes carrying diseases like the Zika virus, with dystopian implications. Absent drastic social and political change, those bearing the brunt of today's crises will suffer tomorrow's as well.
The current refugee crisis foreshadows what the world might look like as the effects of climate disruption accelerate. In Syria, for example, a four-year drought—partly attributable to climate change—exacerbated existing social pressures and helped spark a war that has since enabled the rise of ISIS, stoked tensions between major world powers, and left at least 250,000 dead.
Of the 4.7 million Syrians who have fled this catastrophe, few have found much help abroad. Even the one-fifth of Syrian refugees who have made their way to Europe must navigate an increasingly frightening maze of fences, repression, and everyday hostility. Everywhere, walls are the favorite constructions of the resurgent right, with leaders both current and aspiring—from Donald Trump to Viktor Orbán to Bibi Netanyahu—championing them with equal zeal. Before long, the numbers of climate refugees will vastly exceed those forced from their homes in Syria. If the international community cannot agree to a more dignified and effective response, we will find ourselves in an increasingly ugly world.
Will the agreement signed in Paris last December do anything to relieve the crushing burden of climate change on the world's poorest? The activists who spent that cold afternoon outside the Vincennes detention center were skeptical. True, it would be cynical to deny that the agreement marked a turning point in world leaders' attitudes toward the climate crisis. One hundred and ninety-six countries enshrined in a major international agreement a core demand of the most threatened and least powerful among them, the small island states—to limit global temperature increase to 1.5°C above pre-industrial levels, or "1.5 to stay alive!" Just a few weeks earlier, such an outcome was almost unthinkable. And yet the deal contained no guarantees that this rhetorical shift would translate into the kind of urgent action required.
On the contrary, by the time rich countries acquiesced to the 1.5-degree goal, it was virtually unachievable. For all the self-congratulation, the climate plans agreed to in Paris will likely result in a temperature increase double that. In critically important countries like the United States, even those inadequate climate plans are in jeopardy. The Clean Power Plan, President Obama's signature executive action on climate change, has been suspended until at least 2017 by a retrograde Supreme Court.
With official politics proving so limited, activists on the ground have a renewed mandate. They must be the enforcers. They must push their governments not only to meet but to exceed their promises. Any serious effort to keep global warming below a catastrophic 2°C requires an unprecedented challenge to the fossil fuel industry from the grassroots. It also requires a vision of what the post-fossil future might look like, on two fronts—for countries that need to cut energy use drastically as well as for those that do not yet have reliable electricity, internet, and transportation. What would truly sustainable development look like?
This special section explores several of the campaigns and movements hoping to power the transition toward a more just, fossil-free society. They aim to build strength in the communities that stand to lose the most from climate change, and to gain the most from the kind of societal transformation it will take to leave fossil fuels behind forever.
Among the communities on the front lines of the climate fight are workers resisting austerity. Trish Kahle assesses the ecological impact of capital's renewed assault on workers since the 1970s, and the role of organized labor—from oil workers' to nurses' and teachers' unions, and beyond—in overcoming it.
At the most fundamental level, averting the worst of climate change means a dramatic transformation of our energy system—and fast. But how? Kate Aronoff sketches what a full-scale, democratic, renewable U.S. energy system might look like.
The U.S. military is one of the world's top consumers of fossil fuels. But it has also done pioneering research on climate change, revealing how deeply connected climate disruption is with other forms of social and political turmoil. Co-editor Michael Kazin interviews climate scientist Jeffrey Marqusee, who for twenty years led the Pentagon's environmental research and development program, about whether and how the military can help combat climate change.
Artists and students, meanwhile, are pushing their own institutions to cut ties with the world's most damaging industry. Todd Gitlin weighs the promises and limits of the campus fossil fuel divestment movement. Elsewhere in the issue, Mel Evans, of the London artist-activist collective Liberate Tate, scrutinizes Big Oil's patronage of the arts.
While the articles in this section focus on efforts in the United States, a successful fight against climate change must be as global as climate change itself. Audrea Lim reports on the First Nations activists who are resisting tar sands mining in Canada, and examines whether the combination of progressive electoral victories there and the collapse of oil prices might defuse North America's "carbon bomb." Wendy Wolford and Judite Stronzake chronicle Brazil's landless workers movement (MST) and explains why struggles for food sovereignty across the global South are central to the international climate movement.
Surveying the current situation, it would be easy to retreat from politics and succumb to despair. But that's neither necessary nor helpful. Instead, we can learn from tireless prophets like James Hansen, Bill McKibben, and James Gustave Speth, whose understanding of the climate threat has led them to embrace a vision of transformative grassroots change. Somewhere between the flashes of impending climate apocalypse and the promise that these will jolt us into "changing everything" emerges a more familiar challenge: to organize, from our neighborhoods, campuses, and union locals on out.
We may not be able to save the homes where we grew up, the lakes and rivers where we fished, the beaches where we swam. But if cities as large as Kolkata are to be lost to the sea, we had better hope that climate refugees land in a more hospitable world than the one we live in today. If nothing else, this is what the climate movement must promise: solidarity, from the South Bronx to Black Mesa, Arizona, to Syria, and the Maldives, and beyond. The activists in Vincennes last December offered an inkling of what that solidarity might look like. The articles in the following pages seek to do the same.
---
Colin Kinniburgh is an associate editor at Dissent. Todd Gitlin is a professor of journalism and sociology at Columbia University and a member of the Dissent editorial board.