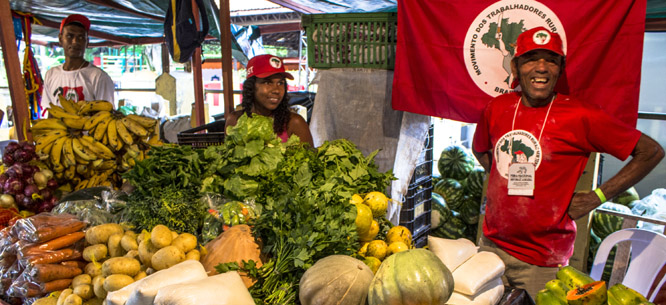 It is notoriously difficult to convict corporations of a crime in a foreign country. But on November 17, 2015, a Brazilian judge found the Swiss transnational agribusiness Syngenta liable for instigating deadly violence. The company was held responsible for attacking a group of landless activists camped out on a Syngenta test site in southern Brazil. The activists were members of the Brazilian landless workers movement, the Movimento dos Trabalhadores Rurais Sem Terra (MST), and the transnational peasant movement, Via Campesina. They had occupied the property early on the morning of October 21, 2007, with the intention of drawing attention to genetically modified crop (GMO) experiments on the site. Private security guards hired by Syngenta responded quickly and, in the unequal struggle that followed, one landless activist was killed and several others injured.
The MST has been organizing the rural poor in Brazil for thirty years now. Over that time, the movement has gone from a handful of squatters in southern Brazil to become the largest grassroots social movement in Latin American history. Founded in 1984, as the country's twenty-one-year military dictatorship was weakening, the MST brought together activists from the Catholic and Lutheran Church, the opposition trade unions, former Communist Party members who had been in exile since the 1960s, and others. Movement activists organized the rural and urban poor, teaching them about their legal right to land: according to Article 186 of Brazil's latest constitution, rewritten as the country returned to civilian rule in the mid-1980s, the state can expropriate and redistribute rural land that is not being used "productively" for agriculture, ranching, or conservation. The movement's main tactic was occupying property that groups of members identified as unproductive and squatting there in temporary encampments to pressure the government to distribute the land to the poor. Today there are approximately 1.5 million MST members on 2,000 permanent settlements around the country; another 120,000 families are squatting on temporary encampments to pressure the government to distribute the land to the rural poor.
The MST's struggle first began over land. But through the years, movement leaders have articulated a vision of social transformation that includes not only the specific elements needed to make life on the land viable—education, heath services, access to credit, infrastructure—but to address systemic inequality more broadly, in Brazil and around the world. From its inception, the MST has organized across rural and urban sectors against the Brazilian state, agribusiness, transnational capital and, increasingly, the global model of extractive development.
As it has grown, the MST has also come to wield significant influence in national politics. Movement leaders were early supporters of the workers' movement in Brazil, particularly the Workers' Party and fo...
Online Only

For just $19.95 a year, get access to new issues and decades' worth of archives on our site.

Print + Online

For $29.95 a year, get new issues delivered to your door and access to our full online archives.
Already a subscriber? Log in: