Community land trusts provide a model for a non-capitalist approach to stewarding land—transforming the ways we think not only about property, but about earth and ecology itself.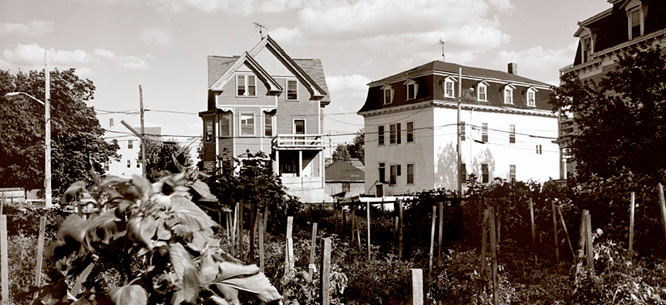 What changes when we talk about land not as a big, vacant parcel of grass or concrete, but as earth and ecology itself? What can the left do to transform how we as a society think about property? If we really hope to build a long-term, transformational anticapitalist movement, these are critical questions.
In any discussion of land reform and justice, we should begin with the understanding that capitalism as a system commodifies land, labor, and ecology and relies on a free market mechanism to dictate the use and the price of the commodity in the service of private profits. Drawing on indigenous traditions, we should also recognize that land is not just the square feet that we live on but the source of the natural resources that we depend on; as my friends at Movement Generation put it, ecology underlies all economic production, and land provides the material base for our ability to produce as a human species. In talking about transformational demands, we're grappling with strategies to take these core economic inputs out of the speculative market and re-enter them into a commons: a resource we steward together for collective benefit.
The next step in rethinking the concept of land is to distinguish the ideas of use, control, and ownership. This country's extreme disparities in wealth—in particular black versus white wealth—are closely tied to home ownership, shaped by a history of redlining and, more recently, by the predatory lending and foreclosure crisis of 2008. But even if we were able to reverse displacement and realize an equal redistribution of property, we would ultimately fall short of structuring an equal society without taking land use and control into account. As long as land, and the resources on it, remain commodities to be bought and sold for private profit, the tendencies towards concentrating ownership and ecological exploitation remain intact. Without processes for collective decision-making to determine how land is used, landowners along the Marcellus Shale, for example, can contract with drilling companies to install fracking wells in their backyards, threatening the water supply for their entire community.
Community land trusts (CLTs) are an existing and increasingly popular strategy to respond to these challenges. CLTs are typically nonprofit organizations governed by three distinct stakeholder classes. One group is the lessees: the homeowners, tenants, building owners, and businesses who actually use the land. Then there are those who live in direct proximity to that land. The third group represents the broader public—community members, grassroots leaders, etc.
Unlike in traditional capitalist models of ownership, land in a CLT is owned by the nonprofit and leased to home and building owners at an affordable price. Most people are familiar with auto leases, and the level of autonomy and flexibility they confer. A CLT operates in a similar way, except that instead of the owner of land being a proverbial car dealership, property is owned in common (by the CLT) and leased to individuals. This framework—of public ownership and private leases—is an attractive one for redefining property rights as a whole.
As a homeowner on the land trust, you own the investments into your home and you build equity as you pay your mortgage. When you renovate, you can capture the value of those improvements in the resale value. However, if you do sell your house, you can only make a limited profit beyond recapturing your payments; you can't simply sell to the highest bidder. CLTs thereby allow lower-income families to build home equity while keeping prices within reach for other families of similar incomes, independent of fluctuations in the real estate market. We know that market prices are tied directly to public and community investment—to the schools, parks, public transportation, and small businesses that make up a neighborhood, not to mention the extensive tax breaks and subsidies that go into the construction of housing itself. CLTs provide a strategy for keeping the benefits of that investment in the community rather than auctioning it off.
One of the best-known CLTs in the country is in Boston, run by the Dudley Street Neighborhood Initiative (DSNI), which happens to be half a mile from my house in Roxbury. In all, the land trust houses over 1,000 people, with over 225 permanently affordable units. Beyond providing affordable housing, the CLT also allows residents to democratically determine how the land around them is used. For example, DSNI has built a community garden and a greenhouse as well as commercial space. DSNI is in fact one of only a handful of private, non-governmental entities in the country with the power of eminent domain. In other words, it can take your land, give you money for it and place it, legally, on the land trust. This power was secured through hard-fought community organizing during an era of divestment and neglect.
A tour of Boston's Dudley Street neighborhood
(Photos courtesy of
kmf164
, left;
ruizdeteresa
, center and right)
Without the power of eminent domain on their side, though, other groups seeking to establish a CLT face an uphill battle. One strategy to grow CLTs includes getting cities and states to facilitate community control of land by demanding tax breaks and subsidies for nonprofit developers and leveraging the amenities the state already provides to private ones. These benefits can be dedicated, instead, to growing land trusts and cooperatively owned housing.
Another dimension to launching CLTs is pooling capital to purchase land for a trust. Some communities are building funds to purchase homes in foreclosure at discounted short sale, placing them on a land trust, and allowing the renters or homeowners in foreclosure to stay in their homes. The Coalition for Occupied Homes in Foreclosure (COHIF) in Boston is one organization that is advancing this strategy with support from private impact investors, along with quasi-public and governmental capital programs.
Still, community land trusts remain a relatively limited phenomenon. A major step toward helping CLTs scale nationwide would be to demand public funding for grassroots groups to learn how to do this work. Advocates in New York City and Madison, Wisconsin, for example, recently won money for technical assistance to support worker cooperative incubation. Organizers could be pushing for similar funding around the country, not only for worker cooperatives but for cooperative control of our land.
To push the logic of community ownership one step further, we need to confront long-held norms in the United States around the nature of property itself. This requires interrogating the American dream and the white picket fence that comes with it—the idea that we all need to own our own homes to thrive. A strong standard of living, or even the bare minimum of being able to live free from the fear of homelessness, does not need to be tied to ownership.
While CLTs provide a model for a non-capitalist approach to stewarding land, there are real challenges in reaching scale when faced with the pressures of the existing market. Redefining property rights ultimately would require amendments to the Constitution. It's a distant goal, but one that can help us situate our individual projects within a larger political vision, that makes the logic of CLTs the norm instead of an exception.
In trying to build economic democracy and a long-term alternative to capitalism, we seek to use CLTs as an example of community-controlled land development, while simultaneously building political power to democratize public land use and planning. Elected neighborhood councils and efforts to allow residents to vote on development projects build infrastructure for replacing markets mechanisms with democratic processes to allocate land. An evolution from current capitalist property relations should make participation in local land and natural resource planning a regular part of a new civic life.
---
Aaron Tanaka is a community organizer and economic development professional based in Boston's Roxbury neighborhood.  He is co-founder of the new Center for Economic Democracy and Senior Advisor to the Boston Impact Initiative, a place-based impact investment fund.
This article was adapted from a talk given by the author at Grasping At the Root.