Essential workers need genuine, collective empowerment, not just a monetary reward or a rhetorical pat on the back.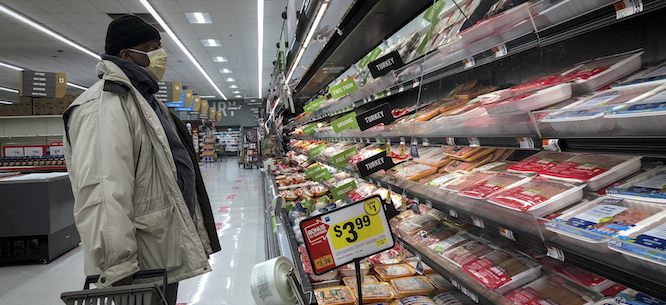 If you like chicken, hamburgers, or bacon it's time to stock up or, better yet, eat a few steps farther down on the food chain. A North American meat shortage is on its way. Every day brings more news of infections among the workers who staff the poultry, pork, and cattle disassembly lines. By the time it closed its doors on April 12, Smithfield's Sioux Falls, South Dakota, plant had more than 350 confirmed cases of COVID-19. In the days since, the case count has swelled to nearly 900, making it the biggest single cluster of infections in the nation. Meanwhile 189 workers fell ill and two died at a Tyson pork-processing facility in Columbus Junction, Iowa; and 237 workers tested positive last week at a JBS facility in Grand Island, Nebraska.
As of mid-April, "coronavirus infections had spread in at least 48 U.S. meatpacking plants, sickening more than 2,200 people and killing 17," according to a review of news reports and corporate announcements conducted by USA Today and the Midwest Center for Investigative Reporting. The outbreaks prompted the closure of at least seventeen facilities, with more sure to come.
Why has the pandemic thrived in meat factories? It was a perfect storm caused by a whole raft of dysfunctionalities, from the rise of giant agribusiness companies to the hollowing out of the nation's regulatory state, and the hyper-exploitation of a vulnerable, largely immigrant working class which staffs the lines. Occupational Safety and Health Administration (OSHA) inspections have long been laughable at these plants. Fines, when leveled, tend to be a few thousand dollars, a pittance for billion-dollar corporations. The low-wage workers who staff the plants live in cramped quarters, sometimes with more than one family sharing the same dwelling—so if one person gets sick, the disease can spread quickly.
Meanwhile, at work, food processing lines are notoriously labor intensive. In March Tyson told its white-collar employees to work from home, but plant employees still had to show up. "We are all standing close together all the time," said Sophia, a Tyson worker on one of the company's Arkansas evisceration lines, in an interview with the Guardian in March. "I'm afraid. It's not only about the line. When we finish our shift, or we come in to start, we all come in together through the same doors. If one of us gets sick, all of us get sick." Another worker at Smithfield's Sioux Falls facility, who had tested positive, told reporters that social distancing in a meat processing plant is impossible. "There was no way to keep 6 feet apart," he said, "because the belt is so fast."
The largest of these plants—employing around 3,000 workers each—are concentrated in states where governors have been hostile to closures. Iowa organized a fairly good health department response team, and also assigned 250 National Guard members to meat processing plants. However, Governor Kim Reynolds declined to order closed even infected facilities. She never issued a statewide shelter-in-place edict, and just a few days ago Reynolds warned employees at meatpacking plants and other virus-threatened worksites that if they refused to return to work, they would be considered a "voluntary quit" and not be eligible for unemployment benefits. Other states have left health and safety decisions almost entirely to the companies and a local management cohort anxious to run production even in the face of documented infections sweeping through their plants.
What is to be done? More inspections by OSHA will not do the job. There are just 862 inspectors nationwide, not enough to visit every food processing facility in addition to their other assignments. Bloomberg reported that more than one hundred U.S. Department of Agriculture inspectors have tested positive for COVID-19 and two have died. OSHA employees routinely travel widely and visit numerous worksites. They may be among the prime vectors for the spread of the infection itself.
Another proposed solution is an absolute insult. In a full-page New York Times advertisement Tyson Foods announced that it is paying out $60 million in "thank you" bonuses to its 116,000 frontline workers and truckers. That comes out to $517 and change each. Similarly, Amazon boosted wages—temporarily—by $2 an hour. And Senate Democrats have proposed a "Heroes Fund" to give all essential workers $25,000 in hazard pay.
These initiatives might sound charitable, but they are mendacious. These workers deserve more money, that is for sure, but offering hazard pay to work under dangerous conditions relieves employers and the government of responsibility to make workplaces safe and healthy. The labor movement has rejected that idea for generations. When the health and safety movement emerged in the 1950s, labor economist Brian Callaci has written, pioneers like Tony Mazzocchi of the Oil, Chemical, and Atomic Workers rejected what was then called "compensating differentials," arguing instead that every worker deserved a safe and healthy workplace as a matter of right.
Moreover, the very denomination of these workers as "heroic" is also misplaced. Heroism implies a moral choice, based on free will in the face of adversity. But despite the bonuses and easing of sick leave policies, the low pay and fear of management retribution coerces workers to show up every day, even to dangerous workplaces. To salute the "heroism" of frontline workers is to accommodate their victimization. These workers need genuine, collective empowerment, not just a monetary reward or a rhetorical pat on the back.
Poultry and meat processing plants are not like other places of business—movie theaters, car factories, college classrooms, even clothing stores and warehouses—that can be shut down as discretionary places of economic activity. Most of these plants have to stay open, and remain open during the second and third waves of the COVID-19 virus that will sweep across the nation in the next two years.
On Tuesday President Trump invoked the Defense Production Act to mandate that no state or local authority could close a meat or poultry production plant. Although the rationale for the executive order was reactionary—designed to limit corporate legal liability and stop local government officials from closing plants—the language might well have come right out of the Second World War. Trump's order said recent closures of meat processing facilities "threaten the continued functioning of the national meat and poultry supply chain, undermining critical infrastructure during the national emergency." Meanwhile, OSHA and the Centers for Disease Control and Prevention have issued a set of voluntary guidelines that call for physical distancing and other measures to keep workers safe.
Unionists and progressives have properly denounced these new initiatives. "Using executive power to force people back on the job without proper protections is wrong and dangerous," wrote AFL-CIO President Richard Trumka in a tweet.
But there is a silver lining here. By intervening so directly in the food-chain crisis, the Trump administration has thoroughly politicized the conditions under which food is produced. Regardless of his motives, Trump has deprived these giant corporations of a measure of autonomy. Food is a necessity, so it is imperative that production continues to take place. If we had a different administration in the White House, we could argue that there should be an actual nationalization of the meat industry. But Bernie did not win and for now we're stuck with Trump. So in lieu of socialism, we need to build, from the shop floor up, and with support of Democrats in Congress, a set of structures that gives these workers voice and power.
OSHA actually provides a set of guidelines and mechanisms whereby workers can play a more active and powerful role in protecting their own safety. Workers have the right to communicate orally or in writing about occupational safety or health matters with coworkers or unionists; they have the right to adequate protective clothing and equipment provided by the employer; they have the right to information about hazards in the workplace; and they can file a confidential complaint requesting an OSHA inspection. Most important, workers have rights under both OSHA and the National Labor Relations Act that protect their capacity to engage in "concerted activity." Under OSHA rules, this includes the right to stop work when workers find themselves in the presence of a hazard that might injure their health or safety.
Though these guidelines exist, they are often a dead letter. It takes far too much time to actually get an OSHA inspection and workers are often penalized by management for raising a complaint. To make these rights viable, we need elected health and safety committees in every vital workplace, and especially in those non-union plants that are run in an authoritarian fashion. When Congress passes the next multi-billion-dollar aid package, we have to make sure that in return for the cash, or just the permission to operate, all such workplaces must shut down for a day, create space and time for rank-and-file discussion, and then stage an election, polling all employees and contractors who work in close proximity. To give these committees some potency and protection from managerial retaliation, OSHA should automatically appoint the chair of each committee as a deputy inspector. One day of each week, the chair will be relieved of his or her normal responsibilities to canvass workmates, offer complaints and suggestions to management, and confer with public health authorities and leaders of health and safety councils at similar worksites.
Many of these committees will fail. Some will be unable to find effective leaders; others will be taken over by management. But many will become proto-unions, empowered not only by the state but by the moral authority won by providing an essential service in a moment of national crisis. It's time these frontline workers gain what's essential to their own, and society's, well-being: power and voice.
---
Nelson Lichtenstein teaches history at the University of California, Santa Barbara. With Gary Gerstle and Alice O'Connor he is the editor of Beyond the New Deal Order: U.S. Politics from the Great Depression to the Great Recession.