E. Reeves: Don't Confirm Gration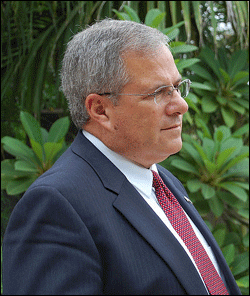 TWO WEEKS ago the Obama administration formally announced the nomination of Air Force Major General (ret.) Scott Gration to be the new U.S. ambassador to Kenya. Such a post would give him an important role in U.S. anti-terrorism efforts, not least because the Kenyan ambassador helps determine U.S. policy toward Somalia, another country in the Horn of Africa in need of skilled international diplomatic assistance.
The choice of Gration would be a major error in conducting foreign policy in this critical East African nation, and in Africa as a whole. Gration's only significant diplomatic experience is his present tenure as President Obama's special envoy to Sudan, a position he has held for almost two years. During that time General Gration has made numerous serious errors of judgment, has spoken dishonestly about a range of issues—most conspicuously about the humanitarian situation in Darfur—and has managed to alienate the political leadership in South Sudan, along with civil society and rebel leaders and virtually the entire humanitarian community working in Darfur. Journalists and researchers working in the region find him bizarrely ill-informed.
The Senate Foreign Relations Committee should not allow this nomination to go forward.
Early Troubles
Trouble began for Gration as soon as he took office in March 2009, shortly after Khartoum had expelled from Darfur thirteen of the world's most important humanitarian organizations, including the International Rescue Committee, Save the Children U.S., and Doctors Without Borders. These expulsions, along with the shutdown of three key national humanitarian organizations, cut humanitarian capacity in Darfur roughly in half. Under Gration's inexperienced leadership, there was no meaningful pushback in U.S. policy, but rather claims that humanitarian capacity had recovered, which simply did not square with facts on the ground.
In his discussions with a brutal, canny, and viciously expedient regime, Gration displayed an attitude that was naïve in the extreme: "We've got to think about giving out cookies. Kids, countries—they react to gold stars, smiley faces, handshakes, agreements, talk, engagement." Meanwhile, millions of people were denied adequate relief in Darfur because of Khartoum's relentless obstruction and harassment of humanitarian personnel, and its palpable hostility toward all international actors, including the UN-authorized peacekeeping force, UNAMID.
It is unsurprising that Gration made no progress with Khartoum's génocidaires, given how accommodating he was determined to be. Nor did this accommodation cease: before national elections in April 2010—universally regarded as a travesty—Gration had declared that the elections would be "as free and fair as possible." This was a lie, and Gration knew it to be such. Conspicuous evidence of fraud made clear that elections would not be representative of Sudanese political aspirations, even in the North—and especially in Darfur. But Khartoum certainly appreciated Gration's comment, no doubt using it to assess what else it could extract from the United States.
A year into his tenure, Gration had clearly begun to grow weary of the complexities and difficulties of the Darfur peace negotiations. In March 2010, the month before the national elections, Gration went so far as to threaten Darfuris with the declaration that if "a full-fledged peace agreement is not reached before Sudan elections scheduled for mid-April [there] are going to be a lot of things that are keeping us from focusing on Darfur….In the next two weeks I think we are going to see a real big focus on the [national] election. There is not going to be a lot of bandwidth to be doing Darfur and negotiations." It is difficult to imagine more inappropriate diplomatic behavior, given that the regime itself had wrought such vast human suffering and destruction in Darfur. Even if Darfuris had coalesced around a unified leadership, there was no real signal from the regime that it would negotiate in good faith.
Having largely given up on Darfur, in the summer of 2010 Gration turned his attention to the self-determination referendum in South Sudan planned for January 2011. Preparations for the referendum, Gration acknowledged, had fallen badly behind the schedule set by the January 2005 Comprehensive Peace Agreement (CPA). Khartoum had successfully run out almost the entire electoral clock without allowing for necessary preparations. There was a belated U.S. lurch into action, with a "surge" in diplomatic capacity late last summer. Almost miraculously, the referendum for South Sudan took place on time, though not the one stipulated for Abyei—a threatening flashpoint that saw dangerous levels of violence before and during the referendum.
The price for this belatedness is still being measured. Key issues between the North and South not resolved prior to the referendum pose a major threat to peace going forward. These include demarcation of some 20 percent of the highly contested border, oil revenue-sharing arrangements, citizenship and rights for Southerners in the North, a military stand-down, the status of the enormous (and unserviceable) external debt that the northern regime has wracked up over the years with profligate military spending and self-enrichment, and more. There remain far too many ways for the peace agreement to unravel before the official date of secession, July 9, 2011.
The other cost of U.S. belatedness was the sidelining of Darfur. A recent assessment of the "Darfur Peace Process" by the authoritative Small Arms Survey reports:
In the "framework negotiations" for post-referendum arrangements that began in Khartoum in July 2010, the NCP [the ruling National Congress Party in Khartoum] has made clear that it would set the price of Southern secession very high, and part of that price would be limitations on the international community's role in and access to the North.
"Access to the North" includes most specifically access to Darfur. Indeed, Khartoum was quite explicit about the deal it felt had been struck:
Foreign Minister Ali Karti said on Wednesday, [January 26, 2011,] "The Sudanese have fulfilled an essential obligation. As far as world expectations go, we have delivered and thus our commitment to peace should never be in question." "Normalization of relations should not be held hostage by Darfur."
The United States, under General Gration, has accepted these terms of engagement. In August the Obama administration went along with Gration's decision to "de-emphasize" Darfur; in November a senior administration official declared that Darfur was being "de-coupled" from negotiations with Khartoum about its status as a terrorism-sponsoring nation. "Negotiating" a country's removal from the terrorism-sponsor list sets a terrible precedent, yet this was not the first time Gration had politicized the terrorism designation: in his July 2009 testimony to the Senate Foreign Relations Committee, Gration declared, "There's no evidence in our intelligence community that supports [Sudan] being on the state sponsors of terrorism. It's a political decision."
This is not what he would tell Darfuris in September 2009. Rather, when pressed about his Senate testimony, Gration declared in an interview with Radio Dabanga (an increasingly important news clearinghouse for Darfur), "I never said we should remove Sudan from the terrorist list." This seems rather disingenuous, given his claim that Sudan remains on the list only because of a purely "political decision" that Gration insists is not supported by evidence from "our intelligence community."
But is this even true? More consequential than what Gration did say is what he did not say in his Senate testimony. Notably, the most recently published State Department assessment of international terrorism (August 2010) finds that "al-Qa'ida-inspired terrorist elements as well as elements of the Palestinian Islamic Jihad, and HAMAS, remained in Sudan in 2009." So what to make of Gration's claim of July 2009 that there is "no evidence in our intelligence community" that Khartoum supports terrorism? The presence of these terrorist organizations certainly required the willingness of the Khartoum regime. Moreover, as the Guardian reported late last year based on "Wikileaked" State Department cables, "In March 2009, Jordan and Egypt were informed by the U.S. of new Iranian plans to ship a cargo of 'lethal military equipment' to Syria with onward transfer to Sudan and then to Hamas."
Hamas is considered a terrorist organization by Canada, the European Union, Japan, and the United States. So Gration's testimony was either deceptive or ignorant. Both are dismaying possibilities.
The Final Betrayal
On February 8, at a joint news conference with Ali Karti, Khartoum's foreign minister, Gration offered his overall assessment of the situation in Darfur. Ali Karti was not an especially auspicious companion for the occasion: he is a ruthless, hard-line Islamist within the National Islamic Front/National Congress Party regime. During the 1990s, he served as coordinator and leader of the Popular Defense Forces, a "Janjaweed-equivalent" during Khartoum's jihad against the South and Nuba.
At the conference, according to a Reuters report,
…Gration praised government cooperation with UN peacekeepers (UNAMID) in Darfur and defended the Sudanese Humanitarian Aid Commission's restrictions on aid agencies. "The Government of Sudan has taken great steps to lift restrictions on UNAMID," he said. "We've seen great improvement of access for UNAMID and for the international NGOs."
The evidence proves otherwise.
According to another Reuters report, dated February 14, "Workers from four humanitarian organisations, who asked not to be named, told Reuters there had been a recent increase in travel restrictions and worsening security conditions." The Institute for War and Peace Reporting, in a study released in Jaunary, wrote that "UN and diplomatic sources who spoke to IWPR say Khartoum is deliberately undermining humanitarian efforts." And in a January 28, 2011 report on access for humanitarians and UNAMID, Human Rights Watch declared:
Sudan has continued to restrict UN and humanitarian agencies from accessing conflict-affected areas, including Tabit, the site of the January 25 clash. The government also still bars access to much of eastern Jebel Mara where, since early 2010, government forces and militias have clashed with the SLA faction led by Abdel Wahid al-Nur, and attacked civilians from the majority Fur ethnicity. Humanitarian agencies have also been denied access from the Wada'a and Khazan Jedid areas, between North and South Darfur…. The UN-African Union Mission in Darfur (UNAMID) was unable to access most of the areas affected by violence, despite its mandate to protect civilians under imminent threat of physical violence.
UNAMID itself constantly reports, to no avail, obstructions of its mission. In a January 30 press release, the peacekeeping force stated, "Two UNAMID patrols from the Mission's Graida [South Darfur] team site, located 100 kilometers south of Nyala, South Darfur, were denied access yesterday by Sudanese Government Forces at two different check points."
Such lack of access has contributed to worsening humanitarian conditions. According to a not-yet-released Tufts University study of humanitarian conditions in Darfur, "international humanitarian capacities have been seriously eroded and impaired to a point that leaves Darfuris in a more vulnerable position now than at any other time since the counterinsurgency operations and forced displacements in 2003 and early 2004." IWPR and Radio Dabanga chronicled the ghastly, if predictable, human consequences:
One camp leader told IWPR and Radio Dabanga, "There is a big shortage in the food supply, and this is affecting children. Babies who depend on their mothers breastfeeding are suffering mostly because their mothers don't have enough food, and in turn they are not getting enough milk." Medical workers in the camps say that clinics for children have been shut down since the expulsion of NGOs, and that medical supplies, as well as food, are subject to delays at the hands of the government. "There were special centres to treat malnourished children in camps, but they've been shut down and there are now hundreds of children who are malnourished and need urgent help," another camp leader said. [Khartoum-based lawyer Salih] Osman said that inside the camps millions are in severe need. "I've been there, and I can assure you that children and women and elderly people have started to die due to the absence of basic needs like medicine," he said.
In Jebel Marra, a region in central Darfur that Khartoum has denied humanitarian relief for over a year, a government bombing campaign initiated in August has "forced tens of thousands of civilians to flee, mostly to rebel-controlled areas that the government has made off-limits to UN and humanitarian organisations." On February 14, Médecins du Monde, one of the last humanitarian organizations still serving in Jebel Marra, was not simply denied access but formally expelled from Darfur by Khartoum's officials. Several days earlier Radio Dabanga had reported:
At least twelve staff workers of Médecins du Monde working in central Darfur, have been arrested [by Khartoum officials] today in Nyala. Two international staff members fled the scene and are in hiding at the compound of the UN Office for the Coordination of Humanitarian Affairs. According to a police source, the staff workers are accused for collaborating with the rebel leader of the Sudan Liberation Movement (SLM), Abdel Wahid al Nur.
The obstruction of UN agencies has been just as consequential, according to another Radio Dabanga report:
The World Food Program stopped distribution of monthly food rations to Hamadiya displaced camp in Zalingei yesterday [February 1] after receiving threats. Staff received orders from their safety and security department that gunmen had threatened to attack the WFP office in Zalingei. Radio Dabanga learnt that staff involved in the planned distribution were withdrawn. Consequently, the distribution of relief to the displaced, which began yesterday in Hamidiya Camp, was stopped. Program staff and officials were prevented [by Khartoum officials] from going to their offices today in Zalingei. For their part, displaced people in Zalingei reacted with fear that the World Food Programme would suddenly halt distribution of food.
Less than a month earlier, according to Radio Dabanga, "An unidentified armed group…opened heavy fire on the headquarters of a distribution point of the World Food Programme (WFP) in Darfur…. A refugee source argued that the attack was linked to the speech of President Al-Bashir during his visit to Nyala, when he said that Darfur does not need any camps or relief." The regime and its agents have used such tactics with increasing frequency since the summer of 2010, especially in West Darfur: engineering threats of armed attacks against relief organizations, forcing them either to shut down of their own accord or to be expelled for their own "safety." Catholic Relief Services, a large and important humanitarian presence in West Darfur, faced such intimidation:
More than a dozen Catholic Relief Services aid workers were evacuated from a remote area of Western Darfur to the Sudanese capital of Khartoum January 21 with the help of the United Nations after receiving "indications of threats." In all, 13 international and national aid workers were escorted out…at the request of Sudanese officials, John Rivera, CRS director of communications, said from the agency's Baltimore headquarters. "We have heard reports of accusations regarding our work in Darfur," Rivera said in a statement. "We have not received an official notification about this from the government of Sudan."
There is yet another way that relief workers are denied: by blocking the release of essential humanitarian information and reports. In response to intimidation and threats by Khartoum officials, the UN has suppressed data and analyses representing humanitarian conditions in Darfur. These extraordinary actions have been frankly admitted by Nils Kastberg, head of UNICEF for Darfur: "Sometimes it is security services that hinder access or delay access, sometimes it is the humanitarian affairs office that delays the release of nutritional surveys. Sometimes it is delays in granting permissions and visas. It is different sections of different institutions which interfere in our work." According to the unreleased Tufts report,
Crucial information about the humanitarian situation is lacking. There are serious issues with the proper validation of the nutrition survey reports and their immediate release—without such data neither the government nor the international community can properly understand the severity of the humanitarian situation or the efficacy of the response. (emphasis added)
Ambassador Gration?
Given all this, how could U.S. special envoy Gration, only weeks ago, declare that "We've seen great improvement of access for UNAMID and for the international NGOs"? The vast chasm between Gration's words and the reality in Darfur should give the Senate Foreign Relations Committee great pause in considering Gration's nomination for a new ambassadorial post.
It is not Gration's responsibility as U.S. special envoy to Sudan to play the role of the UN Under-secretary for Humanitarian Affairs in Darfur. But his role must certainly include speaking honestly about humanitarian realities as they exist, not as is convenient for obtaining a diplomatic post. In responding to the acute suffering of innocent civilians, he falls well short of what we have a right to expect of our representatives abroad. Gration's consistent missteps, miscalculations, and disingenuousness make him unfit to be ambassador to Kenya. The Obama administration should withdraw its nomination. In the absence of such withdrawal, the Senate should vote against his confirmation.
Eric Reeves has published extensively on Sudan, nationally and internationally, for more than a decade. He is author of A Long Day's Dying: Critical Moments in the Darfur Genocide.
Image: Scott Gration (Special Envoy/Flickr/2009)