The #EndSARS protests have done what so many political leaders have failed to do: unite the citizens of Nigeria behind a common cause.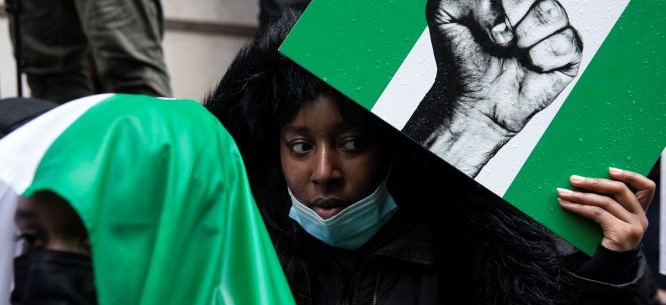 Amid the political unrest in Nigeria during the early 1990s and under the military dictatorship of General Abacha's regime, my family lived in Ibadan, in the south west of the country. My father, a professor and journalist, was active in the Academic Staff Union of Universities, a key voice in the democratic struggle. At a time when scores of people resisting the government had disappeared, our home was visited by military personnel, a common intimidation tactic. In 1995, like thousands of families, we left the country. My parents would not return to visit until after a democratic government was ushered in, in 1999.
By the time Nigeria rejoined the so-called democratic world that year, SARS—the Special Anti-Robbery Squad at the center of this month's furious protests to #EndSARS—had been operating for seven years in Lagos. Its main objective was to put an end to the armed robbery, kidnappings, and auto theft that had become a feature of life, most notably in the southern part of the country. Its inception came after a police officer shot an army official, Colonel Ezra Rindam, at a checkpoint in Lagos, leading to a conflict between the army and the police. As the dispute escalated, police officers left their posts in great numbers, some fleeing, and others going into hiding in fear of retaliation by the army. As the nation's state forces feuded, there was a heavy spike in crime. When the police commissioner founded SARS in response, its emergence was not an unwelcome presence. From its early days, however, SARS developed a reputation as a corrupt and violent force with links to crimes from extrajudicial killings to torture. By 2002, the Lagos-based unit had spread to all thirty-six states in the country.
The first weekend of October 2020, sound engineer and father-of-two Prince Nicholas Makolomi recorded a video of a young man fatally falling—or being pushed—out of a moving SARS car after an arrest. The incident took place in my ancestral hometown, Ughelli, in the Delta State. There have been many cases like it before, and Makolomi could not have known that this video would go viral and spark a national outcry. But it did. At protests in Ughelli a young man was shot in the leg. Then, on October 10, Jimoh Isiaq, who the Guardian Nigeria described as a bystander in the protests that took place in Ogbomoso, Oyo State, was shot and killed by police. Demonstrations erupted across the country. More names of SARS's slain victims were uncovered: Kolade Johnson. Precious Odua. Ismalia Ayinla. But many names have been forgotten; we may never know the number of people that have died in encounters with the police unit.
On October 11, President Muhammadu Buhari, no stranger to expressing "shock" at occurrences in the country he purports to lead, announced in a statement from his office that the unit would be disbanded. But the Nigerian government has declared that it was reforming or disbanding SARS before. Two days after this latest proclamation, Nigerian Police Chief Mohammed Adamu announced that SARS would be replaced by a new unit, the Special Weapons and Tactics, SWAT—a different name, with the same agenda and, likely, the same problems. The protesters were dissatisfied and they continued to rally in the streets.
On Tuesday October 20, I watched on a livestream as the Nigerian army and anti-riot police shot peaceful protestors at the Lekki toll gate in Lagos. Lekki, where some of my family live, is a middle- and upper-class district south east of the city. Daylight violence by Nigeria's security forces does not usually occur here; rather, their violence is enacted on people with no money, who are easier to ignore. But on this occasion, the brutality was seen by a global audience, which watched the devastation in real-time. The full death toll is as yet unknown, but on Wednesday Amnesty International reported that at least twelve people were killed on Tuesday.
The Lagos governor Babajide Sanwo-Olu responded with a twenty-four-hour curfew. He downplayed the government's role in the deaths, saying that the officers acted "beyond our direct control." More curfews implemented by other governors followed. In an address on Thursday, President Buhari offered no comment on Tuesday night's killings, but warned protesters against "undermining national security." It is impossible at this point to know what this moment will mean for those on the ground and the movement at large. But the national outcry has now become a global one, with calls from public figures from around the world to end police brutality in Nigeria.
My family's origins are in the volatile Niger Delta region, where protests against poverty, the oil industry, and environmental degradation span decades. Growing up I heard stories of the government's repression against those who demanded redress, regardless of which party or person was ruling the nation. But most of this history is missing from the national cultural memory. The history and massacres of the Biafra War, which ran from 1967 to 1970, have never truly been accounted for, including the violence against the Igbo peoples and lesser-acknowledged minorities such as the Ijaw, Ibibio, and Efik. Most Nigerians also have forgotten the displacement and death of groups in the south and southeastern regions, including the Urhobo, to whom I belong. These groups were the proverbial grass that suffered as the two elephants—Biafra and Nigeria—fought. Our failure to acknowledge and confront these atrocities is linked to the uprisings, suppressions, and massacres that followed.
In 1978, students came to a stand-off with the police and army amid nationwide demonstrations led by the National Union of Nigerian Students over a 50 kobo per day increase in the cost of meals. When one student was shot and killed at the University of Lagos, others at Ahmadu Bello University in Zaira rioted. At least eight students were murdered before universities were shut down nationwide. The carnage is etched into the memories of a generation.
Fifteen years later, in 1993, Ibrahim Badamasi Babaginda, the country's military ruler, allowed for the first elections in a decade, but nullified the vote before an official winner could be declared. Protests—with an untold number of deaths—broke out until he resigned, but not before he appointed an interim president, who was shortly replaced by a military coup led by General Abacha. When Abacha's bloody dictatorship came to an end with his death in 1998, Olusegun Obasanjo, who had previously served as military head of state from 1976 to 1979, returned as the country's president, this time, democratically elected. But his election did not put an end to the violence against protesters.
The 1999 Odi Massacre in Bayelsa, the southernmost state in the country, is particularly notorious, but there are many other large-scale brutalities have gone largely ignored, including the 2015 Zaira Massacre in Kaduna State, where Shia Muslims were the target of police forces. Also in 2015, and continuing into 2016, there were at least 150 military killings of pro-Biafra protestors; like their predecessors, they desire separation from the state. Following Tuesday's massacre at Lekki, citizens are currently reporting on Twitter that an #EndSARS-related massacre is ongoing in Oyigbo, Rivers State in the Niger Delta.
This is all to say, when it comes to Nigeria, state violence against citizens has been common. This violence has been met by resistance in movements large and small, which is then followed by state repression, including restriction of the press, and threats of more violence, especially against those who dissent.
Still, this time feels different. In the age of social media, Nigerians can now use their cell phones to record and broadcast how state actors treat them on a regular basis, but also, how these actors respond to their collective cry to not be killed. Technology has enabled swift and dynamic collective action by the participants in this year's #EndSARS protests, led by young citizens of varying backgrounds and across the country, from lawyers organizing nationwide to bail out arrested protestors to numerous crowdfunding efforts taken up to support the movement. The Feminist Coalition, an emerging group formed in July, was at the forefront of fundraising efforts to support legal and medical aid as well as food and supplies for protestors. (As of the early hours of Friday morning local time, the coalition announced that it would no longer take donations for #EndSARS, to much surprise online.)
The protests are being financially supported by Nigerians across the diaspora, who have taken to social media to amplify the calls of protesters at home, while demonstrating outside Nigerian embassies and the homes of officials abroad. What has truly set this moment apart from previous instances of resistance, however, is that the movement has crossed ethnic, religious, regional, and class lines. While there are detractors, and indeed even a minority of counter protestors as well as ethnocentric provocateurs in opposition, #EndSARS has done what so many Nigerian leaders have failed to do: unite the citizens of Nigeria, especially the young citizens, behind a common cause. Part of this is due to what happened this week; prior to Tuesday's massacre in Lekki, class provided a buffer against police brutality. Now, it is seen as a shared grievance.
As we await more news of what will likely go down in history as the Lekki Massacre, questions remain: What will the Nigerian government do in the aftermath of this globally witnessed event? Will this protest prompt leaders to finally begin delivering the nation its citizens deserve—holding its foot soldiers in the police and the army accountable, as well as the government leaders and oligarchy class who have enabled them? Or will it continue to resort to violence to crush its citizens? Whatever it does, this time feels different—because, thanks to technology and our global connections, we will all be watching.
---
Kovie Biakolo is a writer and multiculturalism scholar specializing in culture and identity. A Nigerian by way of many places, she is currently based in Brooklyn, New York.