C. Carson: A Palestinian King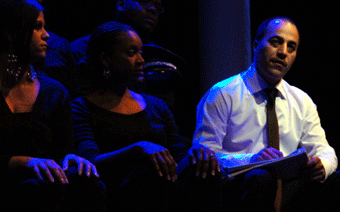 AFTER I arrived in Israel on March 13, it did not take long to discover that unexpected events would affect the Palestinian production of my play, Passages of Martin Luther King. Since the play's premiere in 1993, I had found that each performance led me to new insights about King and then to rewrites of a script that began as a docudrama informed by my years as editor of King's papers, and then gradually became my interpretation of King's triumphs and travails.
The play's constant elements are King's relationships with his parents, his wife, Coretta, and his ideological antagonists, Malcolm X and Stokely Carmichael, the "Black Power" firebrand I had known during the 1960s. The play also features African-American music—both the church music that King loved and the spirited freedom songs that brought these sacred melodies into the streets—sung and performed by African-American artists. In 2007, when the National Theatre Company of China staged the international premiere of Passages in Beijing, I confronted the difficult process of collaborating with artists across cultural barriers to translate King's story for audiences with little understanding of his Baptist roots or the details of his activism. But the Beijing experience was exhilarating and increased my awareness of King's significance as the most influential global symbol of the African-American freedom struggle. In February 2010, when I met with Palestinian nonviolent activists during a West Bank speaking tour arranged by the U. S. State Department, I proposed the Palestinian production. The Jerusalem-based Palestinian National Theatre, Al Hakawati, agreed to collaborate with the U.S. Consulate General in Jerusalem and the King Research and Education Institute, which I direct at Stanford. This collaboration between African-American musicians and Palestinian actors would result in the first Arabic-language play about King.
Kamel El-Basha, the Palestinian director, had initially voiced concern about how Palestinians would react to the play's Christian context. Similar worries had preceded the Beijing production, but Chinese audiences responded enthusiastically to the gospel-inspired singing as well as to the play's depiction of King's role as a leader drawing strength from his Christian faith. Although Kamel advised that Palestinians were especially sensitive about Christian proselytizing, he accepted that King's story could not be stripped of its Christian elements.
To document the Palestinian venture, I also invited award-winning filmmaker Connie Field, with whom I had collaborated on the Mississippi civil rights documentary Freedom on My Mind and the recent multipart series on the anti-apartheid movement, Have You Heard from Johannesburg? Although Connie and the singers had agreed to participate in return for modest compensation to cover their expenses, their levels of engagement with Palestinian issues varied. Several of the singers were evangelical Christians who welcomed the opportunity to visit the Holy Land and tour the Christian historical sites in Jerusalem's Old City. Connie, a Jewish leftist, promptly secured a Palestinian film crew and made plans for investigative forays into the West Bank.
AFTER THE orientation, Kamel met for the first time with the American cast members (and for the first time in person with me). Handsome and fluent in English, the fifty-year-old director exuded warmth and made clear his great admiration for King "as a ray of light to all believers in peaceful resistance around the world." Although some of the singers may not have been ready to begin rehearsals so soon after arriving, I was surprised that Kamel decided against working with the full cast until the next day. Instead, he outlined his vision of the play.
Although he had already told me that he planned to adapt the script to make it more accessible for Palestinian audiences, I was wary about the changes he might want to make. I remembered the dispute that resulted when the Chinese script adaptor, for inexplicable reasons, inserted a wild speculation that someone in the movement may have assassinated King. Something always gets lost in translation, but it's even more bothersome when something unexpected is added. Although Kamel assured me that 80 percent of the text was still mine, my curiosity was focused on the remaining 20 percent. As I later skimmed through my copy of the English version of the Arabic script, I realized that Kamel had created his own play as a frame for Passages. Using improvised dialogue drawn from discussions with the actors, he had written a farce about a group of disgruntled, distracted Palestinian actors facing the challenge of performing a King play supported by a cultural exchange program and directed by a blind American who could speak to the actors only through her Palestinian assistant. His concept enabled the Palestinian actors to inject their own sentiments about their characters in my play and, more generally, about, in Kamel's words, "the reality of the Palestinian actors and their relationship with the American director." My play had become a play within a Palestinian play. The play-within-the-play idea was hardly innovative, but it was risky, given the challenge of blending a contemporary farce with the King story, using Palestinian and American performers, during only one week of rehearsals.
I realized that the English version of Kamel's farce was a quick translation of an Arabic script based on improvisations that allowed the actors to express their feelings freely, but there was little in the script to indicate that the actors had much understanding of the characters in my play.
They also seemed to have difficulty understanding the racial oppression King fought against. In particular, Ramzi Maqdisi, the actor playing Martin, was struggling with his role. Few actors, in my experience, have succeeded in approximating both King's stirring oratorical voice as well as his personal charm and vulnerability. Ramzi at least recognized the difficulty and approached the rehearsals with a seriousness that some of the other actors lacked. In Kamel's script, when the American director asks Ramzi to describe his character, he responds that Martin had been "fucked in the ass" by the FBI, a comment that might have been metaphorically appropriate but one I could not imagine being spoken on stage. He also suggested that Martin was trapped into his marriage with Coretta, although I could think of nothing in my script that would justify such a harsh judgment about the woman Martin had ardently courted. Also, at various points in the script, actors suddenly shifted out of their roles in my play: a Birmingham policeman arresting King begins speaking Hebrew rather than Arabic; the actor performing Malcolm X models his gestures on those of Muammar Qaddafi; Coretta becomes Violet, a Palestinian radical strenuously objecting to the American flag draped on the President Kennedy's casket (not mentioned in my script).
I realized that such dialogue might elicit emotional responses from Palestinian audiences, but would they overwhelm King's story? Were Kamel and his actors thumbing their noses at the American government that was helping to sponsor the play? When Coretta/Violet loudly insists that the flag represents the American image—"it's ugly"—the American director responds by escalating the verbal confrontation:
LETICIA: What about your image? Terrorists!
VIOLET: If we are terrorists what are you doing here?
LETICIA: I don't believe you are terrorists. You're resisters.
VIOLET: Yeah, right.
LETICIA: I'm here as an artist, doing a cultural exchange…
VIOLET: We have a lot of those.
LETICIA: …If we were doing a play about a Palestinian in America, wouldn't there be a Palestinian flag?
VIOLET: But you killed Martin Luther King and Kennedy. You Americans kill each other, every day.
LETICIA: You Palestinians kill each other, every day. There is not only one face of America. There are many faces. We have 300 million people, fifty states.
VIOLET: …The only face that we see is the veto face.
When I suggested to Kamel that his script seemed to work at cross-purposes with my own, he insisted that his adaptation would "serve the drama" of my play by making it more accessible for his audience. "I know my audience" was his consistent theme. As I commiserated over drinks at the American Colony Cellar Bar with Mik Kuhman—the American director in Kamel's script—she expressed confidence in Kamel's talent as a director. "He trusts his actors, and they trust him," she explained, "even when he doesn't always make clear how it's all going to come together." Mik is a veteran actor. She refers to herself as a "movement and conceptual artist," and the previous year, she had been one of four Americans who worked with eight Palestinian actors to create, under Kamel's direction, a largely improvised show called From Jerusalem with Love…Naji, which, she said, had been warmly received by Palestinian audiences. She reassured me that Kamel could "get miracles out of people," even if the process was going to be a struggle. Mik understood why I resisted major changes to my script but advised me that Palestinians had little regard for intellectual property considerations when adapting Western works for their own purposes. "It doesn't matter what a Palestinian theater does," she explained, "it is always seen in reference to the situation here."
IN JERUSALEM, the rehearsals moved ahead slowly during the weekend before the Tuesday opening. To some extent, this resulted from the difficulty of bringing together the Americans and the Palestinians, when none of the former spoke more than a few words of Arabic and few of the latter were fluent in English. Kamel found it difficult to move the rehearsals along, as the singers struggled to respond promptly to cues spoken in Arabic, and the Palestinian actors often seemed to have trouble keeping straight their Palestinian roles and their American ones. With Kamel's script additions and the plodding pace, my ninety-minute one-act play had become bloated to the point that it seemed likely to run at least two hours. The final dress rehearsal dragged noticeably, despite Kamel's decision to call a halt before the cast reached the concluding scene. "The rehearsal was terrible," Kamel admitted, "but sometimes a bad final rehearsal leads to a great opening night."
I had heard this before but was nonetheless dismayed that the final rehearsal did not include the conclusion I had written. My play had ended with a King sermon climaxing in a fantasy scene in which Malcolm X and Stokely Carmichael join King as he proclaims, "If you have not found something worth dying for, then you aren't fit to live." But in the new script, this came only after most of the cast members walked off the stage in protest over their failure to be paid (I learned that the Palestinian actors were actually engaged in a dispute about wages). The two characters who remain on stage then engage in a brief dialogue about whether they have a dream. When one of them says that his dream would be actually to perform a play about King without engaging in petty disputes, his fantasy is realized when the other actors return to finish the play. It was striking to me that both plays, mine and Kamel's, had concluded with a fantasy—one to balance tragedy with hope, the other to balance farce with commitment.
Opening night went better than I could have expected. The mostly enthusiastic audience included many who were personally invited—including Al Hakawati board members and supporters, U.S. Consulate personnel, journalists, intellectuals, artists, and political activists. The broad humor of Kamel's script went over well as did the spirited singing of the choir, which drew strong applause. As had been the case in China, African-American music did not seem to require translation in order to have an emotional impact on a foreign audience. The Christian religious context of the play also did not seem to be a problem, although the audience undoubtedly included a larger proportion of Christians and secularists than would be in attendance at subsequent performances. Ramzi was effective as Martin, exhibiting the necessary emotion and conviction in his declamations yet also exposing Martin's inner doubts. He later told me that his devoutly Islamic parents attended the play and recognized the common elements that linked King's faith to their own. Cynthia Harvey, the cultural affairs officer at the consulate and the person responsible for securing the cultural exchange funding, did not seem overly bothered by the outburst over the American flag. Amid the overall enthusiasm, my wife Susan and I were among the few members of the audience who were aware that the fantasy ending of my play had been cut, but I still felt a sense of relief as I walked back to the American Colony Hotel.
I spent most of the following day in Bethlehem, where I spoke to a class on "Democracy and Human Rights" at Bethlehem University, but, soon after returning to Jerusalem, I learned of an explosion in a central Jerusalem bus station. Susan and her longtime friend, Joni Reid, had caught a tour bus there a few days earlier. The bomb took the life of a British Bible student living in Jerusalem and wounded more than thirty others. Although no organization took responsibility for the bombing, television reports linked the act to the escalating violence in Gaza, where Israel had launched air attacks against Hamas in retaliation for rockets fired into Israel. For the American singers, the bombing may have confirmed their submerged fears about coming to the region, but no one spoke openly about their concerns. "I have met some of the kindest people anyone would ever want to know," Ivan Penn—the husband of singer September Penn—remarked in an article he sent back to the St. Petersburg Times, "but I also have seen how painful the complex political, religious and civil disputes have become." Many Palestinians responded to the bombing by avoiding checkpoints that were set up afterward, which reduced the size of the audience that came to the performance that night. The response that night was predictably subdued—politely supportive but hardly enthusiastic.
The performance left me completely deflated, however, because Kamel changed the play once again, moving Martin's concluding sermon to the play's beginning. I watched in shock as Ramzi came onstage alone—playing his Palestinian alter ego, Subhi—to "rehearse" his monologue. Caught off guard, I wondered how the play would end, only to discover that there was no conclusion—at least to my play.
Afterward, Kamel explained that he made his decision after seeing about fifty people leave during the final half hour on opening night and concluding that the play had to be shortened. I found it difficult to control my anger. "There's only two doors to the theater, Kamel. Don't you think I would have noticed fifty people leaving?" I reminded him that my original play was shorter and indicated that I would have preferred some cuts in his script. I asked, "Why do you think that moving the conclusion to the beginning solves the problem? Do you really think that the audience responded more positively than on the first night?" Kamel responded that Palestinians could not absorb so much information at the end. "They need to get it when their minds are fresh," he explained. "They can put it in context later." I pleaded against the notion that a concluding monologue could be convincingly delivered by a character supposedly practicing a part. Kamel was just as insistent that he was making my play more accessible to Palestinians, but he finally conceded, "It's your play. If you want the ending changed back, we'll do it." We agreed that we would meet again the next day at 4 p.m., just three hours before the final evening performance.
I DID not sleep well and arose early the next morning to write an email to Kamel. I proposed that my original ending be restored but also suggested that Daddy King's introduction of his son's final sermon be cut along with a few passages in the sermon itself. I also suggested cutting some of Kamel's additions, including the playing of a segment of Spike Lee's Malcolm X film showing the assassination. I later learned that Kamel did not read my email before the scheduled meeting. While returning that afternoon from media interviews and meetings with youth groups in Ramallah, I heard that the matinée performance, before an audience mostly comprised of students, went well. I wondered whether this would strengthen Kamel's belief that he understood his audience, but I nonetheless looked forward to the meeting. When I arrived at the office of the theater's general manager Jamal Ghosheh, our documentarian Connie immediately prodded me to allow her to film our discussion, but Jamal objected. Connie stormed out of the room, only to be called back by Kamel, who said everyone was welcome, including all the cast members who wanted to come. The office suddenly became crowded with about twenty people.
Kamel began explaining his revisions, and I reiterated the concerns I had already expressed to him and then asked whether any of the cast members wanted to speak. Gina Asfour (Violet/Coretta) spoke up first, firmly supporting Kamel's view that the revised beginning would be more successful in reaching Palestinians. She repeated what I had heard from Kamel: "The Palestinians do not have a long history of theater, it is only thirty years old or so, and it's too much information to digest." Firas Frah (who played Malcolm X) followed with a digression on the way parables are presented in the Koran to support the revised opening. He also cited the positive response of the afternoon's youthful audience. Just as it seemed the entire cast would support the director, one of the singers spoke up and suggested another option. I was stunned that P. Michael Williams, one of the youngest of the cast members, would be the first American to join the emotionally charged discussion. "Why don't we stay with the actor rehearsing Martin's speech in the beginning, but, at the end of the play, have him repeat the final lines, with Malcolm and Stokely joining him," he proposed. "This would satisfy both perspectives and tie it all together." There was a moment of silence in the room before I interjected, "That sounds like a workable compromise—that is, if the ending could be worked out during the next two hours."
I suspected that Kamel and most of the cast members were pleased by the prospect of finalizing the script after the multiple changes that had occurred during the final rehearsals and the first two days of public performances. I left, allowing Kamel to work through the changes with the cast. When I returned that evening, the theater lobby was crowded, as it had been opening night. Security precautions associated with the bombing had apparently abated. After the performance, cast members agreed that it was the best night yet. "The show felt like an opening; it became our show, all of ours," Mik enthused. She attributed the increased energy of the cast to "having an open meeting, from being in on the discussion and being in on the solution." I was pleased by the increased enthusiasm of the performers but also felt numb and exhausted after the long day.
The next morning I met with Ramzi for a meeting we had arranged at my hotel. We had talked a few times during the week, and I was pleased to learn that he had studied his character by consulting Internet materials, including videos of King's speeches. He was the only one of the cast members who took advantage of my presence as a King scholar. Ramzi had also told me about his background as a Hamas-sympathizer and about his time in an Israeli jail. He admitted that he found it difficult to accept King's firm belief in nonviolence as a principle. I suggested that he find Martin's "inner Malcolm X" in order to understand why Martin believed that nonviolence was ultimately stronger than violence. When he sat down at a table next to the hotel buffet, he declined my invitation to eat—an expression of his Islamic faith or upbringing, I decided. We talked about King, the play, and the African-American freedom struggle, but I was mostly interested in his background and the evolution of his political views. Now in his early thirties, Ramzi referred obliquely to painful elements in his past: the death of a young brother, relationships that had not worked out. But he indicated that he wanted to move ahead in new directions.
He mentioned his initial enthusiasm for President Obama. "I thought he was a savior, like Jesus, that he would understand our situation and help us." Like many Palestinians, he was devastated by the American veto of the UN resolution denouncing Israeli settlements as illegal (I refrained from mentioning that the vote was cast by Susan Rice, one of my former students). I asked him what he would tell Obama if he were at the table with us. "I would not sit at a table with him," he replied quietly. "We would have nothing to say." Yet he also did not have a high opinion of the Palestinian Authority. "I would prefer to have the Israelis directly in charge," he remarked. "At least then we would know who our enemies are."
After Ramzi left, Cynthia Harvey from the consulate, her associate Suzan Nammari, and U.S. Consulate Public Affairs Officer Frank Finver came by to take me and the other Americans for a relaxing outing at the Dead Sea. We needed a break, and the Palestinians perhaps needed a break from us. It was the first full day since our arrival that did not involve meetings related to the play. Along the way, P. Michael was able to fulfill his childhood dream of riding a camel. Mik and the singers covered themselves with Dead Sea mud and floated in the salty water. No one talked about the script. I enjoyed photographing their fun, even though I did not feel ready to join in.
The next day I tried to pull my thoughts together for a presentation at the Middle East Nonviolence and Democracy (MEND) conference in Ramallah organized by Lucy Nusseibeh and Walid Salem. After the unexpected issues relating to the play, I wondered whether I could contribute anything useful to the Palestinian resistance movement.
If I had learned anything during the previous week, it was that Palestinians saw the world rather exclusively through the prism of their own oppression. I had arrived with a sense that they could learn important lessons from the African-American freedom struggle but had begun to see that any sustained freedom movement tended to view itself as unique and only truly understandable from the inside. Yet I persisted in believing that my own activism and my career studying liberation movements had produced at least a few insights of universal significance. My presentation at the conference was cautious and restrained, but it contained what I considered were the play's lesson for Palestinians: that King was, like other great movement leaders, a flawed, vulnerable human being whose greatness derived from his ability to argue persuasively for his principles within a mass movement he would not control. I added that my early involvement with King's youthful critics made me suspicious of charismatic leaders, even visionaries such as King.
I thought of Fadi Quran, a former student whom I had seen leading a hunger strike in Ramallah during the previous week, when I urged Palestinians to build a liberation movement that subverted hierarchical authority rather than replicating "pyramids of power" under their own new leaders. The twentieth-century movements that had succeeded in turning peasants (and the children and grandchildren of peasants) into citizens had produced visionaries such as Gandhi, King, and Mandela, but it had also produced liberators who became tyrants determined to use force to stay in control of "people's" democracies. I saw little likelihood that the few hundred proponents of nonviolence who gathered at the Ramallah conference posed any immediate threat to the power of Fatah or Hamas or, even less, Israel. For proponents of bottom-up movements, evidence of success typically comes in small increments. I could only hope that Palestinians could accept useful lessons from the past and, in turn, pass on the lessons of their struggle.
ALTHOUGH THE cast had another week of performances in the West Bank ahead of them, my involvement with the play ended on Sunday, March 26 at the Freedom Theatre inside the Jenin refugee camp. The bus ride from Jerusalem took us through the beautiful hills of the northern West Bank. The cast was more relaxed and amiable than ever, with Americans and Palestinians interacting as friends rather than the strangers they had been less than two weeks earlier. We stopped at a small art fair in one of the attractive Palestinian towns that would be a magnet for tourists if it were located anywhere else in the world. When we arrived at the Freedom Theatre, we noticed a colorful poster for their previous production of "Alice in Wonderland."
Juliano Mer-Khamis had established the Freedom Theatre in 2006, working with Zakariya Zubeidi, who had once been a local military leader of the Al-Aqsa Martyr Brigades. Juliano's father, Saliba Khamis, was a Christian Palestinian, while his mother, Arna Mer, was a Zionist Communist who became an activist for Palestinian rights and worked with her son to raise funds for the Theatre. Juliano's 2003 documentary Arna's Children had dramatized his mother's efforts to bring theater to refugee children, many of whom were victims of the bitter fighting that had taken place at the camp during the Second Intifada. Seeing youngsters playing near the theater building as we familiarized ourselves with the new venue, it was possible for us, at least for a moment, to ignore that tragic history. I handed out King buttons to the kids, and soon they came back gesturing for more, pointing to their friends and siblings. Inside the theatre, there was bench seating for perhaps 150 people, with the small stage located directly in front of the first row. With only two hours to prepare, cast members explored the set that had been moved from Jerusalem. The singers joked with each other, loudly belting lyrics from popular songs as the children outside listened with curiosity.
I'll never forget the Jenin performance. Drawn together by the intimate setting, the mostly youthful audience intently watched the actors and singers perform with a confidence they had not displayed before. The earlier disputes over the script were supplanted by a sense of joy in bringing the play to an audience that appreciated a brief diversion from Palestinian reality and perhaps felt the force of King's enduring message.
THE NEXT day, after a good-bye luncheon with the cast members, Susan and I flew back to California. I was exhausted yet relieved that the experiment in cross-cultural collaboration had concluded well, despite unforeseen difficulties. It was a week later, as I was about to deliver a speech at Virginia Tech marking the four-year anniversary of the massacre on that campus, when I heard that Juliano had been shot and killed near Jenin, reportedly by Islamic militants. Palestinian friends suggested that the killing may have been a response to the Freedom Theatre's encouragement of women to watch and participate in theatrical performances along with men. I learned that cast members were understandably stunned by the killing, and some of the American singers questioned whether they would go ahead with the final performance in Ramallah (Connie sent an email saying that she was upset with the singers' reluctance). I felt guilty that I was not with them, that I had departed before the play had finished its run.
Nonetheless, I was pleased and proud that cast members decided to perform the show. Several singers told me that final performance went very well, all things considered. I found myself wondering what would have happened if we had been aware of the imminent possibility of deadly violence before the Freedom Theatre performance. Would we have had the courage to proceed? What if the Freedom Theatre's decision to welcome an American-sponsored play about a Christian advocate of nonviolence had been the final provocation for Juliano's killers? Upon reflection, however, after thinking about all that had happened since I arrived, I decided that it probably had nothing to do with us or the play. The killing was likely something only Palestinians could truly understand.
Clayborne Carson is a professor of history at Stanford University and founding director of the Martin Luther King, Jr. Research and Education Institute.
Image: Ramzi Maqdisi, right, playing the role of Martin (courtesy of the author)