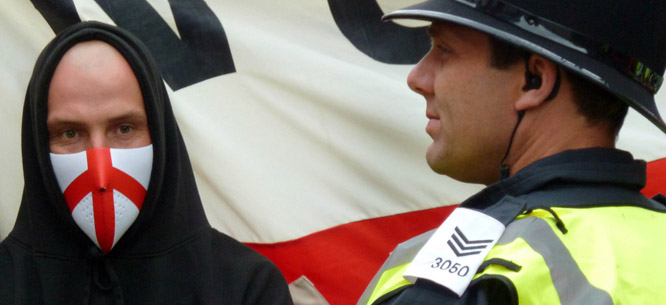 The sickening murder of a British soldier in the London district of Woolwich last week has unleashed a surge of Islamophobia across the pond that makes U.S. reactions to the Boston bombings look tame. Most conspicuous were militant demonstrations by the far-right English Defence League, for whom the Woolwich murder has been a major boost. Unlike in many other European countries, where neo-fascist parties are gaining new traction in a climate of economic woe—Greece's Golden Dawn provides the most obvious example—Britain's extreme Right has seen limited success in recent years: until this week, the group was "moribund," writes Daniel Trilling in the New Statesman. Jon Day, writing for the London Review of Books, agrees: "the murder of Lee Rigby seems to have galvanised a racist movement which appeared, until a few days ago, to be in terminal decline."
A swift mobilization by the EDL in the wake of last week's slaying drew crowds of over 1,500 and 1,000 in Newcastle and London, respectively, and another round of demonstrations is taking place this weekend, which anti-fascist groups fear may be Britain's largest far-right mobilization in thirty years. The EDL's street cadre of football hooligans and washed-up fascists are not the only ones stoking anti-Islamic sentiment in the United Kingdom, however: as Richard Seymour points out on his blog, "The EDL would be nothing without the tabloids, the police, the neoliberal parties in parliament, and so on." Indeed, the British mainstream press has done its fair share this week to fuel racist bigotry.
Frightening as the reactions of Britain's right wing to Rigby's murder are, some of the most alarming persecution of Muslim minorities in the world today is occurring in an altogether different setting—and those responsible, at first glance, could not be more distant from Britain's drunken street thugs. The perpetrators in question belong to the Buddhist majority populations of Burma and Sri Lanka, where new ultra-nationalist movements are inciting violence against Muslims.
The persecution of Burma's Rohingya minority is slowly beginning to come to light in international media, with developments this week sparking renewed fears of genocide among human rights observers. Following nearly a year of ethnic strife which has left hundreds dead and well over 100,000 in makeshift refugee camps—"permanent, prison-like ghettos" where "Muslims are stopped from leaving at gunpoint," aid workers are threatened, and access to health care is severely restricted—two municipal governments have now declared their intent to enforce a 1994 law imposing a two-child limit on Rohingya families.
Will this blatant escalation of ethnic cleansing efforts mark a tipping point in international attitudes toward Burma? For one thing, it has provoked a clear condemnation from Burmese opposition leader Aung Aan Suu Kyi, who has thus far "remained for the most part silent in regard to the plight of the Rohingya." But, according to Tricycle magazine, increased international scrutiny has hardly stemmed the violence. On the contrary, riots have flared up again in recent days:
Virulent anti-Muslim violence has once again enveloped a Burmese town—this time Lashio in the northeastern Shan State. What was once perceived as an isolated outbreak of murderous rioting in the western Rakhine state against Rohingya Muslims last year has now become a common occurrence in locales across the country, where not only Rohingya but all Muslims have become viable targets.

Reacting to a quarrel between a Buddhist woman and an older Muslim male customer, Buddhist mobs—with monks in their ranks—armed with rocks, sticks, and machetes took to setting fire to the city's largest mosque, a Muslim school, Muslim orphanage, and scores of Muslim-owned shops.
"At least 44 people have died since March," adds the New York Times, "when Buddhist mobs rampaged through Meiktila, [following] a dispute in a gold shop between a Muslim proprietor and Buddhist customers. Most of the victims in Meiktila were Muslims." It is testament to the Burmese authorities' complicity in the violence that seven Muslims—and no Buddhists—were just convicted for their role in the March attacks. And yet President Obama's meeting with Burmese president Thein Sein last week was largely congratulatory, albeit punctuated with allusions to the ongoing violence.
Meanwhile, in Sri Lanka, an extremist Sinhala Buddhist organization named the Bodu Bala Sena ("Buddhist Strength Force") and modeled in part on western India's Shiv Sena has been stoking comparable anti-Muslim wrath, again with the tacit—if not explicit—support of state authorities. In an essay in the London Review of Books last month, Tariq Ali put the situation in context:
Four years after the killing of between eight and ten thousand Tamils by the Sri Lankan army, which brought to an end a civil war that had lasted for 26 years, there is trouble on the island again. This time the army isn't directly responsible: instead it's the Buddhist monks from Bodu Bala Sena, the most active of the fundamentalist groups that have sprouted in Sinhalese strongholds. Three-quarters of Sri Lankans are Sinhalese; most of them are Buddhists. The monks' target this time is the small Muslim minority. Muslim abattoirs have been raided, halal butchers attacked, homes targeted. The police merely stand and watch, and Sri Lankan TV crews calmly film the violence….

It isn't just members of the BBS who spout [xenophobic] nonsense. Many in the Sinhalese political-military mainstream share these views. In the town of Pottuvil, where the Muslims are the majority, soldiers have been helping local monks erect Buddhist statues and allowing loudspeakers to blare out Buddhist hymns morning and night. Local women who own land are being driven off it: the monasteries then steal the land, with the army providing protection.
Last week, a Buddhist monk from another ultra-nationalist group, Voice of Sinhala, escalated the crusade against the country's Muslims by setting himself on fire outside the holiest Buddhist shrine in the country. The thirty-year-old monk justifed the self-immolation as a protest against halal butchering and the alleged conversion of Sinhalese Buddhists to Islam; his suicide was praised by a number of the government's right-wing ministers as an act of self-sacrifice for the good of the country.
For more on militant Buddhism and persecution of Muslims in Sri Lanka and Burma, you can turn to the New York–based Buddhist magazine Tricycle, which published a powerful essay on ethnic cleansing and Buddhist nationalism this spring and has been covering the issue consistently on its blog (for example, here, here, and here).
Elsewhere online:
As weapons shipments to both sides of the conflict increase, David Bromwich makes a compelling case for why we should stay out of Syria.
Thousands-strong anti-government protests in Turkey have resulted in over one hundred injuries and sixty arrests.
Evgeny Morozov takes down the shallow futurism of Google's new book-length manifesto in the New Republic, while Teju Cole interrogates Google's relationship to art in the New Inquiry. Across the aisle, NPR signs up as a big data booster.
A major union representing Canadian oil and gas workers has taken a stand against the Keystone XL and the wider expansion of tar sands production. Meanwhile, coal is making a comeback in U.S. energy production.
Indigenous groups in the Brazilian Amazon have reoccupied a construction site for the Belo Monte mega-dam and refuse to evacuate despite a federal order and pending conflict with the military. In a separate land dispute, police in southern Brazil shot dead a Terena Indian and wounded several others as part of a violent eviction.
New Zealand has agreed to pay hundreds of millions of dollars' worth in compensation to its indigenous peoples over colonial crimes dating back to 1840.