A preview of our next issue.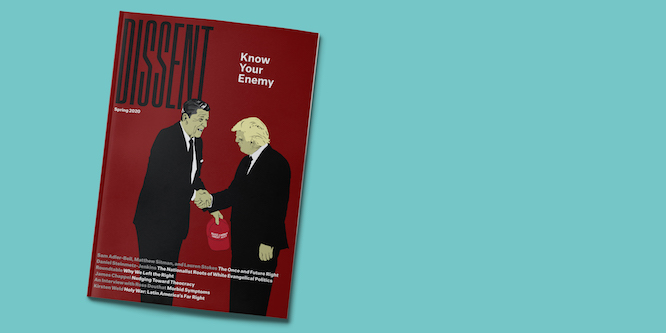 In our Spring 2020 issue, out in two weeks, we look at the current trajectory of conservative ideas and movements in a special section, Know Your Enemy, guest edited by Sam Adler-Bell and Matthew Sitman—co-hosts of a podcast about the right whose name we adopted for the issue—and historian Lauren Stokes. The contributors to the section examine different facets of contemporary conservatism, but they all work to recover the connections between the history of the right and the politics of the Trump era.
In the early stages of our work on this issue, we had little sense of the depth of the crisis about to hit. But the articles you'll find in the magazine—and the imperative to understand the dynamics of conservative politics—are as relevant as ever.
Subscribe now to get your copy at a 25 percent discount. 
In the section: Daniel Steinmetz-Jenkins puts white evangelical support for Trump in historical perspective; a group of former conservatives (including Steinmetz-Jenkins, Sitman, Sarah Jones, and Maximillian Alvarez) talk about why they left the right; James Chappel examines legal scholar Adrian Vermeule's war on liberalism; New York Times columnist Ross Douthat sits down for an interview about Trumpism and the "revolt against decadence"; and Kirsten Weld unearths the deep roots of the insurrectionary politics of the Latin American far right.
Also in the issue: Alyssa Battistoni on the revival of Vivian Gornick's The Romance of American Communism; Michael Walzer on the adjective "liberal"; Eli Zaretsky on the shortcomings of the redesigned Museum of Modern Art; Julian Epp on MAGA teens on TikTok; Mark Erlich on construction workers and the gig economy; William Hunt on the rebellion in Catalonia; Alejandra Matus on the uprising in Chile; Daniel Schlozman on polarization (read it now); Ismail Muhammad on novelist Jenny Offill; Kim Phillips-Fein on what comes after the rise and fall of the New Deal Order; Christine Mathias on Lakota America; Staughton Lynd on the prospects for worker self-management in a hostile capitalist system; and Timothy Shenk on Phyllis Schlafly.
Click here to subscribe at a 25 percent discount. If you are already a subscriber, you can purchase a gift subscription or become a solidarity subscriber to provide the support we need to sustain Dissent.