Join us Wednesday, April 14 at 7 p.m. ET for a discussion on the state of the global economy.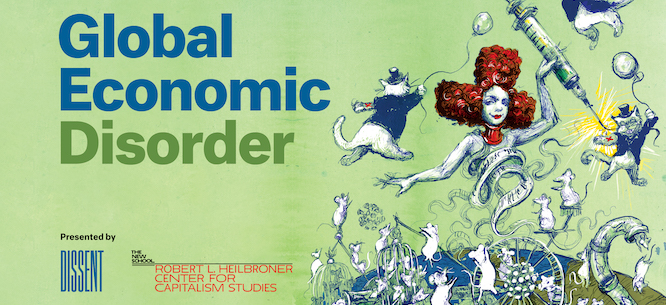 Our Spring 2021 issue, Global Economic Disorder, is out now. On Wednesday, April 14 at 7 p.m. ET, Dissent board member and special section co-editor Julia Ott will moderate a discussion with contributors Tim Barker, Penelope Kyritsis, Walden Bello, and Anakwa Dwamena.
In the issue, Tim Barker examines global secular stagnation; Penelope Kyritsis and Genevieve LeBaron investigate textile workers' widespread hunger; Walden Bello charts multilateralism's declining legitimacy; and Anakwa Dwamena analyzes the limits of sweatshops as springboards for industrialization in East Africa.
We'll be streaming the launch on Zoom. To watch and submit questions live during the event, you'll need to RSVP here.
Julia Ott is Associate Professor in the History of Capitalism and the director of the Robert L. Heilbroner Center for Capitalism Studies at the New School.
Tim Barker is a historian of modern American capitalism and a member of Dissent's editorial board.
Penelope Kyritsis is the Director of Strategic Research at the Worker Rights Consortium.
Walden Bello is the cofounder and co-chair of the Bangkok-based think tank Focus on the Global South and the International Adjunct Professor of Sociology at SUNY Binghamton.
Anakwa Dwamena is a contributing editor for Africa Is a Country.
Attendees will receive 25% off a new subscription to Dissent.
This event is co-sponsored by the New School's Robert L. Heilbroner Center for Capitalism Studies.