Dissent's best from a year of outrage.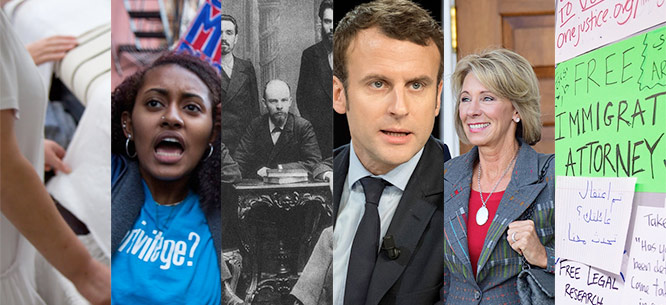 Say what you will about the outrages that transpired in the United States and around the world in 2017. But seldom has it been more crucial to encourage dissent from the deeds of the powerful and to understand what kinds of dissent might lead to real change. In other words, we have been working hard all year to live up to the name of our magazine.
A future historian who reads through our most popular articles from 2017 will get a keen appreciation of how thoughtful leftists made sense of the rule of Trump and his ilk—and sought to blaze a path toward a more decent future. Nancy Fraser and Gabriel Winant examined the role that centrist Democrats played in the triumph of the Trumpian right. Alyssa Battistoni took on the chimera of a "post-ideological" universal basic income. Jawziya Zaman exposed the contradictions of navigating the American immigration system, amid the Trump administration's brutal crackdown, and Joanne Barkan dissected the administration's agenda to privatize public education.
Julia Ott drew on U.S. history to show how tax legislation keeps making the rich even richer. Mitchell Cohen, our erstwhile co-editor, made clear, in reflecting on the centenary of Bolshevik Revolution, that a new order sustained by the terror of a one-party state betrays the glorious hope that socialism will advance democracy, not crush it. Another former co-editor, Michael Walzer, asked, in a self-consciously archaic title, what is "The Historical Task of the Left in the Present Period"? It remains the enduring task of Dissent to keep answering that question, as long the orange-haired demon tweets from the White House and long after he's gone. —Michael Kazin, Editor

Dissent's Most-Read Articles of 2017:
Subscribe by December 31 to get your 2018 fill of Dissent—20 percent off—starting with our Winter issue on the Crisis of Democracy.