From cutting cane with Fidel to dining with Viet Cong soldiers, some memories from a trip to Cuba with the first contingent of the Venceremos ("We Shall Win") Brigade.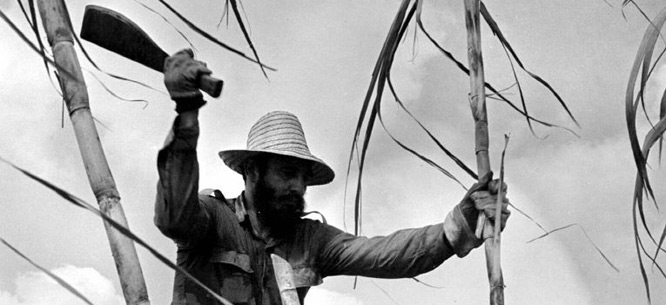 I spent two months in Cuba, from December 1969 to February 1970, not as a student or researcher, and certainly not (consciously, at least) as a tourist. I thought of myself as a revolutionary from the United States—"the belly of the beast"—excited to learn from men and women who had already made a triumphant revolution of their own. With 215 other Americans, I was part of the first contingent of the Venceremos ("We Shall Win") Brigade, organized mainly by members of Students for a Democratic Society.
With great relish, we were breaking our government's blockade. A warning stamped prominently on our passports stated they were "not valid for travel" to the "restricted countries and areas of Cuba, Mainland China, North Korea, and North Viet Nam." But who the hell cared about passports? Richard Nixon and his henchmen were not going to stop us from traveling to the land of Fidel and Che—the citadel of anti-imperialism and socialism in the Americas (if not the world)! We did, however, have to fly into Havana from Mexico City—where what I assumed were FBI agents (but were probably Mexican federal police) snapped our photos before letting us board our plane.
For six weeks, we expressed our solidarity by cutting sugar cane at a camp in rural Havana province. Seventy Cuban Young Communists, most of whom spoke pretty good English, lived and worked with us. That year, most Cubans were mobilized in a economic enterprise one could call Promethean or just plain foolish: to harvest 10 millon metric tons of cane—double the output of any previous year—in order to reimburse big loans from Soviet bloc countries and begin to move their economy toward self-sufficiency. Billboards declaring Los Diez Millones Van! were plastered on buildings and alongside roads all over the island. To that end, the government pulled hundreds of thousands of otherwise productive workers out of their mines, factories, and offices to toil in jobs in the fields.
None of us Yanqui radicals had ever before wielded machetes, let alone to chop down ten-foot-high stalks with sharp leaves without damaging the sugar deposits that lie near the ground. We must have been the least efficient macheteros on the island. But, of course, our real reason for being there was to make a political point, as the almost daily coverage we received in Granma, the Communist Party organ, made clear: the same young Americans who fought for civil rights and protested against the Vietnam war were now showing that they were compañeros of the Cuban revolution too.
The practice of solidarity turned out to be a good deal of fun. The Cubans woke us up every morning with a rhythmic tune of their own or a familiar rock song; one morning, we were surprised to hear the Beatles' "Back in the USSR" blasting from the loudspeakers. Cane-cutting was splendid exercise, and our hosts treated us to a regimen far more luxurious than that endured by native macheteros. They broke up the workday by bringing us jars of frozen Bulgarian fruit yogurt at mid-morning and then served us a three-course meal at lunch.
In the evenings, after an excellent dinner (and all the cigars we could smoke), we listened to speakers and an occasional Afro-Cuban band. One day, El Lider Maximo himself cut cane with us and then gave an hour-long speech, without notes. All I remember from Castro's talk was his profound doubt that Lee Oswald was a good enough marksman to have assassinated John F. Kennedy in a limousine moving swiftly away from the Texas Book Depository in Dallas.
One evening, our guests were uniformed soldiers from the National Liberation Front of South Vietnam—better known stateside as the Viet Cong. Through a French interpreter, I had a halting, although pleasant conversation, with one of them—a young man about my age. But the conversation ended shortly after I asked him what the large tricolor medal on his chest signified. The soldier beamed and then responded, in English: "Twenty Yankees killed!" Solidarity, I realized, had its emotional limits.
During our last two weeks in Cuba, we were taken, by bus, on a tour around the island. I filled notebook after notebook with details about health clinics, pineapple plantations, secondary schools, the Moncada barracks in Santiago (where Castro and his men staged an unsuccessful attack in 1953 that became the symbolic beginning of their rebellion), and the Isle of Youth, where the Batista regime had kept its political prisoners. Everywhere, we were treated as heroes and urged to transform our benighted nation as the Cubans had transformed theirs.
It all made good sense to me, at the time. (See the embarrassing piece I wrote for the Harvard Crimson a month after returning from the trip. Although the article is attributed to Che Guevara, the bearded icon had not, in fact, composed it from an unmarked grave in the Bolivian jungle, where he died in 1967.)
However, as time passed, I became more critical of the revolution. The big harvest yielded only about 7.5 million tons of the sugar, and the severe economic dislocation it caused made the Cubans even more dependent on the USSR and its allies in Eastern Europe than they had been before. I also learned that a government I had deemed a paragon of true democracy routinely locked up its opponents, jailed gays and lesbians (many on the Isle of Youth, until the prison there was closed in 1967) as "deviants," and had no intention of allowing its people to decide for themselves if they wanted the Communist Party to remain indefinitely in power.
Gradually, I also began to recall things I had seen or heard during my time on the island that contradicted the gushing, unqualified admiration I expressed at the time. Fierce-looking policemen and soldiers were ubiquitous, particularly in the cities and near big fields and sugar mills. Several of the young Communists who worked and traveled with us confessed their doubts about Fidel's backing for the Warsaw Pact's crushing, in 1968, of the Czech attempt to create "socialism with a human face." They also mocked the stilted rhetoric in their party textbooks as "too Soviet." Clearly, few would have felt lucky at all, as the Beatles put it satirically, to be "back in the U.S.S.R."
Cuba, que linda es cuba / Quien la defiende la quiere más, goes the refrain of a patriotic song I learned by heart on the island forty-five years ago: "How beautiful Cuba is… Whoever defends it only loves it more." Cuba was certainly "linda"—or beautiful. But one should not have to show one's love for it by defending the Castro regime, now going on its fifty-fifth year. Yes, Cuba has a fine public health care system and the third-highest life expectancy in Latin America, as well as one of the highest literacy rates in the world—higher than that of the United States and most European countries. But there is little else to celebrate after all these years. Soon, I hope the United States will lift its ridiculous embargo and help give ordinary Cubans the opportunity to build a society entirely worthy of being defended.
---
Michael Kazin is co-editor of Dissent.