The director of Athena joins us to talk about why Amazon workers have been walking off the job.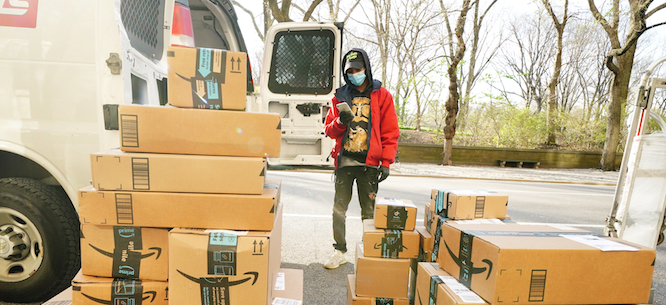 Subscribe to the Belabored RSS feed here. Subscribe and rate on iTunes here or on Stitcher here. Check out the full Belabored archive here. Tweet at @dissentmag with #belabored to share your thoughts, or join the conversation on Facebook. Belabored is produced by Natasha Lewis.
Amazon is poised to become an even bigger part of many people's lives during lockdown, but its workers aren't celebrating. That's because they're working in frightening conditions, without enough time to wash their hands or room to practice proper social distancing. Amazon workers have been walking off the job and organizing protests to demand more sick time, safer workspaces, and more consideration for their needs. We talk to Amazon workers Tonya Ramsay and Jordan Flowers about the recent protests in New York and Detroit, and then to Dania Rajendra, director of Athena, a coalition of labor and social justice organizations fighting the concentrated power of Amazon. 
We also hear from a GE worker who took part in protests demanding the company use idled manufacturing capacity to make desperately-needed ventilators, service workers who are campaigning with Denver DSA to cancel rent, Barnes and Noble warehouse workers also challenging unsafe conditions, and we look back at the labor organizing of the Bernie Sanders campaign as it draws to a close. For Argh, we consider farmworkers who, you guessed it, are picking the food we eat without proper protections against COVID-19, and look at the ways capitalism created the healthcare crisis we face. 
This week's show was supported by our monthly sustaining members. If you think our work is worth supporting, please consider becoming a member today. If you're interested in advertising on the show, please email ads@dissentmagazine.org. And as always, if you have any questions, comments, or tips, email us at belabored@dissentmagazine.org.

News:
Sarah: Belabored Stories: On the Picket Line for Ventilators (Dissent)
Workers Protest at Barnes & Noble Warehouse Where 9 Have Tested Positive for Covid-19 (Vice)
How Bernie's Iowa Campaign Organized Immigrant Workers at the Factory Gates (Jacobin)
How Bernie Sanders' fight for Amazon warehouse workers is winning California voters (Guardian)
Baristas For Bernie: Sanders' Service Worker Strategy To Win Iowa (Iowa Starting Line)
Group petitions to cancel Denver rent, mortgage payments for 90 days (KDVR)
Michelle: Belabored Stories: "I Have to Feed My Family" (Dissent)
Conversation:
Dania Rajendra (with Amazon workers Jordan Flowers and Tonya Ramsay)
Dear Jeff Bezos, instead of firing me, protect your workers from coronavirus (Guardian)
Sarah: Nationalize Amazon (Outline)
Michelle: Belabored Stories: The Amazon Walkouts Continue and Belabored Stories: "I Have to Feed My Family" (Dissent)
Michelle: Your Rent or Your Life (The Nation)
Argh, I Wish I'd Written That: 
Sarah: Susie Cagle, California's farm workers pick America's essential produce – unprotected from coronavirus (Guardian)
Michelle: Andrej Markovčič, Capitalism Caused the COVID-19 Crisis (Jacobin)