General Electric workers want to use the company's idled manufacturing facilities to make desperately needed lifesaving equipment.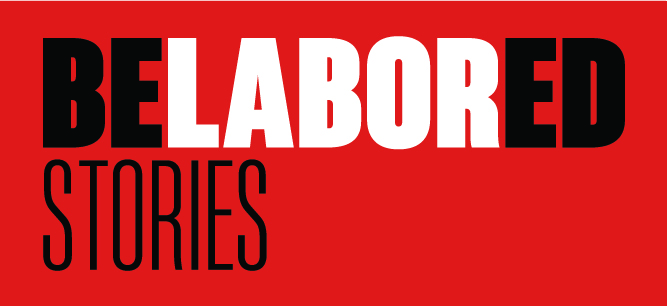 Read more of our coverage of the coronavirus crisis
here
.
Belabored is a labor podcast hosted by Sarah Jaffe and Michelle Chen. Belabored Stories, a new feature, will present short accounts of what workers are facing during the coronavirus pandemic. Send us your stories at belabored@dissentmagazine.org.

The news that workers at General Electric (GE) in Massachusetts had launched a protest—first reported, incorrectly, as a strike—on March 30, demanding that they be allowed to use the company's idled manufacturing facilities to make desperately needed ventilators rocketed around the internet. The history of workers' demands to control the production process and have influence over what was produced has been mostly forgotten, but is slowly coming back into public consciousness. Since then the workers have continued to stage informational pickets, immaculately socially distanced, to make their demands heard.
Adam Kaszynski is one of those workers, a member of IUE-CWA Local 201 in Lynn, MA. He said that the conversation began among his coworkers around March 24.
"There's been deindustrialization happening . . . and we've been told, 'It's inevitable, it's trade, it's competition.' We've seen our plant go from thousands and thousands of people and we are down to about 1,200 members," he said. "You used to not be able to park in the plant. Now, half the thing is a parking lot. There are idle buildings and some idle capacity. We have plants all over the country like that."
The union, he said, has been "fighting to keep union jobs and manufacturing jobs in the United States for as long as we've been here. Right now, there's an opportunity for these lifesaving ventilators and where there's skilled manufacturing workers and idle capacity. It feels like a perfect fit."
Kaszynski started working as a machinist at the Lynn plant in 2011. He's seen jobs lost, though the numbers have not been as drastic as in some places, and watched buildings get torn down. But he's confident that the workers could turn around very quickly and start making lifesaving equipment:
Manufacturing is what workers in these facilities do. It would be totally possible for GE to make the kinds of investments in manufacturing in these plants that would make ventilator production possible. Where there is idle capacity on machines right now, you could start making metal parts for ventilators within twenty-four hours. As far as the assembly and the electronics and everything, that could take a little bit more time, but there is a huge demand for these things and there are layoffs happening. There is no reason why engineers cannot say, "Here are the programs," or "Here are the blueprints for the parts that we need in these ventilators," and we could get up and running very quickly on at least the metal components.
"I think GE posted $95 billion in revenue last year, so anything is possible," he added. "The way that I look at it is that in every crisis these corporations come out of it on top. They shift the way things work to their benefit. NAFTA was a crisis for us. What did they use it for? They used it to ship U.S. union manufacturing jobs overseas to non-union places." From New Orleans after Hurricane Katrina, when developers bought up neighborhoods, to the free-marketization of Iraq after the U.S. invasion in 2003, he noted, the profiteers always come in the wake of the crisis. "Union workers are tired of watching the rich and corporations take advantage of crisis to screw us over."
The workers at the plant and in the union, he said,
have a different vision of how the world should work. That is, when there is something you can do that is productive for society, that is needed, and you have the skills to do it, profit should not be the overwhelming motive for what we produce. It can be keeping jobs, it can be saving lives, it can be all sorts of things besides what it has been. We've been trying to get out in front of this crisis and say, "We have a solution. We have a way of dealing with this crisis that is different than the way that you always deal with a crisis, which is to make money and profit off of it."
To make the actions happen, he said, "We found a short list of people to help get the message out—out of concern for spreading germs—and we decided to picket outside of the plant in Lynn and outside of GE headquarters to raise this demand."
GE, he said, has not responded to their demands the way they want. "I read something in the press that was a comment from GE that basically said, 'We are cranking out as many ventilators where we make them as we can.' Obviously, we disagree with that."
Asked why GE wouldn't listen, he said, "Why would they? Obviously, they like the way things are."
The pandemic also makes clear, he noted, the fragility of global supply chains. "I think our PPE shortages in the plant are probably directly tied to most of it being made in Wuhan, China. The ventilators are concentrated in Northern Italy. We know what is going on there. I think we see that there is a need for a manufacturing base everywhere. Just like there is a need to grow food and everything else. It is connected."
The workers plan to continue pressuring the company, despite the challenges of organizing while social distancing. "Our typical tools are pretty limited right now because of the virus," Kaszynski said. "We've gotten overwhelming calls and support of solidarity from around the world over our demands. But it is also hard to ask people to come out and support a picket line while distancing."
Nevertheless, the moment has given him hope.
I feel like the network that people are building by having this discussion and other discussions [about] the COVID-19 pandemic and how unions and workers should respond is building the basis for a revitalized labor movement. Without unions, you don't have a voice at all to say anything collectively. Without that, there is no conversation, there is no moving the needle on any of this. Everybody needs sick time right now, right? Everybody needs PPE. Everybody needs protections if they are laid off, to be able to come back to their job. These are things that unions provide people. I'm hoping that we can get ahead of this crisis and use it to build our unions and use it to revitalize our best shot at getting a world that isn't strictly controlled by corporations in the interest of a small elite.
---
Sarah Jaffe is a reporting fellow at the Type Media Center, the author of Necessary Trouble: American in Revolt, and the co-host of Dissent's Belabored podcast.