The President of the Puerto Rico Teachers Federation talks about this week's protests and the ongoing fight against corruption.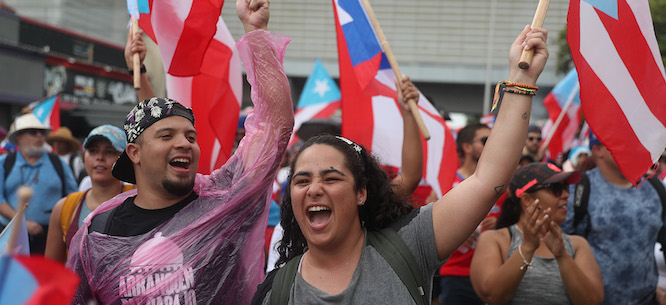 Subscribe to the Belabored RSS feed here. Subscribe and rate on iTunes here or on Stitcher here. Check out the full Belabored archive here. Tweet at @dissentmag with #belabored to share your thoughts, or join the conversation on Facebook. Belabored is produced by Natasha Lewis.
The governor of Puerto Rico, Ricardo Rosselló, has resigned, in the wake of massive protests and a general strike in response to ongoing corruption investigations and the release of chat logs in which Rosselló and eleven other male administration members mocked gay people, women, and Hurricane Maria victims. One of the officials arrested is Julia Keleher the former education secretary, who was a main target of the island's teachers unions for her push to privatize the public schools, New Orleans-style, after the hurricane. We are joined this week from the midst of the action by Mercedes Martinez, president of the Federación de Maestros de Puerto Rico. Martinez has been organizing to reopen schools and battle the privatization agenda for years. She joins us to talk about the corruption, its connection to privatization of public schools, the future of the island under the fiscal control board, and what mainlanders can do to support Puerto Rico.
We also look at sub-minimum wages for people with disabilities with Andrew Stettner of the Century Foundation, Andy Stern's shift away from labor, and hear about a strike at Walmart-owned grocery stores and the introduction of a national Domestic Workers' Bill of Rights. For Argh, we consider last week's Amazon strikes and the community from which they grew, and remind you that rich people are not your friends. We also remember Hector Figueroa of SEIU 32BJ, whose sudden death has left New York's labor community in mourning.
This week's show was supported by our monthly sustaining members. If you think our work is worth supporting, please consider becoming a member today. If you're interested in advertising on the show, please email ads@dissentmagazine.org. And as always, if you have any questions, comments, or tips, email us at belabored@dissentmagazine.org.
News:
Workers with Disabilities Deserve a Raise (The Century Foundation)
High Profile Labor Leader Has a New Gig Fighting Against Teacher's Unions (Splinter)
Kamala Harris just introduced a bill to give housekeepers overtime pay and meal breaks (Vox)
Walmart Chile reaches agreement with union workers to end six-day strike (Reuters)
Chile's Walmart Workers End Strike After Winning Pay Raise (teleSUR)
Conversation:
'We Just Changed History': Cheers and Tears in San Juan (New York Times)
Puerto Rico police fire teargas on protesters calling for governor to quit (Guardian)
The pillage of public funds in Puerto Rico going on behind the chat (Centro de Periodismo Investigativo)
Puerto Rico's former education secretary, others arrested in federal fraud probe (NBC)
Sarah and Michelle: Belabored Podcast #149: Voices from Labor Notes Conference, with Mercedes Martinez and Liza Fournier (Dissent)
Argh: 
Michelle: Liz Clarke, Nick French, Even Nice, "Generous" Rich People Are Not Your Friends (Jacobin)
Sarah: Spencer Cox, The Amazon Prime Day strike shows how to take on Amazon – and win (Guardian)