In a series of interviews from Labor Notes, Sarah and Michelle talk to worker-organizers from South Korea, Puerto Rico, Minnesota, and beyond about building rank-and-file power around the globe.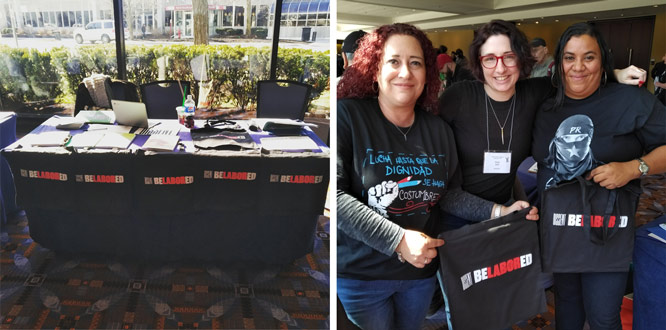 Subscribe to the Belabored RSS feed here. Subscribe and rate on iTunes here or on Stitcher here. Check out the full Belabored archive here. Tweet at @dissentmag with #belabored to share your thoughts, or join the conversation on Facebook. Belabored is produced by Natasha Lewis.

In this episode we bring you some choice outtakes from this year's Labor Notes Conference in Chicago. We collected some great insights about labor activism around the globe, from St. Paul to San Juan to Seoul. Interviewees include:
Beth Swanberg, St. Paul, Minnesota teacher and member of the St. Paul Federation of Teachers, on the recent contract battle and what they won
Mercedes Martinez, President, Federacion de Maestros de Puerto Rico, and Liza Fournier, teacher and member of UNETE teachers union in Puerto Rico, on rebuilding after the hurricane and their battle and strike against privatization of Puerto Rico's public schools
Sheerine Alemzadeh, co-founder and co-director of Healing to Action, on mobilizing the labor movement against gender-based violence at work
Ligaya Lindio-McGovern, sociologist at Indiana University Kokomo and global labor rights advocate, on migrant labor in the Asian diaspora
Mikyung Ryu, International Director of Korean Confederation of Trade Unions, on the state of organized labor in South Korea and the role of unions in the peace movement

Further reading/listening:
Sarah: A True Labor of Love (New Republic)
Michelle: Stopping Sexual Abuse on the Job Begins With Empowering Workers (The Nation)
How Do You Organize Workers Who Live and Sleep in Their Bosses' Homes? (The Nation)
Belabored #137: Sex, Power, and Labor Rights, with Ariane Hegewisch
You can also hear our wonderful discussion with education worker activists at our main panel on Organizing Outside the Law in our previous episode, Belabored #148.