Rosanna Aran and Christina Fox of #SomosVisibles join us to talk about immigrant organizing in New York under Trump.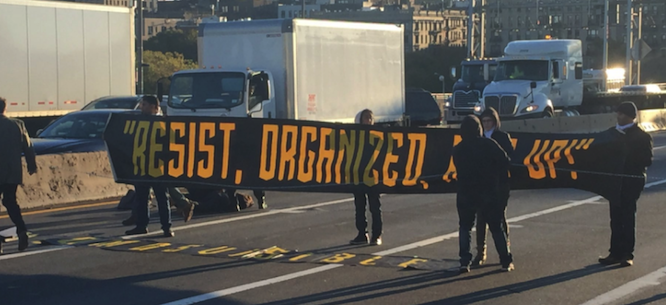 Subscribe to the Belabored RSS feed here. Subscribe and rate on iTunes here or on Stitcher here. Check out the full Belabored archive here. Tweet at @dissentmag with #belabored to share your thoughts, or join the conversation on Facebook. Belabored is produced by Natasha Lewis.
Donald Trump rode a wave of anti-immigrant hatred all the way to the White House. So many immigrant communities are justifiably terrified of what will happen to their families, jobs, and rights when he takes office. But in many ways, they've been preparing for such a crisis for years; now they're just  more driven to mobilize the institutional muscle they've built up over the past eight years organizing against Obama's draconian deportation and detention policies. The Trump administration will make their lives harder, but it's also emboldened their resistance.
To close out 2016, we speak with Rosanna Aran and Christina Fox of #SomosVisibles, a new campaign to amplify the voices of immigrant communities across New York, who are determined to keep mobilizing for economic and racial justice.
In other year-end news: a hard-fought union victory for Columbia graduate student workers; political grandstanding around Trump's supposed "rescue" of Carrier workers; a follow up on North Carolina's infamous bathroom bill with former Belabored guest Eric Fink; and an innovative initiative in Portland to tax obscenely high executive salaries. With recommended reading on how Trump's pick for Education Secretary plans to Christianize and privatize public schools, and a checklist for the next four years of organizing.
If you think our work is worth supporting as we soldier on into Trumplandia, please consider becoming a sustaining member of Belabored or donating or subscribing to Dissent. Please help keep us going for the next 118 episodes!

News
Michelle: Columbia's Graduate Student Union Is a Nationwide First (The Nation)
North Carolina Gov. Pat McCrory's Defeat Is a Cautionary Tale for LGBTQ Opponents (Slate)
Sarah and Michelle: Belabored Podcast #102: A Left Turn on the Campaign Trail, with Eric Fink (Dissent)
Steve Novick's CEO tax wins close vote, putting Portland on world map (The Oregonian)
Workers at Endangered Indiana Plant Feel Forgotten by Trump (ABC News)
Rosanna Aran and Christina Fox of #Somosvisible / #WeAreVisible / Laundry Workers Center
Update: 10 Protesters Arrested After Shutting Down George Washington Bridge's Upper Level (Gothamist)

Argh, I Wish I'd Written That!
Sarah: Stephen Lerner & Maurice Weeks, 5 Practical Principles to Guide Our Work Under Trump (The Nation)
Michelle: Sikivu Hutchinson, Betsy DeVos, Education Secretary, and the Looting of Public Education (LA Progressive)