An interview with Eric Fink, a democratic socialist candidate for State Senate in North Carolina, who is challenging one of the lawmakers behind the state's HB2 "bathroom bill."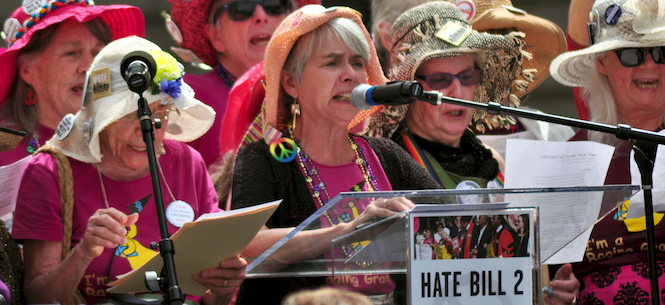 Subscribe to the Belabored RSS feed here. Subscribe and rate on iTunes here or on Stitcher here. Check out the full Belabored archive here. Tweet at @dissentmag with #belabored to share your thoughts, or join the conversation on Facebook. Belabored is produced by Natasha Lewis.

If party politics seems hopeless to you these days, look for a glimmer of hope down ticket, as we did with North Carolina's Eric Fink, who is running as an insurgent outsider for State Senate. The law professor and Brooklyn transplant is challenging one of the lawmakers behind the HB2 "bathroom bill"—widely decried as an attack on transgender rights—with a grassroots platform based on economic justice and social democracy. He reports from the campaign trail about his state's struggle for LGBT rights, Moral Mondays, and progressive politics in a broken electoral system.
We also check in on Verizon's massive strike, Uber's new legal troubles, the Rana Plaza factory disaster three years on, and campaigning for Palestinian rights within organized labor. With recommended reading on labor and the elections, and the founders and inequality.
Belabored invites our listeners to join us as supporting members. Sign up to support Belabored with a monthly donation and we'll send you a tote bag. Please help keep us going for the next 100 episodes!

News
Verizon Brand Takes a Hit With Consumers As Strike Drags On (Fortune)
Verizon Strike Update: Replacement Workers Unsafe, Unions Allege (Patch)
Uber Settles Cases With Concessions, but Drivers Stay Freelancers (New York Times)
Will Uber's New 'Drivers Association' Have Any Real Power? (Huffington Post)
UAW Overrules Academic Workers BDS Vote Against Israel Despite Finding Strong Turnout, No Misconduct (In These Times)
Three years after Rana Plaza disaster, has anything changed? (Reuters)
Michelle: A Western Company Could Finally Be Held Accountable for the Rana Plaza Disaster (The Nation)
Conversation
Eric Fink, North Carolina State Senate Candidate
Feeling the local Bern: Professor challenges lawmaker (Triad City Beat)
Argh, I Wish I'd Written That!
Michelle: Alana Semuels, The Founding Fathers Weren't Concerned With Inequality (Atlantic)
Sarah: Jake Blumgart, Labor's Cautious Endorsements (American Prospect)