For the 200th episode of Belabored, Sarah and Michelle speak to Chicago Teachers Union Vice President Stacy Davis Gates about what it's like to be an educator and an organizer during a pandemic and an uprising against police brutality.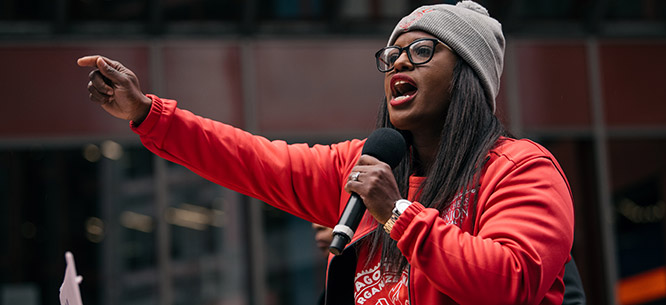 Subscribe to the Belabored RSS feed here. Support the podcast on Patreon. Subscribe and rate on iTunes, Stitcher, and Spotify. Tweet at @DissentMag with #Belabored to share your thoughts, or join the conversation on Facebook. Check out the full archive here. Belabored is produced by Colin Kinniburgh.
When this podcast launched in April of 2013, with Sarah Jaffe and Josh Eidelson, it was the first of its kind—a left podcast that covered the ups and downs of the labor movement. Emerging in the wake of Occupy Wall Street, it set out to explore the intersection of work, politics, race, gender, and culture from a fresh perspective, and 200 episodes later, we're still here, reflecting on the world of work in the midst of yet another wave of social upheaval. To round out our 200th epiversary, we are revisiting the topic of the first episode, the Chicago Teachers Union. Our first ever guest was CTU President Karen Lewis. This time, we speak to CTU Vice President Stacy Davis Gates about how the union continues to be a model for grassroots labor organizing in public education, and what it's like to be an educator and an organizer in a city facing a global pandemic as well as a nationwide uprising against police brutality.
In other news, we look at the big Supreme Court ruling on LGBTQ rights at work, with Dale Melchert; dockworkers shutting down West Coast ports for Juneteenth; a new study on hazard pay and COVID-19 risks on the job, with Larry Mishel; and the dangers of protesting as an essential worker. With recommended reading on corporate exploitation of Black Lives Matter and how the coronavirus ravaged meatpacking plants.
We are happy to announce that this 200th episode also marks our first foray into the world of Patreon! You can sign up to support us with a monthly contribution, at the level that best suits you.
If you're interested in advertising on the show, please email ads@dissentmagazine.org. And as always, if you have any questions, comments, or tips, email us at belabored@dissentmagazine.org.

News:
Justices rule LGBT people protected from job discrimination
Transgender Law Center: Trans Agenda for Liberation
The Most Radical Union in the US Is Shutting Down the Ports on Juneteenth
A majority of workers are fearful of coronavirus infections at work, especially Black, Hispanic, and low- and middle-income workers: Those facing risks are not proportionately receiving extra compensation 
Caught In De Blasio's Curfew, Essential Worker Spends Week In Jail After NYPD Mass Arrests Bronx Protesters
Conversation: Stacy Davis Gates, Vice President, Chicago Teachers Union
Belabored #188: What the Chicago Teachers Won
Belabored #113: Chicago Teachers Strike Back, with Sarah Chambers
Belabored #1: "We will shut down your city" 
Argh:
Michelle: Toni Gilpin, Corporations Now Love 'Black Lives'—But What About Their Own Black Workers?, LaborNotes
Sarah: Michael Grabell, Claire Perlman and Bernice Yeung, Emails Reveal Chaos as Meatpacking Companies Fought Health Agencies Over COVID-19 Outbreaks in Their Plants, ProPublica