Since March, the hosts of the Belabored podcast have been reporting on about what workers are facing during the crisis, and how they have been fighting back. Read four of their stories here.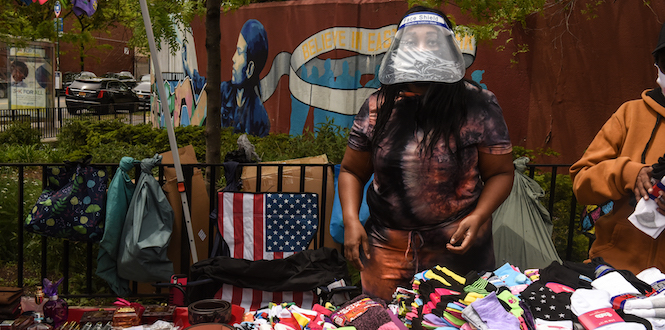 Sarah Jaffe and Michelle Chen began collecting workers' stories at the start of the coronavirus pandemic, when essential workers were cast as sacrificial, thrust into increasingly dangerous conditions without protections, as millions more faced historic levels of unemployment. These stories, covering the summer months, exemplify how the crisis has touched every corner of the economy, from museums to universities to street vendors to Amazon warehouses. You can find more stories on the Dissent website.
A Minneapolis Workers' Center Becomes a Hub of Protest
The office of the Centro de Trabajadores Unidos en la Lucha (Center of Workers United in Struggle, or CTUL) is just a block away from the place where a police officer, Derek Chauvin, killed George Floyd as three others watched. The worker center has been organizing with low-wage workers of color, many of them immigrants, in Minneapolis since 2007, including in the retail, cleaning, and fast-food sectors. Its members have been deeply involved in protesting the ongoing racial inequality and violent policing in the Twin Cities, and so its offices have become one of many hubs for local activists, doing mutual aid as well as joining the protests in the streets.
Shenda Kazee has lived in Minneapolis most of her life and has been a member of CTUL since 2015, when she joined the fast-food worker organizing. The anger on the streets did not surprise her at all. "This was an inevitable outcome after years of injustice; whether it is low wages, abusive bosses, or police brutality, our community is in a lot of pain. Killing George Floyd was the tip of the iceberg," she said. "There are so many injustices I have witnessed firsthand that never make the news. Minneapolis definitely needs to change."
Despite the fear of COVID-19 and of the increased brutality of the police, Kazee said, she has felt it necessary to join the protests. "The goal of the police is to make people scared. They don't want us to crawl out of the hole we're living in," she said. "If somebody doesn't stand and do something, it is only going to get worse."
The protests against police violence were deeply connected to the organizing she'd done as a worker, Kazee said. "Everybody works so hard to get to where they are trying to go," she said, but no matter how hard they work, Black people are not treated equally. "The sys...
Online Only

For just $19.95 a year, get access to new issues and decades' worth of archives on our site.

Print + Online

For $35 a year, get new issues delivered to your door and access to our full online archives.
Already a subscriber? Log in: