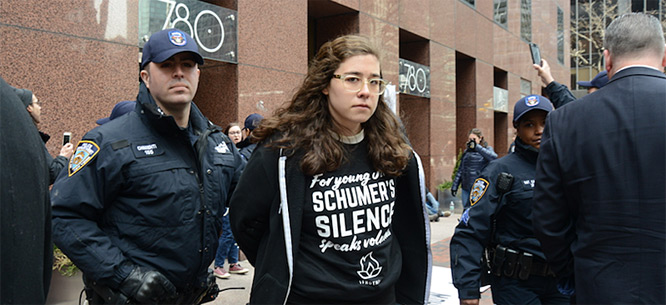 What is a generation? Surely it is not just a matter of age or biology, but something more—a collective frustration with the world as it is and a desire to find new ways to change it. Occupy, Black Lives Matter, fossil-fuel divestment activists, Dreamers, the Parkland protesters, Democratic Socialists of America—all of these movements led or dominated by young people mark a generation coming into its own. None of the issues they organize around is new. Police brutality, mass incarceration, climate change, deportations, gun violence, austerity, and rampant inequality have been around for decades. But these groups now approach them with a new sense of resolve.
Young American Jews, too, have picked up the torch. Over the past few years, a growing number have joined groups like IfNotNow and Jewish Voice for Peace to organize against Israel's occupation and stand in solidarity with their Palestinian peers. Alienated by the rightward drift of many American Jewish institutions, they seek to recover a more radical tradition of Jewish politics. They have staged direct actions outside Jewish Federations and called on Democrats to condemn Israeli policies and actions in the West Bank and Gaza. They have built alliances with Palestinian- and Muslim-American groups already involved in anti-occupation activism and march in support of other movements organizing against police brutality, deportations, and inequality. They do not share a unified stance on how to resolve the conflict—this is, after all, for Palestinians and Israelis to decide—but they instead aim to build a movement of American Jews that will advocate for the occupation's end. "Jews won't be free," reads one IfNotNow banner, "until Palestinians are." This new generation will not be able to change Jewish institutions on its own. As with so many young activists involved in politics today, they still live in a world of their parents' making, and the task before them is as much of persuasion as it is of direct action. But as Hillel said: if not now, when?
---
David Marcus is literary editor at the Nation and editor-at-large at Dissent.