America's trail systems embody a conservationist ethic in support of leisure. Their construction was the essence of public work: not for profit but a common good.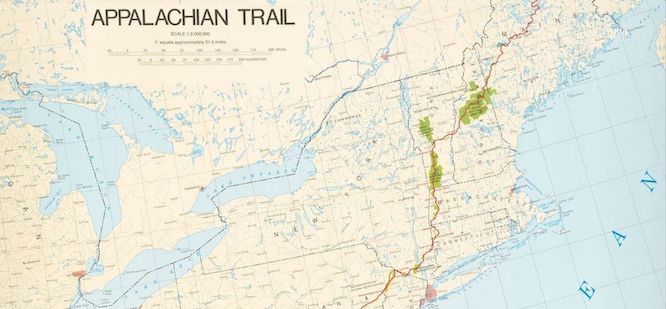 "Thru-hiking" long distances has exploded over the past decade. In addition to the millions of people who hike parts of the Appalachian Trail (AT) every year, those managing and surveying it report that the number of hikers heading north for the trail's entirety (around 2,200 miles) increased 155 percent from 2010 to 2017. The two other premier long-distance trails in the United States, the Pacific Crest Trail (PCT) and the Continental Divide Trail (CDT), have seen similar increases.
Since the spring, of course, the number of hikers has tanked. Many of the agencies that manage public lands are shut down (it's unclear at this point when they'll reopen), making hiking through them illegal. The Appalachian Trail Conservancy and the Pacific Crest Trail Association have called on people to ditch their plans to start on a thru-hike. The Continental Divide Trail Coalition has stopped its shuttle service to the starting point on the CDT, which borders Mexico. The Washington Post and Los Angeles Times have reported that hikers are heartbroken about their dashed plans (likely accentuated by feeling cooped up indoors under stay-at-home policies), most recognizing that it would be selfish to risk spreading the coronavirus through the rural mountain towns that offer points of food resupply or a softer mattress for an evening. The amount of mainstream news coverage and debates on social media just go to show how much these long trails have grown in popularity in the years before the pandemic.
I witnessed this historical growth personally, as my family, from 2011 to 2015, dedicated our summers to completing as much as we could of the three trails. We were already experienced backpackers and wilderness travelers. We knew how to travel light and keep our base weight down, by sawing the handle off a toothbrush, for instance.
Still, there were experiences that were unique to thru-hiking, the most obvious being tramping for longer distances than we were used to. We learned how to navigate through snow. We survived wicked storms, camped in "tree holes" (a circle at the base of a tree that had dry ground even after a blizzard), crossed snow-gorged creeks that came up to our waists, and glissaded down 400-foot pitches, controlling our speed as best as we could with ice axes. Even with all these challenges, or maybe because of them, we came to love long-distance hiking, exhilarated by the natural beauty we saw.
As we trekked, we began to notice something of a subculture. We met fellow hikers with trail names like Wag Daddy, Hikes-a-lot, Hike-aholic, Optimist, Swami, Insane Dwayne, Mouse, and Cloud Walker. There was an ethic of providing one another information about trail conditions and sharing supplies. (Indeed, one guy saved us by giving us all of his chocolate-covered raisins when w...
Online Only

For just $19.95 a year, get access to new issues and decades' worth of archives on our site.

Print + Online

For $29.95 a year, get new issues delivered to your door and access to our full online archives.
Already a subscriber? Log in: