Biden could ease the suffering inflicted by his predecessors on migrants to the United States. But his administration is unlikely to resolve the structural injustices at the root of the immigration enforcement system.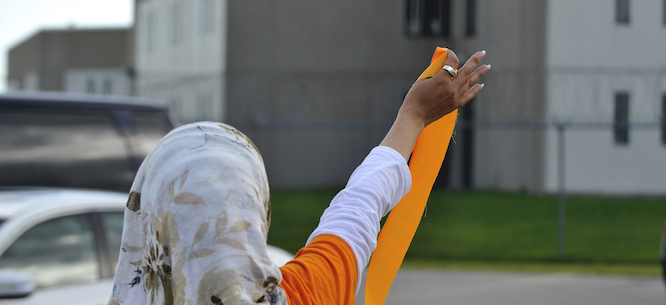 Since this article was published in the Winter 2021 issue of Dissent, a few important developments have shifted the political landscape for immigration reform. First, the Georgia run-off election put the Democrats in control of the Senate. With Democrats holding both chambers of Congress and the presidency, there is a path forward for some significant legislative changes. Second, Biden has signaled willingness to prioritize repealing or dismantling many of Trump's most extreme anti-immigrant measures. He has already scrapped some of Trump's more egregious executive orders, ending the so-called Muslim travel ban and the "Remain in Mexico" policy, which relegated asylum seekers to the southern side of the U.S.–Mexico border, and suspending deportations temporarily. His broader legislative agenda for immigration policy includes offering a "pathway to citizenship" for the undocumented, expanding humanitarian and family-based visa programs, and reducing the immigration court backlog.
While many advocates have cheered these plans, Biden's immigration agenda also increases funding for law enforcement at the border and "expand[s] transnational anti-gang task forces in Central America." Rights activists have also pushed Biden to go further in severing contracts for immigrant detention facilities run by private companies or state and local governments. And, of course, there are no guarantees that the bolder components of the plan will pass a still bitterly divided Congress.
—Michelle Chen, January 27, 2021
In January, Joe Biden will inherit an immigration system that is significantly more broken than it was when he left the White House in 2017. His first challenge will be to stop the bleeding—to address the massive human rights violations at the border and restore protections that were revoked by the Trump White House. But his administration is not likely to resolve the structural injustice woven into the immigration enforcement apparatus: a system of incarceration and expulsion that saw more deportations under the Obama administration than any other in history.
Biden has so far promised to undo at least some of the damage that Trump has left in his wake. He says he will use his executive authority to roll back Trump's zero-tolerance Immigration and Customs Enforcement (ICE) tactics and will ease the blockade on asylum seekers at the border. He has also pledged to preserve the Deferred Action for Childhood Arrivals (DACA) program; end the travel ban from several predominantly Muslim countries; restore the Obama administration's guidelines for immigration-enforcement agents, which were somewhat less invasive than Trump's; enact a temporary moratorium on deportations; and repeal Trump's "public charge" restrictions, which made receipt of public benefits a consideration in evaluations for green card applications.
None of these moves will heal the trauma and distrust that Trump's hateful rhetoric, raids, and arrests have sown in immigrant communities. A moratorium on deportations would likely merely delay removal orders that have already worked their way through the courts. Meanwhile, the infrastructure of the detention system will remain in place, including local quotas established by Congress that encourage ICE agents and detention centers to arbitrarily incarcerate tens of thousands of migrants on a constant basis. Biden has vowed to close private detention centers, limit "prolonged detention," and focus on placing people under "community-based" monitoring programs, but he has not decisively ruled out maintaining some form of family detention—a phenomenon that was expanded under Obama.
Biden's plan to restore DACA would be a major breakthrough for the more than 645,000 young people who have been stuck in legal limbo since the Trump administration tried to dismantle the program. Biden has also pledged to review Temporary Protected Status and Deferred Enforced Departure, two programs that grant short-term legal status to people who cannot return home due to a disaster or other dangerous conditions in their countries of origin. Activists have pushed for the more ambitious reform of extending protections to undocumented parents as well, which was initially proposed under Obama and got a nod in Biden's platform. In any case, such measures would be piecemeal. The executive branch is limited to temporarily shielding specific groups of noncitizens from deportation, absent any parallel effort by Congress to pass a permanent legislative fix.
The greatest immigration policy challenge for Biden might be piecing back together a refugee and asylum system that Trump went to dizzying lengths to destroy. Trump's "remain in Mexico" policy, which has shunted tens of thousands of asylum seekers—primarily Central Americans fleeing violence, poverty, and persecution—into dangerous encampments on the Mexican side of the border, was a brazen attempt to deter people from seeking humanitarian relief. That policy has been compounded by the COVID-19 crisis, which all but sealed the border to incoming migrants.
Even before the pandemic, the Trump administration chipped away at the legal grounds for granting humanitarian relief, particularly for women and youth from Central America and other distressed regions. In recent years the rate of acceptance of asylum claims from Guatemala, Honduras, and El Salvador has been less than one in five. In 2018, then–Attorney General Jeff Sessions overturned an Obama-era precedent that established a right to protection for survivors of domestic abuse and gang violence.
Currently pending asylum claims will likely take years to resolve due to a backlog of more than 1.2 million cases. And many claimants will be extremely disadvantaged by a lack of legal counsel and by rampant bias and incompetence in the immigration courts.
It remains unclear how aggressively Biden will push any of the initiatives in his immigration platform. His first months in office will be consumed by the COVID-19 crisis, which might leave immigration on the back burner. He has already signaled the limits of his vision with his choice of Cecilia Muñoz for his transition team. While serving on Obama's White House Domestic Policy Council, Muñoz helped craft his mass deportation policies and repeatedly defended his harsh enforcement practices against criticism from rights advocates.
While Biden has promised to invest in the courts and place more immigration officers at the border to expedite review and ensure a fair hearing for asylum cases, the system is in need of a more radical overhaul. Trump's time in office has underlined the need to shift the courts' administration outside the jurisdiction of the executive branch. The creation of an autonomous court structure for immigration cases, which can only happen with the support of Congress, would prevent interference from the Justice Department, particularly under a reactionary administration that deliberately seeks to sabotage immigrants' access to justice.
Even if the legal mechanisms for dealing with the asylum crisis are fixed, the social, economic, and political factors that drive people toward the U.S. border will persist. Though Biden's immigration platform includes providing aid to help stabilize Central America, tackling the push factors of migration would require a deeper transformation of the role of the United States as enforcer of a global trade and military hierarchy that contributes to abysmal inequality, displacement, and conflict around the world.
Regardless of who is in the White House, the overarching obstacle to meaningful immigration reform is Congress. If the Senate remains divided, there will be little hope of passing legislation that would permanently regularize the status of the millions of immigrants living, working, and attending school without papers, let alone offer them a path to citizenship.
For those who would become "Americans by choice," Trump's departure brings little relief. He will leave office without having fulfilled his promise to seal the southern border with his wall, but the terror of the border still casts a long shadow over the political landscape. Trumpism exposed an undercurrent of racism and xenophobia in our political culture that still courses through Washington. Human rights advocates who want to see a systemic shift away from an immigration regime based on criminalization and incarceration should not expect much from the coming Biden presidency. A radical, transformative program would follow the grassroots demands of the Black Lives Matter movement: defund and abolish—and build real protection not just through legal maneuvers, but through the political empowerment of immigrant communities.
---
Michelle Chen is co-host of the Belabored podcast and a member of Dissent's editorial board.