We haven't seen much to suggest that last summer's uprising pushed persuadable voters to the Republican Party. And in a number of states, the protests ignited voter registration efforts that directly helped Democratic candidates.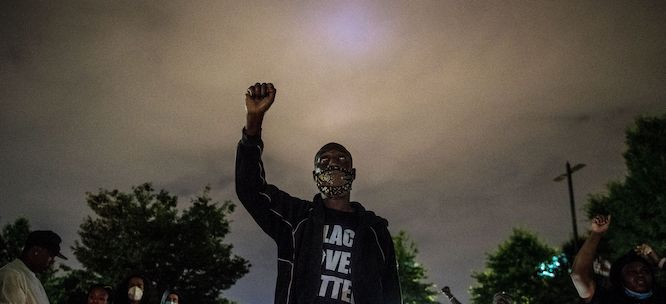 On May 28, 2020, after three days of anger over the murder of George Floyd, the Minneapolis Police Department's Third Precinct burned down. Protests that had already spread beyond Minnesota erupted nationwide, connecting Floyd's death to the murders of Breonna Taylor and Ahmaud Arbery. These demonstrations responded to the routine criminalization of Black and Indigenous people, as well as other people of color, while at the same time white communities and protesters seemed to defy stay-at-home orders without penalty. The uprising was also linked to the failed government response to COVID-19, which had exacerbated the public health and economic hardship people were already experiencing before the pandemic. The contrast between police armed to the teeth with high-tech equipment and essential workers without personal protective equipment was stark.
All this led to what some argue is the largest protest movement in history—with estimates in the range of 15 to 26 million participants. The protest tactics were multifaceted, differing not only from city to city but also from block to block, and from one night to the next. Some of the protests had an insurrectionary nature: people burned down buildings and police vehicles, looted stores, and resisted arrest.
In response, many warned of a law-and-order backlash that would damage the public standing of the protests and sink the Democrats' chances of beating Trump in November. A number of scholars of civil resistance also argued that more "violent" protests were likely to dampen participation. But the protests didn't subside in response to looting or direct confrontations with the police. One public opinion poll found that 54 percent of people believed that the burning down of the Third Precinct was justified. Over the summer, even larger majorities sided with the protests as a whole. And while the phrase "defund the police," the slogan that became most identified with the uprising, didn't itself find majority support, well over half of people polled did support specific proposals like shifting resources away from armed cops toward mental health experts and social workers.
Still, right-wing forces tried to take advantage of the moment. Donald Trump tweeted that he would send the National Guard into cities to quell protests and encouraged the military to shoot looters in Minneapolis. He had protesters tear gassed and beaten so that he could stage a photo op in front of a church. In some cases federal and local police agencies kidnapped protesters, and thousands more were arrested, many facing serious criminal charges. Liberal mayors, meanwhile, were worried about the reaction to the demonstrations in their cities. New York City's Bill de Blasio, Chicago's Lori Lightfoot, and Atlanta's Keisha Lance Bottoms demonstrated their law-and-order bona fides by praising the police, condemning looting a...
Online Only

For just $19.95 a year, get access to new issues and decades' worth of archives on our site.

Print + Online

For $35 a year, get new issues delivered to your door and access to our full online archives.
Already a subscriber? Log in: