The Rise of Solitary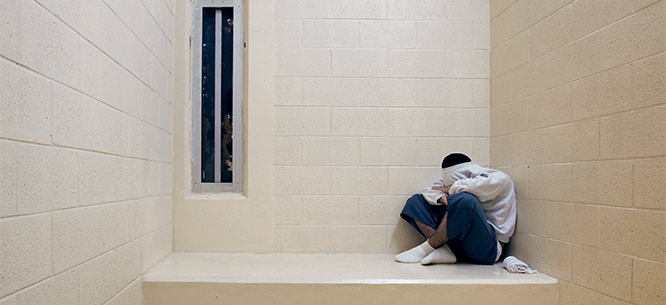 23/7: Pelican Bay Prison and the Rise of Long-Term Solitary Confinement
by Keramet Reiter
Yale University Press, 2016, 312 pp.
At the end of 1989, a few weeks after the Berlin Wall came down, the state of California opened its first supermax facility. The Pelican Bay State Prison, built in a remote territory near the Oregon border, contains more than a thousand cells designed for solitary confinement. The annual cost of keeping a prisoner in one of these cells: about $70,000, or 126 percent of the median U.S. household income.
The California Department of Corrections rejects the term "solitary confinement," instead calling Pelican Bay's supermax cells "Security Housing Units," or SHUs. But see if this sounds like solitary confinement to you: until conditions eased slightly after hunger strikes in 2011 and 2013, Pelican Bay's SHU prisoners spent twenty-two-and-a-half hours per day in their eighty-square-foot cells. They were released only for brief showers or to exercise—alone—in windowless indoor "dog runs." Phone calls were permitted only to receive news of family deaths. If they wanted physical contact with another human being, the only way to get it was to provoke the guards into restraining or beating them.
In settings like Pelican Bay, even the most resilient people tend to develop psychiatric symptoms: anxiety, paranoia, obsessive-compulsive rituals. Suicides are far more common in isolation units than in standard prison settings. In the 1890 U.S. Supreme Court case In re Medley, the majority reviewed the reasons why American prisons had abandoned solitary confinement half a century earlier: "A considerable number of the prisoners fell, after even a short confinement, into a semi-fatuous condition . . . and others became violently insane." But those lessons were eventually forgotten.
In 23/7: Pelican Bay Prison and the Rise of Long-Term Solitary Confinement, the scholar and advocate Keramet Reiter sets out to explain why and how supermax prisons emerged in the United States around 1990. She also asks a parallel, in some ways more unsettling, question: How have Pelican Bay and other supermax prisons gotten away with being so institutionally opaque? Until Reiter herself forced the issue several years ago, the state of California compiled and released almost no data about which prisoners were assigned to SHU units, and for how long, and why. In an era when politicians and journalists fetishize data, transparency, and accountability, our jails and prisons have managed to remain black boxes. And if they've been this opaque under center-left gover...
Online Only

For just $18 a year, get access to new issues and decades' worth of archives on our site.

Print + Online

For $30 a year, get new issues delivered to your door and access to our online archives.
Already a subscriber? Log in: