Getting ready for the Olympic Games in Turin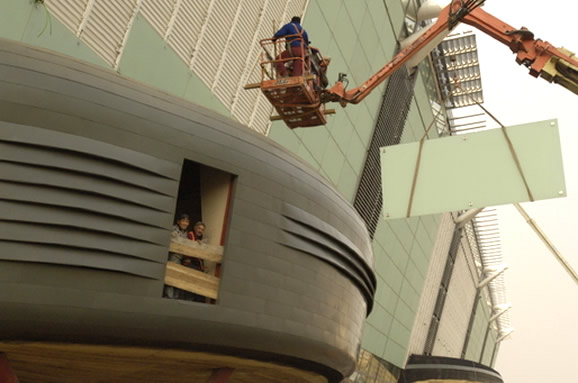 Photo: Jon R. Friedman
IN OCTOBER, Turin looked like one immense construction site as it prepared to host February's Olympic games. Scaffolding hid part of Piazza Castello, the city's main square, which ordinarily presents an uninterrupted array of baroque palaces. In Piazza San Carlo, known as Turin's "drawing room," the seventeenth-century porticos surrounded not the bronze equestrian statue of Duke Emanuele Filiberto of Savoy (who made Turin his capital), but a deep pit that will be an underground parking lot. Elsewhere in the city, battalions of construction workers had torn up tracts of land for six new or completely remodeled stadiums, new or renovated housing for 12,600 journalists and athletes, a restructured railway system, the city's first subway line—the list of projects goes on. I commented to a friend on the scale of the undertaking; she replied in her temperate Torinese style, "It's a little excessive."
Insanely excessive if you consider the human effort (work on Turin's bid for the games began eight years ago) and the cost ($4.2 billion). Why do cities take this on? The visibility is usually ephemeral (what have you heard lately about Nagano?). They don't make a profit on the games; they hope to break even. After winter games, local governments are stuck with outsized luge tracks, ski jumps, and multiple ice rinks costing hundreds of thousands of dollars annually to maintain. Yet cities around the world compete ferociously to host the games.
"The Olympics become an opportunity to seize for urban renewal," said Alessandro Guala, professor of social sciences at the University of Torino. "Not just for building new sports facilities but for improving city services and launching or accelerating the work on major projects like a subway. It's a moment when you can mobilize political forces and bureaucracies and get everyone to work together."
Turin's mythic subway typifies a project that's mostly irrelevant to the games and yet made possible by them. I never expected to live to see this subway under construction. It's been on the drawing board for decades. Then Turin's Olympic organizing committee (TOROC) made it part of the overall plan. Construction on the subway and the Olympic venues began at the same time, but the subway won't be finished for at least two years after the games. The subway has public financing, whereas the games rely on private funds, mostly from television rights and sponsors.
The International Olympic Committee (IOC) has a name for these urban renewal projects: the Olympic legacy. In recent years, the IOC has favored bids that provide for a tangible legacy. Successful urban renewal projects improve t...
Online Only

For just $19.95 a year, get access to new issues and decades' worth of archives on our site.

Print + Online

For $35 a year, get new issues delivered to your door and access to our full online archives.
Already a subscriber? Log in: