The Green New Deal will require us to revolutionize the design professions, untethering them from the whims of private clients and capitalists and reorienting their work around movements for housing justice, environmental justice, and workers.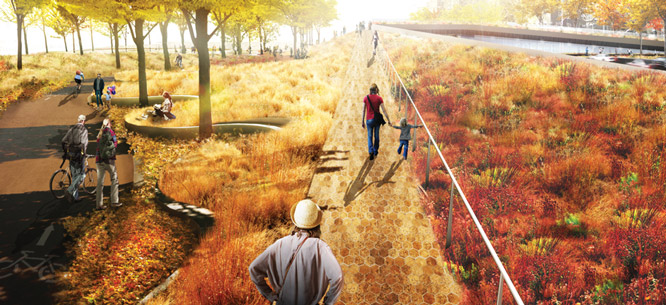 This article is adapted from "Design and the Green New Deal," published by Places Journal in April 2019.
Americans are living through the early days of the climate crisis: Hurricane Maria and the acceleration of the Puerto Rican diaspora; Hurricanes Sandy and Harvey and the drowning of America's coastal cities; this spring's record flooding in the heartland and its devastating effects on farming communities and Indian Country; the wildfires in Paradise and last year's second Big Burn out west; and this summer's roiling heat, no longer just a "wave" but now part of the planet's big, long sweat. The conspiratorial neglect of climate change by Republicans and its trivialization by Democrats at the federal level has left the nation in a perpetual state of triage—trying to recover from these disasters with limited funds and authority while an endless queue of worsening floods, storms, droughts, and wildfires approach. The climate crisis is here, and the country's political leadership has no plan to address it.
The absence of federal climate action has given urbanists like Bruce Katz and Richard Florida leeway to trumpet claims that cities and metropolitan regions are now leading on the issue. Much of the evidence they point to can be traced back to the Rockefeller Foundation and its recent focus on resilience—first in its jointly administered "Rebuild by Design" (RBD) competition in New York after Sandy with the U.S. Department of Housing and Urban Development, then through the many derivatives modeled after RBD, including the recently canceled 100 Resilient Cities initiative aimed at accelerating investments in climate adaptation across the world's most vulnerable communities. Many of these programs, overseen by city governments, were led by landscape architects—a marked departure from the usual architect- and engineer-led efforts to redevelop American cities—though still under the conventional purview of an elite client and a capitalist redevelopment framework.
Leaving the challenge of climate adaptation in the hands of a massive private foundation and a handful of city officials—all of whom are constrained by short-term thinking and limits on the scale and scope of their action—has proven ineffective at best and disastrous at worst. Seven years after Sandy, none of the local, resilience-focused projects developed during RBD have a clear path to implementation. All that most of the communities have to show for their efforts are a few glossy renderings—fictions of a world never built.
This is nothing new. Like other professional services, contemporary design firms are focused on sit...
Online Only

For just $19.95 a year, get access to new issues and decades' worth of archives on our site.

Print + Online

For $35 a year, get new issues delivered to your door and access to our full online archives.
Already a subscriber? Log in: