If it is actually built, Akon City will be a monument to capital, excess, and waste.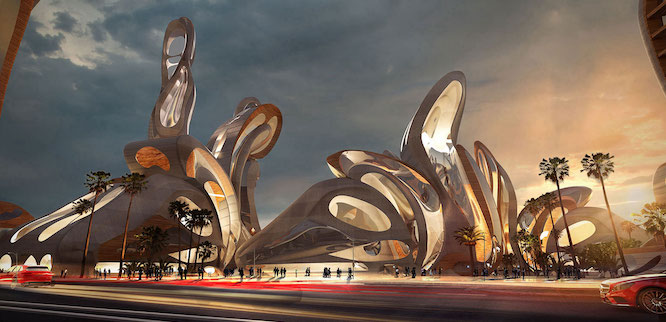 In August 2020, Aliaune Thiam—better known as Akon, the Senegalese-American R&B crooner famous for his early 2000s Top 40 hits—placed the first stone on a site where he plans to build a $6 billion city. Surrounded by government officials, Akon promised that the city, audaciously named after himself, would bring tourism and jobs to Senegal—and that it would run on Akoin, his proposed cryptocurrency. Two years later, Akon City remains just a stone and a plaque in an empty field. Its ethos is similarly vacant. The city's official website provides few real answers about its purpose, and instead features 3D-rendered visuals of curvilinear, phallic buildings that droop and fold against a foreboding sunset. It describes Akon City, ungrammatically, as
Senegal rivalry futuristic development to become the beacon of innovation and human development by providing the best education solution, to lead the economy of the country creating the most revolutionary industry, rewarding Senegalese hard work for making Senegal the leading country in technology innovation and natural resources best used by providing the best housing with at most futuristic design comforting the daily life with mixed use of entertainment and services for all types of residential buildings (social, middle class and high end).
Akon City is far from the only planned-city proposal with mysterious funding to gain traction—and garner controversy—in the last few years. Saudi Crown Prince Mohammed bin Salman's Neom project to terraform and urbanize a 10,000-square-mile stretch of Red Sea–pinched desert was publicly unveiled in 2017, while the Peter Thiel–sponsored Praxis Society has planned to charter a crypto-backed Mediterranean city-state since at least 2016. Nonetheless, Akon City merits special consideration for how it speaks to the cultural scripts that increasingly animate capitalists of the so-called Black Global South. These crosscurrents of capital now intermingle with the imaginations of the "Fourth World"—the disenfranchised who populate developed countries.
At the groundbreaking ceremony, Akon claimed the city would be something like "a real-life Wakanda," the fictional and futuristic ethno-state of the 2018 superhero feature Black Panther. In an attempt to channel Black Panther's aesthetically Afrocentric spirit—while sidestepping the role that civil conflict and postcolonial strife play in its narrative—Akon said, "As you come in from America, or Europe, or anywhere in the diaspora, and you . . . want to visit Africa, we want Senegal to be your first stop."
Tourism is one of Senegal's largest economic sectors, making up around 10 percent of the country's GDP. The tourism industry is a byproduct of the...
Online Only

For just $19.95 a year, get access to new issues and decades' worth of archives on our site.

Print + Online

For $35 a year, get new issues delivered to your door and access to our full online archives.
Already a subscriber? Log in: