Family-centric programming at worker centers has helped bolster organizing among working mothers—and led to invaluable policy victories.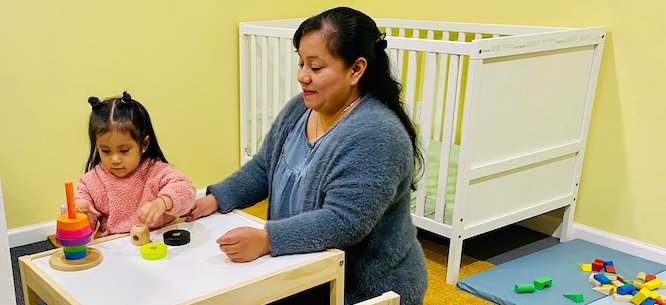 At La Colmena, a small community worker center in Staten Island with light yellow walls plastered with posters about labor rights, children play while their mothers organize.
"I started seeing the need to organize women and to look at the worker holistically, to see that they also have a life, they also have children," said Yesenia Mata, executive director of La Colmena, which has supported low-wage immigrant workers, especially day laborers, since 2014. And at La Colmena, holistic support means child care.
For decades, worker centers have served as a vital source of advocacy for low-wage workers excluded from unions and traditional forms of labor organizing, often because they work in informal sectors not covered by federal labor law. But for working mothers, finding the time for organizing isn't easy. That's why in recent years, spurred by the pandemic, worker centers across the country have enacted family-friendly organizing strategies and programming. They are meeting their communities where they need it most.
These efforts have helped bolster organizing among working mothers—and led to invaluable victories on the policy level, providing a model for engagement and accessibility.
When New York State attempted to pass a budget in 2022 excluding undocumented children from newly expanded, publicly subsidized child care, La Colmena and its worker-members joined a coalition of advocates called the Care for All Families campaign. As a result of their organizing, New York City ultimately announced an additional $10 million to cover child care for 600 undocumented children.
That need for child care was clear at La Colmena. In 2021, it opened a new women's group for workers primarily employed in the care economy. When the group began, staff and other members noticed that members would often drop out or miss meetings, which cover professional development and workers' rights, because they lacked child care. So organizers told women to bring their children with them—a model that the center quickly outgrew. "Imagine having fifty women plus their children—it becomes a bit chaotic," Mata said.
The center began organizing children's programming as a new way of serving workers' families while mothers met for workshops and meetings. What started as a series of classes to teach school-aged children traditional Mexican folklórico dances has since expanded into several initiatives for kids of all ages—including, most recently, a small on-site early child-care center.
Ever since, attendance at the women's meetings has soared—nearly tripling in size from thirty to eighty-seven members over the course of 2022.
"It's an opportunity for women to learn, because they often dedicate themselves to their homes, and to caring for their children or their husbands,...
Online Only

For just $19.95 a year, get access to new issues and decades' worth of archives on our site.

Print + Online

For $35 a year, get new issues delivered to your door and access to our full online archives.
Already a subscriber? Log in: