A leading organizer describes how low-wage workers and faith-based allies are fighting to raise their city's minimum wage—even as state legislators try to stop them.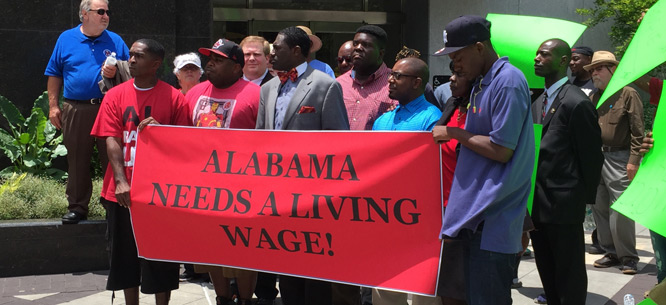 The election of Donald Trump has turned our attention to the politics of white working-class people, particularly in the states that voted for him last fall. But progressives should not ignore the activism of the black working class in many of those same red states.
In Alabama, the Greater Birmingham Ministries (GBM), where I serve as executive director, has been leading a campaign for economic justice that might serve as a model for similar initiatives in other southern cities. For the past two years, GBM has been the key ally for fast-food workers in Birmingham who are fighting for a $15-an-hour minimum wage and the right to a union. Along with other underpaid workers across the country, these cooks and cashiers at the local outlets of McDonald's, Wendy's, and Burger King have sparked a surge of organizing unlike anything I've seen in thirty years of advocating for and providing social services to low-income families in this city.
Birmingham's political leaders have backed the campaign for higher wages, too. In April 2015, responding to strikes and protests by fast-food workers, the Birmingham City Council passed a resolution calling on the Alabama legislature to institute a minimum-wage law higher than the current federal one of $7.25 an hour. When the legislature failed to act, the city council passed an ordinance in August 2015 to raise the city's minimum wage to $8.50 an hour in July 2016 and to $10.10 an hour in July 2017. This made Birmingham—a city that is 73 percent black—the first municipality in the South to do so.
But Birmingham workers would not see their pay raise as scheduled. Before the first increase went into effect, Alabama's state legislature, which is dominated by white Republicans, passed a preemption law, HB 174, in February 2016 that denied cities in the state the right to set their own minimum wage. Former governor Robert Bentley signed the bill about an hour after it landed on his desk. Alabama is one of five states without its own minimum-wage law, which means residents are subject to the painfully low federal minimum. The other four states are also in the South, and all are led predominantly by Republicans: Louisiana, Mississippi, South Carolina, and Tennessee.
But Birmingham didn't fold. GBM took the state to court. Founded in 1969, we are a multi-faith, multi-racial organization that provides emergency services for people in need. As a faith-centered organization, we recognize that the scriptures of all faiths, in their own way, embrace the principle that "the laborer is worthy of his hire." In other words, workers deserve fair wages, especially where poverty thrives.
We are fighting this battle in order to diminish the poverty that is plaguing Birmingham's black community. In 2016, the city's poverty rate of 30.5 percent was nearly double the national figure. And the percentage of people living in districts with at least a 20 percent poverty rate increased by 28 percent in the four years after the Great Recession.
Birmingham City Councilwoman Sheila Tyson, who played an instrumental role in the city's approval of a minimum-wage increase, has long been working to expand the city's growing network of soup kitchens.
"No matter what color or creed you are, you have to eat," she said. "And we can't save money because we have to spend every dollar we have."
In addition to providing economic relief, a higher wage would help reduce the city's high crime rate. According to FBI crime data for 2015, Birmingham was the country's third most violent city among those with populations exceeding 100,000. The city ranked as the fifth most violent municipality the year before. "Even with low wages, you've still got to find some way to feed your kids," says state Rep. John Rogers, leader of Alabama's Legislative Black Caucus. "People will do anything to try to make a living, whether it's legal or illegal or quasi-legal."
Courtney Williams is the kind of Birmingham resident with whom GBM is joining forces. He has worked as a cook at a Rally's fast-food restaurant for three years. The father of a two-year-old daughter, he is unable to make ends meet on $7.50 per hour. Williams is among the three or four Rally's workers—in a workforce of twelve—who depends on "payday loans" to get by. These loans, illegal in many states, carry enormous interest rates—as high as 200 percent. "At the end of the day," says Williams, "you have to get payday loans just to make it to the next paycheck. But if I got the $10.10, I would not need them."
Williams has recruited co-workers into the minimum-wage campaign by asking them a basic economic question: "Do you like how you live? Do you like having to live paycheck to paycheck? How can you provide for your kids? How can you pay your car notes and your insurance?"
After the preemption law was passed, our attorneys charged the state with denying equal protection to its black citizens under the 14th amendment. To magnify our impact, we built a diverse coalition to join us in the court action that also includes the Alabama NAACP and the Alabama Legislative Black Caucus.
We quickly noted that HB 174's sponsor was Rep. David Faulkner. His district of Mountain Brook (a Birmingham suburb) is 97.2 percent white, and about 3 percent of its population lives below the poverty line. Indeed, according to an analysis of U.S. Census Bureau data by urban geographer Stephen Higley, Mountain Brook in 2008 was America's ninth-wealthiest community. The legislature's sudden rebuff of the city council's ordinance was jarring to workers on the campaign's front line. "When I heard that the city council had passed the increase, I was ecstatic," said Williams, the fast-food worker. "And when I learned that the state decided not to do it, I was devastated."
In the face of state action that prevented Birmingham from raising its minimum wage, the campaign turned to our last available option: the courts. Our legal strategy framed the state's action as a racially motivated attempt to deny equal rights to black Alabamians. This wasn't simply a disagreement over the powers of a state versus a city. In April 2016, working with a coalition of law firms that brought an array of different experiences and expertise, we joined with fast-food workers and the Alabama State Conference of the NAACP to file a federal civil rights lawsuit in the U.S. District Court to overturn the preemption.
The suit alleged that the state had intended to deprive Birmingham—the state's largest majority-minority city—the power to improve its residents' economic well-being. Asserting that the bill was infected with "racial animus," the suit traced the law's roots to the explicitly "white supremacist" 1901 Alabama constitution. Although few black citizens could vote at that time, the law concentrated power at the state level as an extra layer of protection against any local black political power.
Two months later, we expanded our suit to argue that HB 174's preemption also violated the Voting Rights Act of 1965. After all, it shifted the authority to enact wage-setting and other employment-related regulation, from the government of a black-dominated city to the government of a white-dominated state.
But this February, U.S. District Judge R. David Proctor, an appointee of George W. Bush, ruled against us, citing flawed reasoning that the dispute was between a city and state, not blacks and whites. In response, we appealed to the Eleventh Circuit Court. "There isn't a single person in this state who doesn't know that what just happened is about race," said Richard P. Rouco, the lead attorney on our case. "But knowing it's about race and proving to the satisfaction of judicial standards that race played a role in the passage of HB 174, however, are two different things, especially if you think of proof of race discrimination in a narrow and limited way."
Preemption laws "are part of the long legacy of using the power of state government to shore up injustice and inequality," Eric Fink, a labor law professor at Elon University in North Carolina told the Guardian in April. "And they're one way, along with gerrymandering, voter restrictions, etc., of effectively disenfranchising African Americans." In 1963, Alabama Governor George Wallace used a similar tactic, known as "interposition," in a failed attempt to stop the Justice Department from enabling black students to enroll in what was then the segregated state university. In his speech at the March on Washington for Jobs and Freedom that August, Dr. Martin Luther King, Jr., referred to Wallace's action when he predicted that racial equality would one day come even to "Alabama, with its vicious racists, with its governor having his lips dripping with the words of 'interposition' and 'nullification.'" Well, there's no real difference between preemption and "interposition."
Other states run by Republicans have responded to local organizing by progressives by enacting preemption laws similar to that in Alabama. North Carolina's transgender "bathroom" law—in both its original and current form—prohibits municipalities from enacting ordinances relating to private employment practices, including passing a higher minimum wage. Texas, Missouri, and Michigan have also passed preemption laws in reaction to local organizing efforts.
"Each state has its own reason for doing this," said Rouco. "My message to organizers, advocates, and lawyers is to first work to understand why this is happening in your state, and then you need to stand up to the bullying."
In Alabama, we're continuing to press our case in court. The district court judge's decision ignored well-supported allegations and failed to address a number of our arguments. But we will keep pushing our case so that workers and black voters in the state have the day in court that they deserve.
And in the meantime, we'll keep speaking up for change outside the courthouse too. Fast-food workers in Birmingham are not giving up on their fight for "$15 and a union," and community leaders in this state—including myself—will have their backs until we win.
---
Scott Douglas is executive director of Greater Birmingham Ministries and has published articles on human rights, community organizing, and social change in Social Policy, Southern Exposure, and the Howard Law School Journal.