As millions rise up against police violence, a white father and his Black son discuss racism, resistance, and empathy.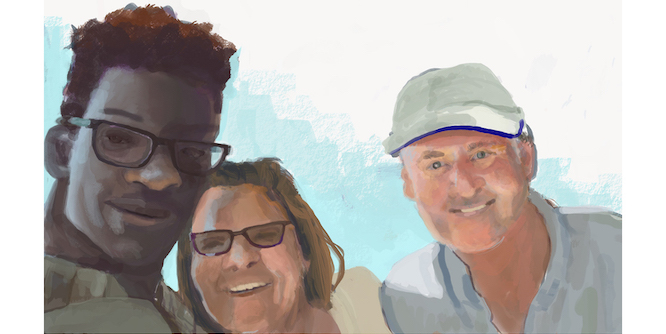 It's uplifting to hear my son, Jay, talk to reporters. They wanted to understand how Black Lives Matter protests had erupted in Missoula, Montana, soon after the murder of George Floyd. Jay was facing down pickup truck drivers who brandished guns and flew Trump flags. Between speaking through bull horns and vigorous chanting, my twenty-one-year-old son answered a journalist's query about why he was there: Just being a Black man, there's part of me that . . . I have to. For my own personal safety, and the safety of my friends and future generations. I feel like it's my responsibility to be here. His words sounded calm, cool, and deliberative, but I thought they might also cloak an anger bubbling beneath the surface.
There's more complexity here than the typical dichotomy between "Black Lives Matter" protesters facing "Blue Lives Matter" counter-chants. It's especially complex considering that though Jay is Black, his mother and I are white. He came to us in 1998 at just nine months old via the "Fost-Adopt" program championed by Hillary and Bill Clinton. It was intended to place kids likely to face a lifetime in foster care into adoptive homes. My wife's father was abusive, and my father abandoned my mother and me; so we both agreed that blood had little to do with being a loving family. We also couldn't afford a private adoption and felt there were too many kids without homes in the public system. We officially adopted Jay when he was four. Now that he was an adult helping to lead a BLM protest in Montana, I wanted to understand what drove him to this decision.
So I called Jay up to find out. In what follows, his words are in italics, mine in regular type. You'll notice that his voice becomes more dominant as we get closer to the present.
Though we spent three years in New Jersey, our life as a family blossomed when we moved in 2001 to Athens, Ohio—a small college town in the middle of Appalachia. Jay spent his preschool years in a Head Start program. There we witnessed the white poverty the area is known for. My wife and I made a quick friendship with the only other couple who would turn up to volunteer. The void between our families was large. They lived paycheck to paycheck; we were a college professor and a stay-at-home (at least at that point) mother. We often talked about poverty with Jay, who probably didn't really understand something so foreign to his own experience.
Things changed once Jay finished kindergarten and started to attend first grade. The class's teacher had about twenty students, and the boys were getting diagnosed with attention deficit disorder (ADD) at an alarming rate. That included Jay, who she deemed not just ADD but also disruptive. At our first teacher-parent meeting, she confidently explained why she had erected a cardboard barrier on his de...
Online Only

For just $19.95 a year, get access to new issues and decades' worth of archives on our site.

Print + Online

For $29.95 a year, get new issues delivered to your door and access to our full online archives.
Already a subscriber? Log in: