The controversy over buildings, statues, and awards honoring racists has finally reached the baseball establishment.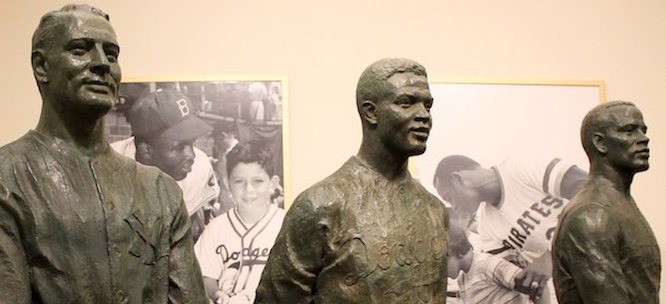 This year, for first time since 2004, Major League Baseball (MLB) did not hold an in-person celebration of Jackie Robinson Day, which commemorates the day that Robinson made his major league debut with the Brooklyn Dodgers on April 15, 1947, breaking baseball's color line. The start of the baseball season was postponed by four months because of COVID-19, but usually on that date, at every major league ballpark, every player, coach, manager, and umpire wears Robinson's uniform number, 42. For the MLB, it is an opportunity to congratulate itself for being a forerunner of social change and racial justice.
Even so, like the rest of the country, baseball is now having its own reckoning with iconic figures from its past who were also racists.
So far, no one has called on the Baseball Hall of Fame in Cooperstown, New York, to remove the most blatantly racist players from its hallowed halls—such as Cap Anson (the player-manager who established baseball's color line in the 1880s), or Ty Cobb, Tris Speaker, and Rogers Hornsby, early 1900s stars whom some researchers allege were members of the Ku Klux Klan. Nor is there a crusade to remove the Hall of Flame plaque of Tom Yawkey, the longtime owner of the Boston Red Sox, who didn't hire a black player until 1959, twelve years after Robinson broke baseball's apartheid system. Yet, in 2018, the Red Sox asked the city of Boston to change the name of a two-block street outside Fenway Park from Yawkey Way to Jersey Street to distance the team from Yawkey's racist legacy.
The controversy over buildings, statues, and awards honoring racists has finally reached the baseball establishment.
On June 19 of this year, the Minnesota Twins removed a statue of former owner Calvin Griffith from in front of Target Field in Minneapolis, the city where a police officer's murder of George Floyd triggered a nationwide uprising against racial injustice.
Griffith, who inherited the Washington Senators from his father in 1955 and moved the team to the Twin Cities in 1961, had already been the subject of controversy for racist remarks. At a Lions Club dinner in 1978, unaware a reporter was present, Griffith said, "I'll tell you why we came to Minnesota. It was when we found out you only had 15,000 blacks here. Black people don't go to ballgames, but they'll fill up a rassling ring and put up such a chant it'll scare you to death. We came here because you've got good, hard-working white people here."
After the Star-Tribune quoted those remarks the next day, the team's star player, Rod Carew, asked to be traded and was soon playing for the California (now Los Angeles) Angels. In response to the Twins' decision to remove the statue, Carew, a Hall of Fame first baseman who retired in 1985, said, "While we cannot change history, perhaps we can learn from it."
Now, ballplayers and baseball writers are trying to learn similar lessons about two other iconic and powerful baseball figures who were racists.
Each year the Baseball Writers Association of America (BWAA) bestows a Most Valuable Player (MVP) award to an athlete in both the American League (AL) and National League (NL) as well as an award to a baseball writer for an outstanding career. The MVP award is named for Kenesaw Mountain Landis, baseball's first commissioner, who worked from 1920 until his death in 1944. In 1962, the BWAA established the writing award and named it for J. G. Taylor Spink, publisher of the influential Sporting News, long known as the "Bible of Baseball," from 1914 to 1962. Spink was the first recipient of the award.
Landis zealously opposed baseball integration. It wasn't until a year after he died that Brooklyn Dodgers president Branch Rickey signed Robinson to a contract. By 1949—after leading the NL in batting average (.342) and stolen bases (37) and leading the Dodgers to the World Series—Robinson received the MVP award named after the late commissioner. Since then, half of all 144 MVP winners have been players of color—forty-eight African Americans, twenty-three Latinos, and one Asian.
Landis, a former federal judge, thwarted all efforts to challenge baseball segregation. In 1923, Rube Foster, president of the Negro National League, proposed a series of games between the best Negro League and best Major League teams. Instead, Landis banned white major league teams from playing barnstorming games against black teams, telling Foster, "When you beat our teams, it gives us a black eye."
In December 1942, ten leaders of the Congress of Industrial Organizations, the progressive union federation, went to the winter meetings of baseball's executives at Chicago's Ambassador East Hotel to demand that Major League Baseball recruit black players. Landis refused to meet with them. But one owner, the Chicago Cubs' Phil Wrigley, broke ranks, telling union leaders he favored the integration of baseball, and revealing that, contrary to what Landis had officially proclaimed, there was, in fact, a "gentlemen's agreement" among them to keep black players out of major league baseball. Over the next several years, activists gathered more than a million signatures on petitions demanding that baseball tear down the color barrier.
In 1943, Wendell Smith, the respected baseball writer for the Pittsburgh Courier, an influential black newspaper, asked Landis to meet with the publishers of some of the nation's leading black papers, along with activist and artist Paul Robeson, at the December gathering of team owners at the Roosevelt Hotel in New York City. Landis agreed, pressured by a resolution sponsored by a New York City Council member demanding that major league baseball recruit black players. This was the first time that representatives of the black community had the chance to meet directly with baseball's establishment and demand an end to its racial segregation. But at the meeting, the commissioner denied that any ban existed.
That year Landis thwarted the efforts of Bill Veeck, the maverick owner of the minor league Milwaukee Brewers, to purchase the bankrupt Philadelphia Phillies, once he learned that Veeck intended to recruit Negro League players for the team.
When Landis died in 1944, the major leagues were still segregated.

During Landis's tenure as commissioner, the Sporting News was edited by John George Taylor Spink. Each week, it provided fans with more news, features, analysis, and box scores of major league games than were available anywhere else. Spink was as dictatorial running the newspaper as Landis was running the sport itself. He was also one of Landis's biggest boosters and as adamant a foe of dismantling baseball's Jim Crow system. In 1947—three years after Landis died and the same year that Robinson crossed baseball's color line—Spink authored a highly sympathetic biography, Judge Landis and Twenty-five Years of Baseball.
"Spink defended segregated baseball with his silence. If need be, he did so in words," explained Daryl Grigsby in his 2010 book Celebrating Ourselves: African-Americans and the Promise of Baseball. "In August 1942 he wrote an editorial saying that baseball did not have a color line, but that segregation was in the best interests of both blacks and whites because the mixing of races would create riots in the stands.''
In 1947, after Robinson joined the Dodgers and Larry Doby joined the Indians to become the first black player in the AL, the Sporting News ran another editorial on segregation: "Once Again, That Negro Question." It quoted an unidentified player who complained about the end of all-white teams: "Let us not discriminate against the white player because he is white." Later that year, after the St. Louis Browns became the third team to integrate, hiring Negro League stars Willard Brown and Hank Thompson, the Sporting News ran an article gloating about their mediocre performance under the headline "Browns Negro Players bat only .194 and .178."
From the 1930s through the 1960s, white baseball writers generally shared Spink's views, as Chris Lamb recounts in Conspiracy of Silence: Sportswriters and the Long Campaign to Desegregate Baseball. But as early as 1933, a few white journalists—including syndicated columnist Heywood Broun, New York Daily News columnist Jimmy Powers, Washington Post columnist Shirley Povich, and Lester Rodney, sports editor for the Daily Worker, the Communist Party newspaper—joined the chorus for baseball integration. At a February 1933 dinner of the all-white New York Baseball Writers Association, Broun (a socialist who was also a founder of the Newspaper Guild, the reporters' union) gave a talk arguing that if black athletes were good enough to represent the United States at the 1932 Olympic Games, "it seems a little silly that they cannot participate in a game between the Chicago White Sox and St. Louis Browns. Why, in the name of fair play and gate receipts, should professional baseball be so exclusive?"
America's black newspapers were also a consistent voice in favor of dismantling baseball's Jim Crow system—and none more so than the Pittsburgh Courier and its baseball writer Wendell Smith. For Smith, the matter was personal: in 1933, as a nineteen-year-old, he pitched his American Legion club in Detroit to a 1–0 victory in the playoffs. After the game, a scout for the Detroit Tigers, Wish Egan, signed Smith's white catcher Mike Tresh (who went on to play twelve years in the majors) and the losing pitcher on the opposing team. "I wish I could sign you, too, but I can't," Egan told Smith. Egan's words "broke me up," Smith later recalled. "It was then I made a vow that I would dedicate myself to do something on behalf of the Negro ballplayers. That was one of the reasons I became a sportswriter."
Thanks to Smith, the Courier—which had the largest circulation of any black newspaper, growing from 46,000 readers in 1933 to over 250,000 in 1945—became the leading voice against baseball's racial divide.
The Courier extolled the talents of Negro League players as equal to their white counterparts. Smith also criticized black Americans for not patronizing the Negro League teams, putting them in constant financial jeopardy, while spending their hard-earned money on white-only major league teams. In this way, he echoed the demand among civil rights leaders at the time to boycott businesses that refused to hire or show respect to black Americans. In 1939, Smith wrote a series of articles based on his interviews with eight managers and forty NL players. Smith discovered that many players and all but one manager hoped that black players would one day play alongside them.
Once the United States entered the Second World War, Smith escalated his campaign, drawing on the obvious hypocrisy of a country that asked black Americans to fight in a war for democracy while practicing racism at home. Throughout the war years, Smith continued to use the Courier as an instrument to voice outrage against the baseball establishment, including Landis and the team owners.
In 1944, Smith wrote several sympathetic stories to help publicize the court-martial of a black soldier at Fort Hood, Texas—a former UCLA four-sport athlete—for refusing to go to the back of a military bus. The soldier was Jackie Robinson, who was acquitted by a panel of officers. Later, when Dodgers president Branch Rickey was searching for a player to integrate baseball, he asked Smith's advice. Smith recommended Robinson.
Now the Baseball Writers Association of America must decide whether to confront this racist history by removing Landis's and Spink's names from its two coveted awards. Former MVP winners are starting to speak out.
"Why is it on there?" asked Barry Larkin, a black shortstop and Hall of Famer for the Cincinnati Reds, referring to Landis's name and visage. "I was always aware of his name and what that meant to slowing the color line in Major League Baseball, of the racial injustice and inequality that Black players had to go through."
"Statues are coming down, people are looking at monuments and memorials," said Terry Pendleton, a black third baseman who won the 1991 MVP award playing for the Atlanta Braves. "We need to get to the bottom of things, to do what's right. Yes, maybe it is time to change the name."
Mike Schmidt, a white Hall of Fame third baseman for the Philadelphia Phillies who won the MVP award three times, agreed. "If you're looking to expose individuals in baseball's history who promoted racism by continuing to close baseball's doors to men of color, Kenesaw Landis would be a candidate," he said. "Looking back to baseball in the early 1900s, this was the norm. It doesn't make it right, though."
"If Mississippi can change the flag, and Confederate statues can be removed from state capitals, we can do this,'' said Claire Smith, a baseball writer for the Hartford Courant, the New York Times, the Philadelphia Inquirer, and ESPN, and the first woman to receive the Spink award, in 2017.
Now BWAA members must decide whether to do nothing, simply strip the names of Landis and Spink from the two awards, or to rename these honors after others. They could do worse than rename the MVP honor the Robinson Award, after both Jackie Robinson and Frank Robinson, the Hall of Fame slugger and baseball's first black manager (and the only player ever to be named the MVP in both the AL and NL).
The BWAA might also consider renaming the Spink writers award after Heywood Broun and Wendell Smith. Broun, who died in 1939 and was given the Spink award in 1970, was not only an early champion of baseball integration but also a crusader for other social justice causes, including the plight of underpaid newspaper reporters. He believed that part of journalists' responsibilities was not only to report the news but to right wrongs. Smith, who died in 1972 and was posthumously given the Spink honor in 1993, was the most persistent and vocal exponent of integrating the national pastime.
The BWAA might also consider adding a new award for baseball owners and executives in both the major or minor leagues who demonstrate a commitment to social responsibility and justice. They should name the award for Bill Veeck, who used his position as the owner of one minor league and three major league teams to break barriers. In 1947, as owner of the Cleveland Indians, he signed Larry Doby, the AL's first black player. By 1948, the Indians not only had four black players, more than any other team, but had also won the World Series and broke baseball's attendance record with 2.6 million fans. He was also the first owner to move spring training facilities from segregated Florida to somewhat more open-minded Arizona.
In August 1959, Veeck was upset when White Sox fans booed Al Smith, the team's African-American left fielder. The next day, Veeck staged an "Al Smith Night" at Comiskey Park, letting everyone named Smith (or Smithe, Smythe, or Schmidt) into Comiskey Park for free. He passed out buttons reading, "I'm a Smith and I'm for Al." Veeck staged other free days for cab drivers and bartenders, whose contacts with fans made them valuable public relations boosters for the team, and pioneered the idea of selling tickets to individual World Series games—instead of more expensive packages for all the series home games—that allowed many more fans to attend. Veeck, who voted for Socialist president candidate Norman Thomas several times, also sought to even out the wealth disparities between teams in big and small cities, proposing revenue sharing to make major league baseball more competitive—an idea that his fellow owners resisted but eventually adopted.
In 1971, when St. Louis Cardinals outfielder Curt Flood sued the MLB in order to challenge the reserve clause, which kept players tethered to their teams and prohibited them from bargaining with different teams for their services, only three prominent baseball figures testified on Flood's behalf: Hall of Fame slugger Hank Greenberg, Jackie Robinson, and Veeck.
Given the attitudes of baseball's corporate establishment, it isn't surprising that Veeck, who died in 1986, wasn't voted into the Hall of Fame until 1991, long after many mediocre owners and executives had been admitted to baseball's shrine. To his critics, Veeck responded: "Tradition is the albatross around the neck of progress." That's a lesson that the BWAA should now embrace.
---
Peter Dreier is the E.P. Clapp distinguished professor of politics at Occidental College. He is the author of The 100 Greatest Americans of the 20th Century: A Social Justice Hall of Fame (Nation Books) and an editor (with Kate Aronoff and Michael Kazin) of We Own the Future: Democratic Socialism, American Style (New Press). He is coauthor of the forthcoming Baseball Rebels: The Reformers and Radicals Who Shook Up the Game and Changed America.
Correction: An earlier version of this article wrongly stated that Jackie Robinson was acquitted by an all-white panel of officers (there was one black member of the panel). We regret the error.