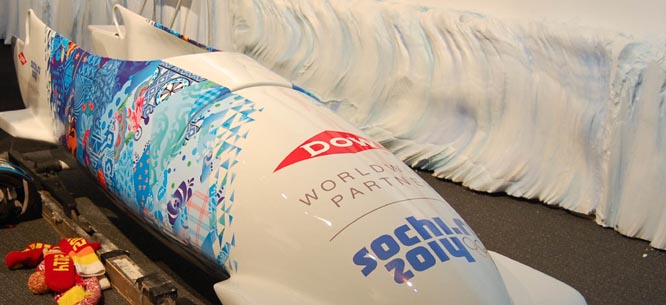 Precisely ten months from today, the 2014 Winter Olympics will open in Sochi, Russia. This weekend also marks the three-year anniversary of one of WikiLeaks's most controversial interventions: the release of a video documenting American troops in Apache helicopters gunning down twelve people—including two Reuters employees—in Baghdad.
It turns out the histories of the Olympics and WikiLeaks intertwine in revealing ways. And WikiLeaks disclosures about past Olympics help us better understand what's going on in Russia today as President Vladimir Putin and company prepare to host the Games.
In late February 2012, WikiLeaks began releasing "The Global Intelligence Files," a trove of more than five million internal emails from Stratfor Global Intelligence, a private spy firm headquartered in Texas. The documents contained politically explosive information, including speculation that Julian Assange would soon be indicted by the U.S. Justice Department. The Stratfor files also exposed the obsession Olympic sponsors have with political activists.
Coca-Cola—a Stratfor client and "Worldwide Olympic Partner"—was concerned that the animal rights group People for the Ethical Treatment of Animals (PETA) might interfere with the smooth running of the 2010 Vancouver Winter Games. In a June 2009 email, one Stratfor employee discussed "a long list of questions regarding PETA/Animal Activism and the upcoming Olympics in Vancouver." Among Coke's queries were "How many PETA supporters are there in Canada?"; "How many of these are inclined toward activism?"; and "To what extent could non-PETA hangers-on (such as anarchists or ALF supporters) get involved in any protest activity?" PETA barely registered on the roster of resistance among anti-Olympic activists in Vancouver, but Coca-Cola wasn't taking any chances. Like all corporate sponsors of the Olympic Games, Coke wanted to maximize profits and minimize political fallout.
As the London 2012 Summer Games approached, Dow Chemical—another Stratfor client—tasked the firm with tracking activism related to the 1984 Union Carbide gas disaster in Bhopal, India. After acquiring Union Carbide in 1999, Dow insisted it wasn't responsible for the toxic debacle that killed thousands and sickened many more. As another "Worldwide Olympics Partner," Dow—like Coca-Cola—forked over $100 million to the International Olympic Committee. It also supplied an $11-million decorative wrap for the Olympic Stadium.
Stratfor kept a Bhopal activism file for Dow, which included entries on campaigner Colin Toogood of the Bhopal Medical Appeal (BMA). Stratfor noted that Toogood had used Facebook and Twitter to circulate information critical of Dow's Olympic sponsorship. Julian Cheyne of the online anti-Olympics group Games Monitor was also ensnared in Stratfor's surveillance net after receiving a tweet from the BMA. WikiLeaks helped highlight the cash chasm that allowed Dow and other Olympic sponsors to remain one step ahead in the battle between corporations and campaigners in London.
Thanks to Wikileaks we also have evidence that U.S. government honchos view the Olympics as a way to leverage security cooperation from host cities. When Brazil experienced power outages in 2009, the United States sniffed opportunity. A cable from the U.S. Embassy in Brasilia read:

The newly heightened concerns about Brazil's infrastructure as a result of this blackout, combined with the need to address infrastructure challenges in the run-up to the 2014 World Cup and 2016 Olympics, present the United States opportunities for engagement on infrastructure development as well critical infrastructure protection and possibly cyber security.

Such "opportunities" pave a path for private security firms to cash in, using mega-events like their own private ATMs.

The stash of more than 250,000 U.S. Embassy Cables that WikiLeaks released in late 2010 also paint a bleak image of Russia, the future Olympic host, in line with many critics of Putin's government. One confidential document cited a Spanish National Court Prosecutor who dubbed Russia, Chechnya, and Belarus de facto "mafia states," where the activities of government entities and organized crime groups were virtually indistinguishable. In a 2008 cable, the British Foreign Office concurred, stating that Russia's "political system is best described as a corrupt autocracy." Confidential cables portrayed modern-day Russia as a cauldron of kleptocratic corruption, not a reputable Olympic host-in-the-making.

The 2014 Sochi Olympics are one of Putin's prized pet project. Putin sees the International Olympic Committee's selection of Sochi as "not only a recognition of Russia's achievement in sports" but as a wider "assessment of our country." That positive "assessment" is already being besmirched by a bloated five-ring price tag, graft, and a burgeoning mafia turf war.

The Sochi Olympics are the most expensive Winter Games ever, now totaling over $50 billion—more than five times the original estimate. Corruption is rampant. One road connecting Sochi venues cost $200 million per kilometer; paving the road with Olympic medals might have been cheaper.

The Kremlin simply hasn't been able to contain the fraud. Putin recently fired Akhmed Bilalov, the vice president of the Russian Olympic Committee, whose own construction company was behind schedule and 900 percent over budget for a ski jump. Putin made a point to publicly humiliate Bilalov as he gave him the axe. Yet, as British comedian John Oliver noted, Putin himself "wears the cologne of the corruption industry in extremely heavy squirts." The president's childhood friend and former judo buddy Arkady Rotenberg snagged $7.4 billion in contracts for the Sochi Games.

After the International Olympic Committee awarded Sochi the Games in 2007, the city saw a spike in suspected mafia violence. Tension recently intensified after the death of Aslan "Grandpa Hassan" Usoyan, a mafia boss with enormous property and business holdings in Sochi and Moscow. Mafia hostilities have been bubbling on low boil, with high-profile murders on the streets becoming routine. Usoyan himself was assassinated by a sniper while he dined in a Moscow restaurant. Now that Usoyan is dead, Sochi is a strategic battle zone, with mobsters jockeying for influence and lucre.

Sochi was one of Stalin's favorite resort getaways—his once-secret dacha was eventually converted into a hotel. Although Russia is no totalitarian state, the ghost of Stalin lingers, with the Russian Duma passing a slate of draconian laws and authorities raiding international human rights offices to curb dissent in the lead-up to the Games. With less than a year before the opening ceremonies, there's no pity in the Olympic city.
---
Jules Boykoff's writing on the Olympics has appeared recently in the Guardian, the New Left Review, the New York Times, and elsewhere. He is the author of two forthcoming books: Celebration Capitalism and the Olympic Games (Routledge) and Activism and the Olympics: Dissent at the Games in Vancouver and London (Rutgers University Press). He teaches politics at Pacific University in Oregon. You can follow him on Twitter @JulesBoykoff.