Benjamin Netanyahu has used the coronavirus to resuscitate his political career.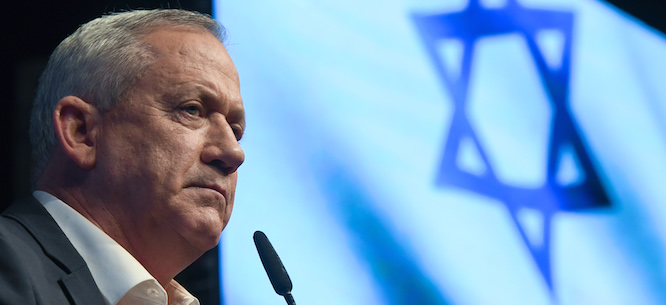 On March 2, Israelis went to the polls for their country's third national election in less than a year. Many of them hoped to vote out Prime Minister Benjamin Netanyahu, whose eleven consecutive years in power have been marked by a series of corruption scandals and an increasingly right-wing turn. At the time, the country was just waking up to the threat of coronavirus. Thousands of Israelis in quarantine received permission to leave their homes to vote in special polling tents. Everyone else cast their ballots as usual. Now, nearly a month later, most Israeli citizens are barred from traveling more than 100 meters (330 feet) from their homes, and Netanyahu has found a way to use the coronavirus situation to his advantage.
Israel appears to be swiftly moving toward a ruling coalition led—at least initially—by Netanyahu, even though his right-wing bloc did not come out of the most recent election with a majority. Netanyahu's main rival, Benny Gantz of the Blue and White party, is reportedly negotiating a rotation agreement with his former foe, breaking his promise not to sit with Netanyahu because of the prime minister's corruption charges.
We can credit the coronavirus for Gantz's surprising capitulation. While Israel initially had one of the world's harshest responses to the virus, it has struggled to slow rising infections, especially among the ultra-Orthodox, many of whom flaunted social distancing rules by continuing to gather for weddings, funerals and prayer services (sometimes in view of the police). Netanyahu's caretaker government has passed sweeping and controversial measures to fight the virus, like reducing court activity and surveilling citizens by tracking their cell phones to alert them if they have come into contact with infected people and must quarantine. (Civil rights groups protested the surveillance, which the Supreme Court ruled can only continue with parliamentary oversight.) This response has helped bolster Netanyahu in several ways—not only can he position himself as a wartime leader, but also his own corruption trial has been delayed by over two months. Yet without a functioning government, the country can't fully mobilize to confront the health crisis. This explains Gantz's conciliatory move.
Gantz's Blue and White party, an ideological mishmash that was formed in 2019 with the goal of unseating Netanyahu, fell apart last week when Gantz nominated himself for the role of parliament speaker, a move that gestured toward a unity government with Netanyahu. Yair Lapid, former finance minister and Gantz's second in command, accused his former partner of "crawling" into Netanyahu's government. Gantz defended himself on Facebook, saying he was "more at peace than ever" with his decision. "There is a real sense of emergency in the face of a health threat that is taking human life and in the face of the threat of economic devastation," he wrote. "This is the time for leaders to choose what is right and put the lingering personal issues and scores aside."
Gantz's decision to become speaker, and to restart negotiations with Netanyahu, capped off one of the most politically fraught episodes in recent Israeli history. On March 18, the outgoing speaker from Netanyahu's Likud party, Yuli Edelstein, temporarily froze parliamentary operations in defiance of the will of the newly elected majority—made up of Gantz's Blue and White party, other left-wing parties, a secular right-wing party, and several Arab-majority parties. He cited health restrictions for this decision. But opponents of Netanyahu accused Edelstein of dirty politics. The freeze prevented the Gantz bloc from bringing possible legislation to expel Netanyahu over his corruption charges and voting to replace Edelstein.
Israelis love a good protest, but coronavirus rules prevent the mass gatherings that would have usually accompanied such developments. A series of unusual protests against the Knesset freeze took place instead. People banged pots and pans from balconies, attached black flags to windows, surrounded the parliament in cars, and held a digital rally viewed by hundreds of thousands.
Blue and White successfully petitioned the Supreme Court to force Edelstein to restart parliamentary operations and bring a vote on his successor. But rather than comply, Edelstein stepped down. Gantz then nominated himself to replace Edelstein, and was sworn in March 26.
Israelis who had pinned their hopes on Gantz to replace Netanyahu say they are crestfallen and outraged. The betrayal is particularly felt—and heard—among Arab lawmakers. The Joint List, a consortium of Arab-majority parties, supported Gantz in order to force the end of Netanyahu, whom they accuse of race-baiting. They did so even though Gantz, a former military leader who oversaw Israel's bloody 2014 operation against Hamas in Gaza, is hardly a natural ally.
Gantz "has now demonstrated that he is a clone of Netanyahu," said the Joint List's Yousef Jabareen at the Knesset plenary, in a statement distributed to the press. "The Joint List will serve as a bulwark against incitement, racism and the Occupation and welcomes cooperation with those who share our values: peace, equality and social justice."
There's a chance that Gantz will still succeed Netanyahu. According to reports, he is negotiating a rotation agreement in which he will replace the prime minister after eighteen months. But skeptics are saying that Netanyahu will find a way to make such an agreement disappear at an opportune time. As with every country battling the epidemic, Israel will no doubt be transformed by the coronavirus. But its prime minister will almost surely remain the same.
---
Naomi Zeveloff is an American reporter who covers religion, conflict, and politics in Israel, the Palestinian Territories, and beyond. She is the The Forward's former Middle East correspondent.