Dilma and Lula have been refashioned as leftists in defeat. But for the Workers' Party, it might be too late.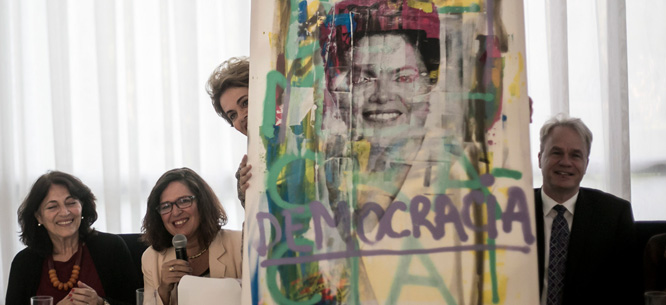 At the end of a defiant address delivered shortly after being removed from office by a lopsided Senate vote, Dilma Rousseff, Brazil's first female president, quoted a few verses written by the revolutionary Soviet poet Vladimir Mayakovsky.
 We're not happy, it's true / but what reason do we have to remain sad? / The ocean of history is agitated / the threats and the wars, we'll have to get through them / break them down the middle / cut through them as a keel cuts through waves.
It was an intriguing choice for Rousseff, whose appearance in Brasília that day marked the end of an extraordinary demotion for her Workers' Party, which had surged to power in 2003 with the electoral victory of Rousseff's predecessor and political mentor, Luiz Inácio Lula da Silva. Despite the poem's martial message, Mayakovsky wrote it in 1927, some ten years after the Bolsheviks had taken power, making it clear that the poet, who would go on to commit suicide in 1930, had begun to grapple with the ambivalence of victory; one wonders whether Rousseff found an opportunity to do the same before being ceremoniously toppled by overwhelming majorities in both houses of congress.
Much has been made of the retreat of the so-called "pink tide" in Latin America, especially as it pertains to the struggles faced by the leaders of Venezuela, Bolivia, Argentina, and now, especially, Brazil. There's little question that the right has triumphed in Brazil; that their victory happened far from the ballot box makes it all the more galling for the country's leftist fellow travelers, who consider the parliamentary maneuvering a coup. (For many, it is all too reminiscent of the 1964 military putsch that removed a popular leftist president from power and ushered in two decades of dictatorship.) Just two weeks after Rousseff's ouster, Lula was charged as the "conductor of a criminal orchestra" in a widening corruption scandal, a move he and his supporters view as a gambit of political persecution meant to prevent him from taking office again. It is in this context that Rousseff and Lula have returned to their leftist roots, proudly sporting red shirts, quoting Mayakovsky, and decrying the maneuvering that has destroyed them politically. But as Martín Caparrós wrote in an essay for the Spanish edition of the New York Times, it's worth asking what this Latin American left consisted of—and whether it ever existed at all. In the Brazilian case, it now feels as though the Workers' Party's leftist roots have been vindicated, but only in defeat.
What's easy to miss, amid all of today's red flags and evocations of the 1964 military coup, is that Lula's first electoral triumph represented not only a victory for the country's working poor—his growling baritone alone differentiates him from the country's smooth-talking elite—but also a strategic distancing from his hard-left past. Before his electoral triumph, to which the financial markets reacted in panic, Lula laid out a "letter to the Brazilian people" in which he pledged to abide by the strictures of a $30 billion IMF loan arranged by his predecessor. (An article published in the New York Review of Books shortly after his victory captures many commentators' surprise that Lula quickly proved to be not a fire-breathing leftist but a committed dealmaker and uncannily effective politician.) Lula the candidate's denunciations of the country's elite gave way to presidential exhortations for all Brazilians to buy refrigerators and cars. Whatever their initial skepticism, the country's ruling class—and the financial markets—soon found that they stood to profit handsomely from the Lula years. The working poor did, too, of course, helped along by a hugely successful conditional cash transfer program, ballooning consumer credit market, and commodities boom. Income inequality, a centuries-old problem in Brazil, narrowed dramatically under the PT's redistributive policies, opening the door for many to become the first in their family to attend university. 
The daughter of a middle-class family, Rousseff, too, had long abandoned her revolutionary youth when she entered the national spotlight. After spending three years in a military prison—where she was repeatedly tortured—for her affiliation with an underground Marxist guerrilla group, Rousseff shed her pistols and pipe bombs for spreadsheets and policy papers, first at Petróleo Brasileiro SA (Petrobras, the state-controlled oil company), then as Lula's chief of staff, during which time she was chosen to carry the party banner in the 2010 elections.
While it's widely assumed that Rousseff was chosen for her managerial rather than rhetorical ability, her past makes her both a powerful symbol and advocate for the country's progress since the dictatorship. In office, Rousseff worked to consolidate Lula's legacy, but when commodity prices began to fall and the deficit began to balloon, she had little room to maneuver politically. Ultimately, after a razor-thin reelection fight in 2014, she chose to gamble her electoral base by supporting austerity measures called for by the financial sector. Smelling blood, her enemies—all of whom support austerity measures—blocked her reform package, a move that isolated her politically and laid the groundwork for the impeachment shortly thereafter.
The architects of the impeachment sought to lay the country's enormous fiscal crisis at Rousseff's feet; spurred on by the widening Lava Jato (Car Wash) investigation, Rousseff became, in their rhetoric, not a poor fiscal manager but instead a see-no-evil functionary leading a corrupt leftist cabal. (No matter that Rousseff is one of the few top politicians in the country to emerge blameless from Car Wash and that as president she took steps to insure the prosecution's ability to continue the years-long investigation.) As the economic malaise and the political crisis began to blend, the Car Wash investigation moved closer to implicating Lula's inner circle, which had already been tarnished in a cash-for-votes scheme years earlier. Run out of the southern town of Curitiba by a crusading set of U.S.-trained prosecutors, Lava Jato had been circling Lula for months. The investigations, targeting a price-fixing cartel that overbid on Petrobras construction projects, had already taken down construction magnates and key political figures, who had been socking away the profits in campaign coffers and foreign bank accounts. When Rousseff sought to name Lula as her chief of staff in March—a move that would have afforded him protection from prosecution by the Curitiba-based legal team—Sérgio Moro, the square-jawed judge overseeing the case, released audio from wiretaps in which Rousseff told Lula that she would send the ministerial paperwork to his house "in case of necessity." Moro's (possibly illegal) intervention helped block Lula's appointment, cementing Rousseff's downfall and leaving him open to the charges when they arrived on September 14—as well as increasing the PT's suspicion that Moro and the Curitiba prosecutors are on a witch hunt. Lula remains defiant—according to a July poll, the investigations have failed to dislodge him as the country's favorite politician—but the charges have thrown his party's chances for an electoral renaissance into question.
While the charges brought by the prosecutors against Lula lack the rigor of prior indictments, the relationship between the party and the country's reactionary construction magnates exposed by Car Wash is maddening. And one hardly needs to look to the current investigations to identify ways in which the Workers' Party failed the poor. The 2016 Rio de Janeiro Olympics, which officially ended with the close of the Paralympic Games on September 18, are an excellent example of the compromises the Workers' Party happily made when commodity prices were high. Construction firms (run by entrenched elites who donate handsomely to parties across the political spectrum) were aided and abetted by the federal government (controlled by the Workers' Party) as well as the state and city government (controlled by the PMDB, the shape-shifters who currently hold the presidency) in running up exorbitant costs on public land for an event whose bamboozlery and tendency to spawn massive amounts of public debt is by now well documented. In the weeks before the Games, the state government declared a fiscal emergency and received federal money necessary to run the Games and keep the city's lights on; no matter that Rousseff—who had been suspended from office pending the impeachment trial—wasn't around. By the time the Paralympics arrived, their piece of the $2.3 billion budget set aside by local organizers had vanished, prompting yet another federal bailout. And those are just operational costs—so far, the government has resisted an audit on its books for any Olympics-related spending.
Rousseff and Lula, then and now, refer to the Olympics as a source for national pride. But a visit to the Olympic Park in Barra da Tijuca, a far-flung western suburb of Rio where enormous gated condominiums sit atop delicate marshland, demonstrated the ways in which the true Olympic champions were the construction firms handed fat checks and exclusive contracts. Getting to the park required a trip through a subway tunnel that cost $3.1 billion—double its initial estimate—followed by a lengthy trek on a public bus closed to non-spectators for which tickets were 25 reais—making the trip about six-and-a-half times more expensive than a normal ride. Inside the hot, treeless landscape of the park, meanwhile, a bottle of water cost eight reais, roughly a 60 percent markup on the already-overpriced bottles available for sale in beachfront shacks. To say that working-class Brazilians were categorically excluded would be an understatement.
Carlos Carvalho, the billionaire developer awarded the construction rights to the land after the Games, has publicly scorned the concept of making room for poor people in the new Rio brought about the city's mega-events. Vila Autódromo, an unincorporated neighborhood in the shadow of the park, has been razed and replaced with a few dozen squat white houses for the few families who refused to leave. Michel Temer may have been booed when he appeared at the Olympics' opening ceremony, but hosting the Games in Brazil wasn't his idea.
Many of those who took to the streets—or fulminated in congress—in March to demand Rousseff's ouster insisted that their fight was against all forms of corruption, not simply a partisan rejection of the PT. When pressed, a group of young right-wing activists I interviewed at a rally in Rio de Janeiro in March were quick to add that they would be happy to see current president Michel Temer, Rousseff's ally-turned-nemesis who has been fingered in Car Wash, go as well. (Many of Temer's key allies also stand accused of corruption; shortly after Rousseff was toppled, Eduardo Cunha, the PMDB congressman and Evangelical radio host from Rio de Janeiro who led the impeachment charge, was removed from office by his colleagues for having funneled millions of dollars into Swiss bank accounts.)
Yet Temer's quick moves to satisfy the country's conservative factions upon taking office seems to have quieted many of these angriest voices, giving credence to the idea that the March protests were more partisan than their organizers were willing to publicly concede. The shape-shifting PMDB has gone from being a key constituent in a PT government to essentially enacting the reforms proposed by Rousseff's opponent, Aécio Neves of the PSDB party, in his 2014 campaign. And for all the clamor raised by PSDB and PMDB politicians over the PT's leftist profligacy, little mention is made of the support the PT showed for enormous loans doled out at low interest rates by state banks to the country's biggest private companies; subsidies and support for agribusiness; or the extortionary interest rates set by private banks, who prey on many of the same lower-middle class Brazilians whose lives were transformed by the Workers' Party years in power. The Brazilian leftists who have often stood at odds with the PT's cozy approach to the business elite, meanwhile, have angrily denounced the coup while maintaining a skeptical distance from Lula's promise to run for office again. While large crowds of protesters gathered in Rio and São Paulo to denounce the coup against Rousseff in late August, many of the demonstrations have lacked the electric energy—and the numbers—of mid-2013, when proposed bus fare hikes kicked off the last major wave of left-leaning protests. Brazilians continue to voice their discontent in creative—and persistent—fashion, however. Temer and his ministers have difficulty appearing in public without facing cries of "golpista!" and "fora (get out)!"
Lula, meanwhile, has stood firm. In a press conference held after the charges were announced against him, the ex-president—clad in a bright red shirt—alternated between weeping and excoriating the zealous prosecutors bent on taking him down. "Comrades, don't think that I am depressed or suffering. I am proud to know that this persecution of me is underway because of all the good things that I did for this country."
---
Lucas Iberico Lozada is a writer and translator currently based in Rio de Janeiro.